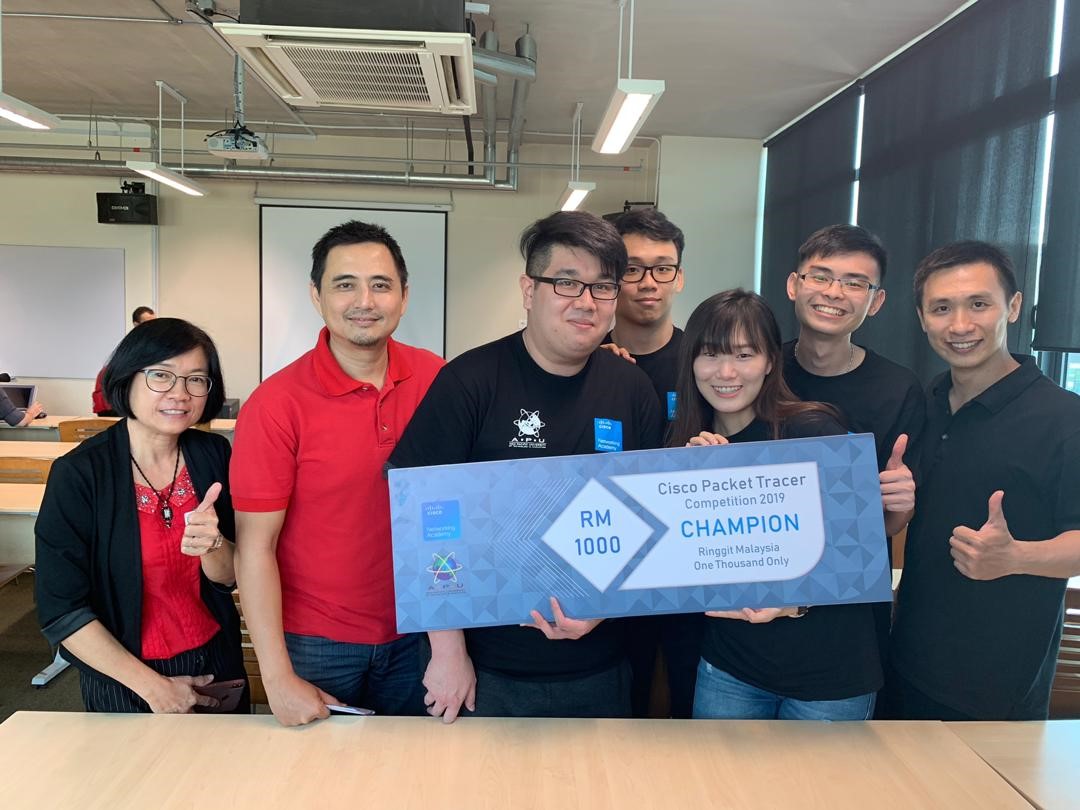 (From left to right): Ts Chok Len Mooi, Deputy Dean of the Faculty of Computing and Information Technology ('FOCS'), Mr Ahmad Zaierif Mohd Yusof, Cisco Program Manager, Yap Jun Jie, Choo Jun Ming, Lam Xue Er, Cheow Jia Jian and Mr Low Choon Keat, Lecturer of FOCS, taking a group photo.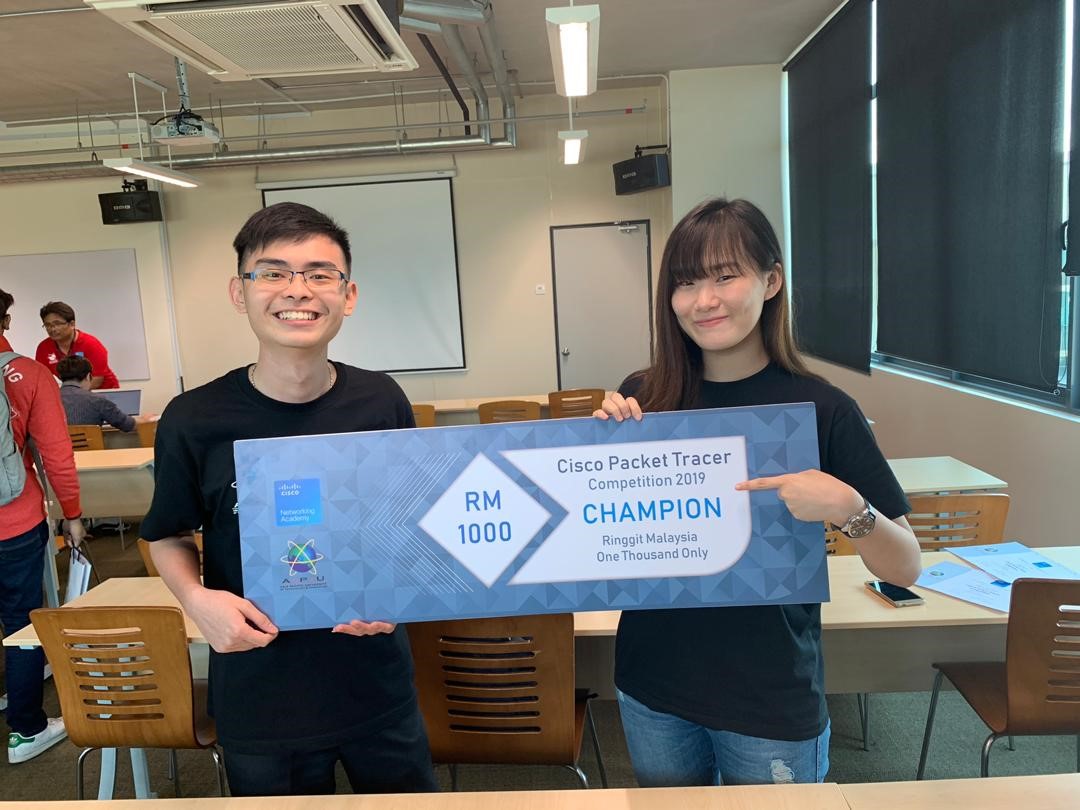 Lam Xue Er (right) and Cheow Jia Jian (left) holding up the mock prize.
Yap Jun Jie putting his networking skills to use.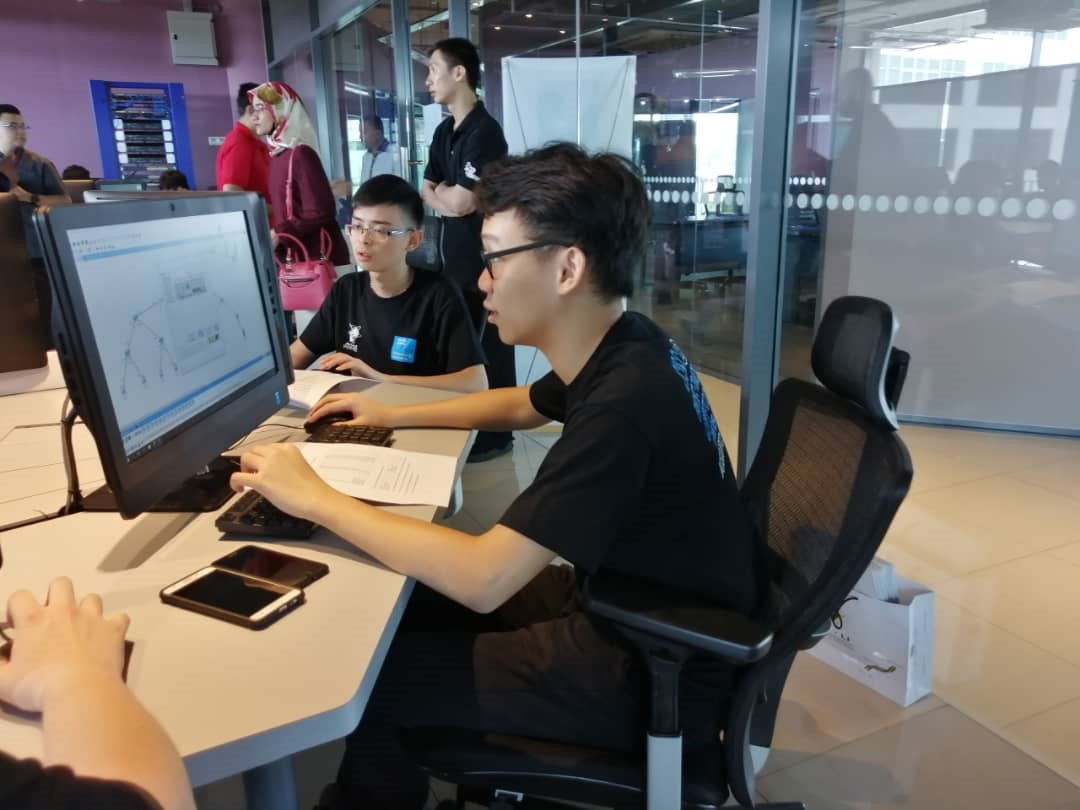 Choo Jun Ming, fully concentrating on the challenges at hand.
The TAR UC team consisting of four Bachelor of Information Technology (Hons) in Information Security students, Yap Jun Jie, Choo Jun Ming, Lam Xue Er and Cheow Jia Jian, emerged as champions in the Cisco Networking Academy Packet Tracer 2019 competition, which was held in Kuala Lumpur on 14 March 2019. A total of seven teams from various institutions of higher learning participated in this competition.
The competition, which was organised by the Cisco Networking Academy - Malaysia for the first time, offered a great opportunity for students to improve their networking skills through simulation activities using Cisco Packet Tracer. During the competition, participants had to complete specific tasks within a limited time frame. Thus, preparation for the competition was essential – participants had to make time to practise their networking skills on a daily basis, with guidance from their mentors. It was not an easy task, but it definitely paid off in the end.
When interviewed, Cheow Jia Jian spoke about what motivated the team in winning this prize. "The passion to succeed in networking was our team's prime goal, hence we strove to win in the competition. Our team spirit also played a huge role and we did the best we could," he said.
Lam Xue Er, the only girl in the group, thanked the lecturers and seniors of TAR UC for helping them in the competition. "We received many useful study materials from the lecturers before the competition, and they helped us a lot while we did our revision and practice. We would like to accord special thanks to Ts Chok Len Mooi, Mr Low Choon Keat and Ts Jessie Teoh Poh Lin for their unwavering commitment and dedication in providing us with professional guidance and encouragement for the competition. Besides that, TAR UC also provided the best facilities for us to practise our networking skills," she exclaimed.
Choo Jun Ming spoke about the challenges they faced during the competition. "The most notable challenge we faced was that there were some questions that were not covered in our syllabus, for example, the Dynamic Host Configuration Protocol ('DHCP'). I overcame this challenge by discussing with my team mates and using the 'help' function implemented in the packet tracer," he quipped.
Finally, Yap Jun Jie concluded that practice makes perfect. "As long as you keep on practising and improving yourself, you can conquer almost anything. Be confident and believe in your abilities," he said.