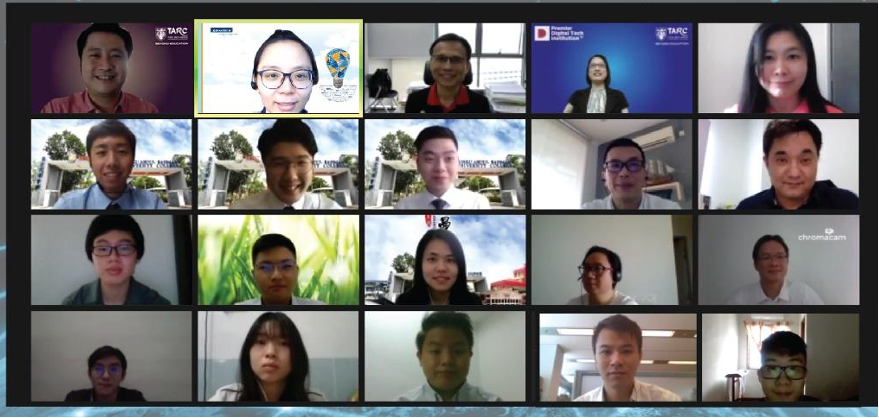 Group photo of the presenting groups with TAR UC officials and Advantech representatives.
Members of Team D who won the Best Team award: Choo Yun Bei (top left), Ng Kheng Hui (top right), Yong Yu Hong (bottom left) with project supervisor Ts Dr Tew Yiqi (bottom right).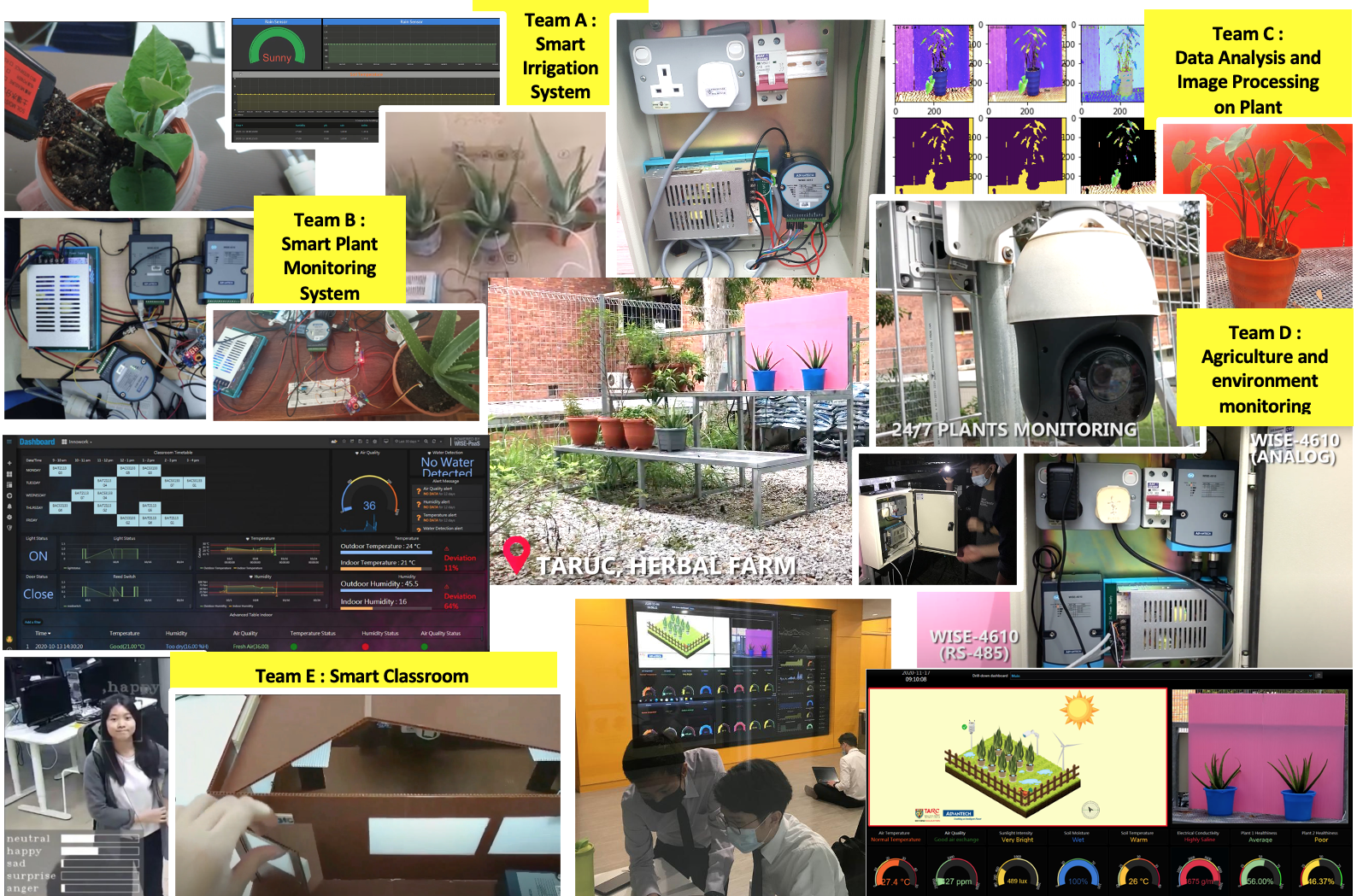 Overall 5 teams project development and deployment on Smart Agricultural and Smart Classroom prototypes.
Five teams of students presented their innovative ideas in a virtual presentation during the final presentation session for Advantech AIoT Developer Innoworks 2020 on 18 November 2020.
Through a collaboration with Advantech Malaysia Co. Sdn Bhd ('Advantech'), the programme which ran from July - October 2020 required students to provide feasible Internet of Things ('IoT') solutions for real-life problems. The presentation session was held via Zoom and was attended by TAR UC officials and Advantech representatives from Malaysia and Taiwan.
"I am proud and excited that we have come to the final stage of this programme with TAR UC," expressed Mr Elvin Ng, General Manager of Advantech Co. Malaysia Sdn Bhd. "I am confident that TAR UC students will be able to present some eye-opening and innovative ideas. I look forward to working together with TAR UC on future projects."
"Our collaboration with Advantech is significant because it symbolises one of the many initiatives we have put forward with industry players," said Prof Ir Dr Lee Sze Wei, President of TAR UC in his opening address. "This provides exposure to the skills and knowledge we want to impart to our students."
Each team's final presentation topics included areas on Agriculture 4.0 and Smart Classroom.
In the end, the Best Team award was awarded to Team D whose members included Ng Kheng Hui, Yong Yu Hong and Choo Yun Bei for their topic "Agriculture and Environment Monitoring".
Under the supervision of Ts Dr Tew Yiqi from the Faculty of Computing and Information Technology ('FOCS'), the basis of their team's Agriculture 4.0 project is to measure plant's growth rate using IoT and computer vision combined with database management and dashboard to monitor the farm's environment to increase agricultural productivity.
"This topic was introduced to us by our supervisor, Dr Tew," shared Kheng Hui. "TAR UC already has students working on Industrial 4.0 and Smart Campus projects, but so far there are no students working on Agriculture 4.0 projects."
After meeting with a farmer from Cameron Highlands to better understand the current agriculture landscape, the group realised that Malaysia's agriculture sector falls behind in terms of technological implementation. Seeing the potential and room for improvement in this sector further convinced them to take up this topic.
"This programme provided us with industrial exposure and insight towards how things work in real life," said Yu Hong.
Agreeing that the group gained invaluable experience through this programme was his teammate Yun Bei. "The platform provided by Advantech is something that we have never been exposed to before. So it was a good opportunity to get hands-on experience on technology that's currently being used by industry professionals".
Yu Hong and Yun Bei are currently in their final semester of the Bachelor of Information Systems (Hons) in Enterprise Information System programme while Kheng Hui graduated with a bachelor's degree in Mechanical Engineering and is currently pending his Master of Computer Science viva voce presentation.