Group photo with the champions of each category.
(Standing from left to right): Dato' Chan Wah Kiang, Deputy President of TAA, Tan Sri Dato' Sri Barry Goh, Mr Lim Kok Eng, Dato' Yap Kuak Fong, President of TAA, Datuk Dr Tan Chik Heok, Dr Chook Ka Joo, Vice President of TAR UC.
Runners getting off to a good start as they exit TAR UC campus grounds.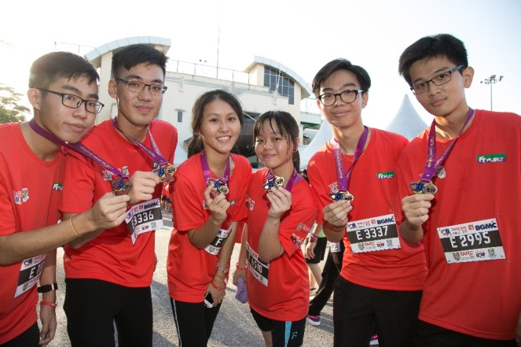 Proud participants showing off their finisher medals after completing the run.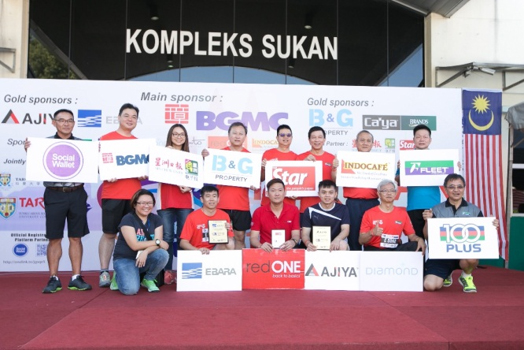 Group photo of TARCian Run 2018 sponsors and media partners.
Clad in red, enthusiastic participants of TARCian Run 2018 hit the road when the annual run kicked off at TAR UC's Kuala Lumpur Main Campus as early as 6.30am on 12 August 2018 with Tan Sri Dato' Sri Barry Goh Ming Choon, Honorary Advisor of the TARCian Alumni Association ('TAA') flagging off the 11km category while Datuk Dr Tan Chik Heok, President of TAR UC flagging off the 8km category.
Co-organised by TAA and TAR UC for the fourth consecutive year, this year's run was also concurrently held at TAR UC's Main Campus in Kuala Lumpur as well as all branch campuses in Penang, Perak, Johor, Pahang and Sabah. The run saw the highest number of participants with close to 10,000 runners from all campuses nationwide taking part in 4 categories.
"This year's TARCian Run is prominently featured on many platforms which is why we had already surpassed our targeted number of runners – which is 10,000 runners from all TAR UC campuses combined, five weeks before the event," said Mr Lim Kok Eng, Organising Chairman of TARCian Run 2018 during his welcoming speech.
Inaugurated since 2015, TARCian Run aims at raising funds towards the TARC Education Foundation to fund the construction of a Student Centre which will serve as a centralised hub of student activities at TAR UC Kuala Lumpur Main Campus. The Student Centre aims to create an inspiring learning space that draws students together for sharing, learning and socialising that will nurture the desired soft skills, leadership and also serve as the training ground to spur creativity and innovation.
TARCian Run 2018 marked the first year that TAR UC took the reins as the key event organiser with the support of TAA as a permanent event partner.
A few improvements were made that made this year's run different from its previous iterations. Firstly, registration was done purely online via the 'Social Wallet' mobile app by Soliton Digital.
Forfeiting the hilly terrain from previous runs, a new route was also introduced which was contained wholly within the Federal Territory district.
Defending champion of the 8km TARCian Men category – Tan Jian Yun, a Year 2 Diploma in Sports and Exercise Science student was able to beat his personal best by 3 minutes. "Last year's route was more challenging because of the hills. This year was easier. But overall it was well organised," said the 2-time Champion. "I hope that next year more people will join and the organiser will continue to do a good job."
Another returning participant in the annual run was Loh Chooi Fern, a TAR UC alumna, who came in first in the 11km TARCian Women category. "This year's route was easier as it was flat ground. This is the first time that I won Champion in this category, I only managed to come in as a runner-up last year," she commented.
For Chek Mei Ling who bagged Champion in the 8km TARCian Women category, it was her first time joining TARCian Run together with her husband, Venugopal a/l Kejendkan, who came in as the 1st Runner-Up in the 8km TARCian Men category. "I found out about TARCian Run 2018 from TAR UC's website and I've also heard about it before from my family members who studied here," she said. "For me the last part was the hardest but I am happy with the outcome and I will definitely join again."
"I usually run together with my wife and we train together every week to measure our performance. Perhaps next year we will try for the 11km category if all goes well," added Venugopal.
The run was sponsored by 11 companies and media partners for the event were Star Media Group Berhad and Sin Chew Media Corporation Sdn Bhd. Lucky participants walked away with prizes worth close to RM30,000 during the lucky draw session after the run.