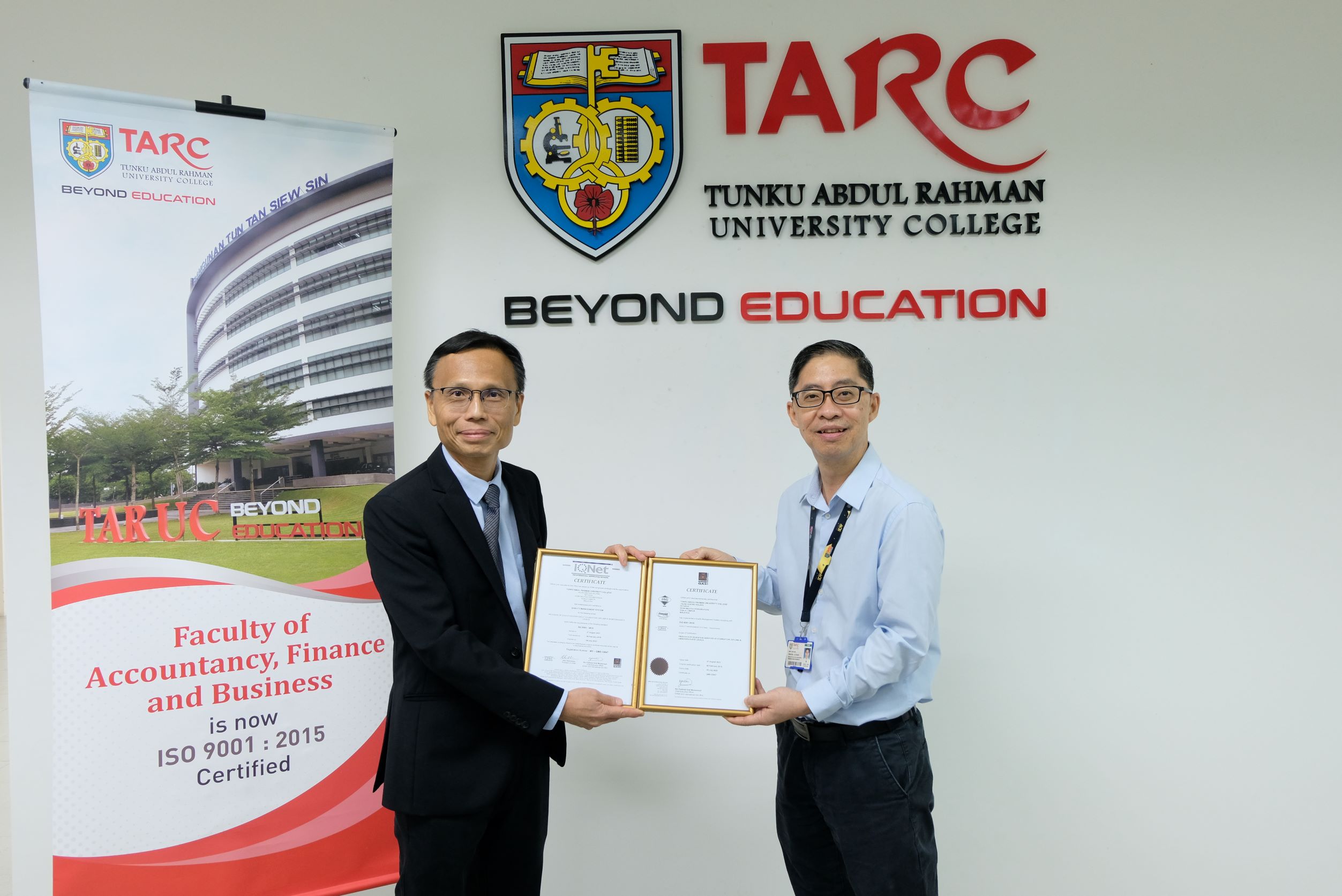 Prof Ir Dr Lee (left) presenting the ISO 9001:2015 certification to Mr Wee Chu Kok (right) following FAFB's success in achieving the ISO 9001:2015 certification.
The ISO 9001:2015 certification at TAR UC first started with the Faculty of Applied Sciences in the first year of certification in 2018. It expanded to 5 other faculties with effect from May 2018 semester and later it included 1 Centre with effect from May 2019. It has now expanded to the Faculty of Accountancy, Finance and Business ('FAFB'). With the latest inclusion of FAFB, the ISO certification now covers all the 7 Faculties and 1 Centre at TAR UC.
The UC is certified with the scope of certification on "Provision of Education Services at Foundation, Diploma and Undergraduate Levels" for 7 Faculties and 1 Centre. This certification issued by SIRIM is valid from 27 August 2021 until 8 July 2023.
The President of TAR UC, Prof Ir Dr Lee Sze Wei presented the ISO 9001:2015 certificate to the Dean of FAFB, Mr Wee Chu Kok on 21 September 2021. The President was elated with the achievement and congratulated the faculty for their great team effort in achieving the certification.
The UC will continue to uphold the Quality Policy of Quality Management System to achieve higher customer satisfaction, through continuously improving the effectiveness of quality management system to enhance the quality of products and services and to comply with the applicable regulatory requirements.