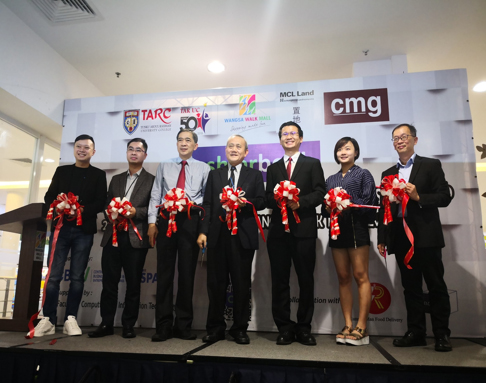 Datuk Dr Tan Chik Heok (centre) on stage after cutting the ribbon to officially launch Cashierbook. Accompanying him on stage are (from left to right): Mr Ginz Ooi, General Manager of Webqlo Sdn Bhd who is an invited guest at the launch, Mr Kelvin Eng, Dato' Dr Thed Cor Yong, Dr Tang Tiong Yew, Ms Lu Jia Xin, Marketing Manager of Zeus Production who is an invited guest at the event and Prof Dr Lim Tong Ming, Director of CBIEV.
With all the support and guidance from the Centre for Business Incubation and Entrepreneurial Ventures ('CBIEV'), a group of students and a lecturer from the Faculty of Computing and Information Technology ('FOCS') have successfully transformed their business idea into a marketable innovation called Cashierbook. The app is the latest entrepreneurial idea under CBIEV's iSpark programme and it was launched on 29 August 2018 at Wangsa Walk Mall, Kuala Lumpur. The launching ceremony was attended by TAR UC's former President, Datuk Dr Tan Chik Heok, investors of Cashierbook, CMG Holdings which was represented by its Managing Director, Dato' Dr Thed Cor Yong, and MCL Land (Malaysia), owner of Wangsa Walk Mall which was represented by its Senior Manager, Mr Kelvin Eng.
Cashierbook is a platform which utilises Social Media Analytics and Blockchain technology to enable super-fast and highly secured intelligent e-commerce transactions. The target users for this app are the end consumers as well as retailers who can confidently utilise the Cashierbook platform for genuine and authentic online transactions with added intelligent technologies for a targeted and effective e-commerce experience.
Dr Tang Tiong Yew, senior lecturer from the Department of Computer Science And Embedded Systems in FOCS, is the main lead for Cashierbook as he coordinates and manages different groups of students from FOCS to assist him in different stages of development for the app. Currently, Dr Tang is working with 8 students to manage the Cashierbook app which has been made available on Google Playstore and iOs AppStore. The students involved in this app are Johnson Chin See How, Chai Ke Ying, Ong Dok Eik and Lu Lian Chyn who are studying Bachelor of Computer Science (Hons) in Software Engineering as well as Loo Jia Wei, Loi Kah Hou, Jeffrey Pang Yuen Nyuk and Khosit Bunraxs A/L Eh Luang who are studying Bachelor of Information Technology (Hons) in Software Systems Development.
On what was the factor which helped secure CMG Holdings' investment for the app, Dr Tang shared: "The attractive feature that sealed the deal for Cashierbook is the fact that the app utilises Blockchain technology which verifies the authenticity of a product. Unlike many other e-commerce platforms available online, users of Cashierbook can buy or sell genuine and authentic products conveniently and securely. For a start, we will be working with retailers in Wangsa Walk Mall to utilise the app as another platform to grow their businesses and I am delighted that the response towards Cashierbook is very encouraging so far. I am grateful to TAR UC for creating a platform for us to cultivate entrepreneurship among the students and lecturers."
Datuk Dr Tan Chik Heok in his speech emphasised TAR UC's aspiration to nurture entrepreneurship amongst its community. "Through CBIEV's iSpark programme, TAR UC students have the ideal platform to bring forth their business ideas, develop them into business models and subsequently assist students to source for potential investors to invest in their business models leading towards establishing their own start-ups. With these initial supports provided under the iSpark programme, hopefully these start-ups will turn into profitable and successful businesses in the future. I must say that it is very encouraging to witness many students coming forward to share their business ideas in each of the iSpark sessions held on a monthly basis ever since the programme was introduced. And Cashierbook is one of those sparks which I personally perceive have all the potentials to become a successful business venture," he added.