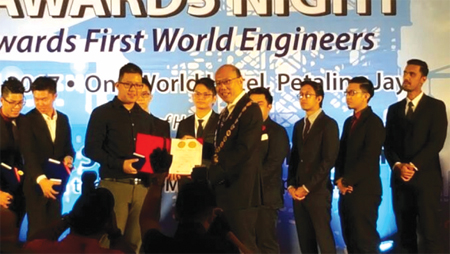 Lim Jay Ming (front left) receiving the IEM Gold Award for best final year engineering student.
It was a night to remember for Lim Jay Ming during the IEM 58th Annual Dinner and Awards Night which was held on 15 April 2017 as the Bachelor of Engineering (Hons) Mechatronic graduate was awarded the IEM Gold Medal Award 2016 for the best final year engineering student.
Considering this to be his greatest achievement in life so far, Jay Ming was quite surprised when he was notified of his achievement. "There are so many engineering students who I believe are better than I am. Words can hardly describe my gratitude to my lecturers who helped me achieve this award. Without their guidance or my course mates who selflessly shared their knowledge, I wouldn't have been able to achieve what I have today."
Currently working as a Graduate Trainee at Plexus Manufacturing Sdn Bhd, Penang Design Centre, he elaborated that TAR UC's education has equipped him with the necessary skills and attitude to adapt quickly in unfamiliar environments.
"The fast paced learning environment in TAR UC has moulded me to become an organised person. During my studies, I had to plan ahead and multi-task to meet tight assignment deadlines whilst juggling society activities," he explained. "These soft skills have really helped me a lot in my career now as the Graduate Trainee programme requires me to rotate between different departments for a year to find out which department I am most suitable to work in."
"Attitude is the main element that helps a person to be successful not only in academics but also in life. All I can say is that your attitude decides your direction in life. Also, appreciate those who have helped you along the way."