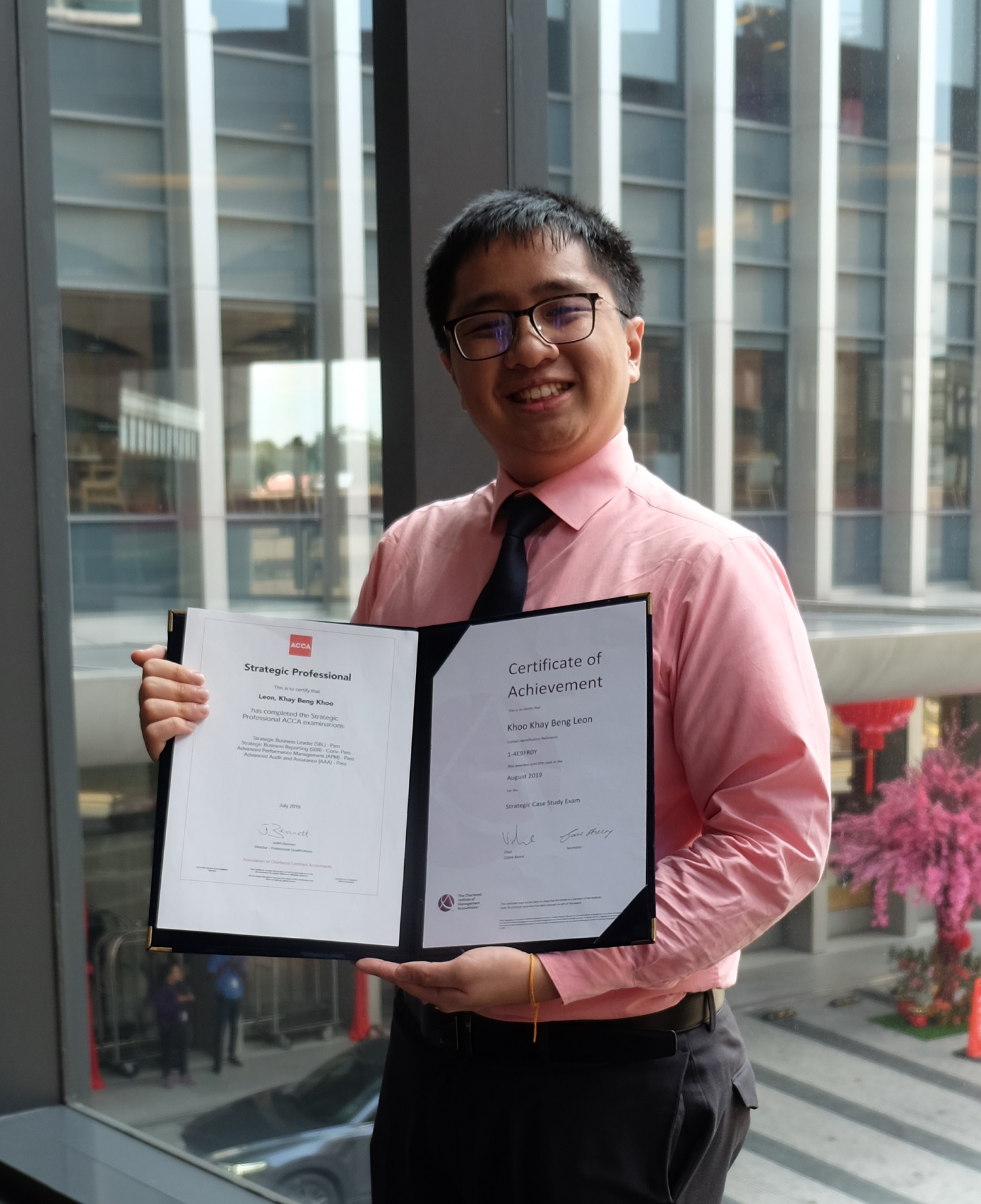 Leon Khoo with his certificate of achievement for scoring top marks in the CIMA SCS paper.
Leon Khoo Khay Beng, a Bachelor of Accounting (Hons) graduate did TAR UC proud when he came in fifth in the world and top in Malaysia in the Chartered Institute of Management Accountants' (CIMA) August 2019 Strategic Case Study (SCS) paper.
Leon managed to attain an impressive score of 116 out of 150 for the SCS paper, which is an assessment based on virtual business roleplay. Students who sit for this paper must employ their skills to measure, analyse and manage risks and investigate potential business developments and investments. Judging is based on competency in applying technical skills, business skills, people skills and leadership skills.
"My personal formula for success is proper planning and finding the most effective study method," Leon shared the secret of his success. "The CIMA SCS paper required us to be familiar with the pre-seen materials, that is, background information about the organisation that will be featured in the Case Study. We also need to be equipped with proper business and technical knowledge as it will be tested in the Case Study exam. Thus, I ensured that at least a month before the exam, I had understood most of the technical theories and concepts."
"TAR UC's programme curriculum actually helped expedite my preparation as most of the topics have been covered in the Bachelor of Accounting (Hons) programme. I even used some of the notes provided by my lecturers to study for the SCS exam," he added. "My lecturers have always been very supportive. They are patient, always willing to guide their students and help train our thought processes so that we can develop a more flexible way of thinking. I owe it to all my lecturers for providing me with such a strong technical knowledge which really helped me in my paper."
TAR UC has a long and well-established relationship with CIMA which dates back to 1971, when it first provided education that prepared students for the Institute of Cost and Management Accountants ('ICMA') professional qualification. Since 1986, ICMA was renamed as CIMA, and TAR UC's outstanding academic achievements and exceptional support for students taking CIMA papers have earned it the CIMA Global Learning Premium Partner status.
Graduates from TAR UC's Diploma in Accounting programme are exempted from the CIMA Certificate in Business Accounting, and graduates from the Bachelor of Accounting (Hons) programme, the Bachelor of Business (Hons) Accounting and Finance programme, and the Master of Business Administration programme are exempted from 11 of the 16 papers of CIMA. Final year students from the Bachelor of Accounting (Hons) programme are also given the opportunity to attempt the CIMA Management Case Study and Strategic level papers under special arrangements with CIMA.