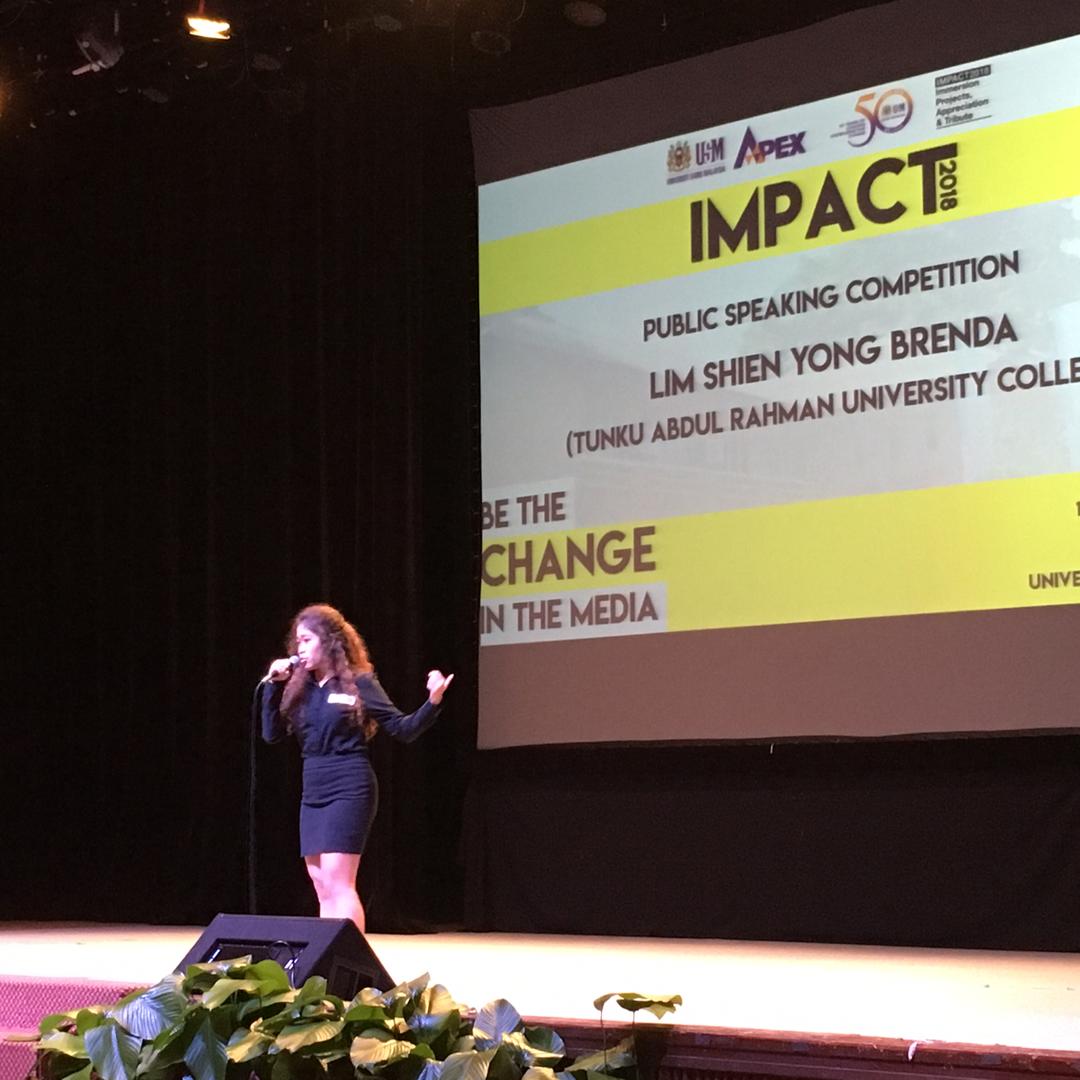 Brenda presenting her speech entitled "How Does the Internet Influence Media Development".
The announcement of her win came as a pleasant surprise for Brenda Lim Shien Yong from TAR UC's Penang Branch Campus. Just when she was not expecting anything, the first year Diploma in Public Relations student was in the state of disbelief when it was revealed that she had won the 3rd prize in the public speaking category at IMPACT'18 – a competition organised by Universiti Sains Malaysia ('USM'). The 3-day event was held from 17 – 19 December 2018 at Dewan Budaya USM.
"My Public Speaking lecturer, Mr Muthukumaran A/L Kanasan encouraged me to join this competition and I did not want to let him down. I also wanted to use this competition as an avenue for me to gain more experience in public speaking," she commented.
"The biggest challenge I faced during the competition was stage fright! Even though I have performed on stage before, it was my first time speaking in front of such a big audience," she said when asked of her experience during the competition. "Besides that, I was concerned that I would not be able to capture the audience's attention. To overcome this, I talked to other participants to help calm my nerves."
During the competition, Brenda presented a speech titled "How Does the Internet Influence Media Development" where she spoke about both positive and negative effects the internet has brought to society. Touching on how people nowadays are heavily dependent on WiFi, she emphasised that human created the internet thus we should not be controlled by it.
Centralising around the theme "Be the Change in the Media", IMPACT '18 saw participation from international students from Thailand and Indonesia. Other categories included photography, newspapers, magazine and feature writing competitions.