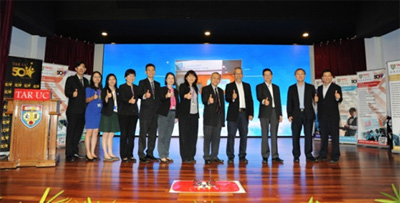 (From left) Assoc. Prof. Dr Yip Mum Wai, Associate Professor of FOET, Dr Lim Yee Mei, Associate Dean of FOCS, Dr Tan Hui Yin, Deputy Dean of FOAS, Assoc. Prof. Say Sok Kwan, Vice President of TAR UC, Assoc. Prof. Dr Lee Wah Pheng, Head of the Centre For Postgraduate Studies and Research ('CPSR'), Ms. Lim Mei Shyan, Dean of FOCS, Assoc. Prof. Dr Ng Swee Chin, Datuk Dr Tan Chik Heok, Nik Naharudin Mohd Nasir, Dato' Yap Kuak Fong, Tan Sri Dato' Sri Barry Goh, and Dato' Chan Wah Kiang, posing for a group photograph at the I2 Hub launching ceremony.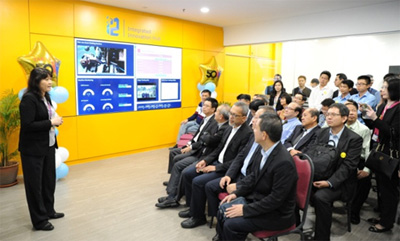 Assoc Prof Dr Ng Swee Chin giving a brief explanation on the functions of the newly launched I2 Hub.
In its quest to synergise latest development in technology towards greater enhancement in education and learning, TAR UC launched its Integrated Innovation Hub or I2 Hub in short on 1 August 2018 at its Kuala Lumpur Main Campus.
Located within the Kuala Lumpur Main Campus premises, the hub will serve as a centre of intelligence harnessed from all the faculties within TAR UC and turns it into a catalyst for the creation of innovative applications and technologies aimed at four key areas, namely Smart Campus for Education 4.0, Industry 4.0, Agriculture 4.0 and Corporate Social Responsibility ('CSR') services.
With I2 Hub, TAR UC has been conferred the honour of being the first institution of higher learning in Malaysia to embark on developing and incorporating digital technology to turn TAR UC into Smart Campus through in-house development, and the first institution of higher learning in Malaysia to provide consultancy to the industry in the implementation of the real-time Industry 4.0 solutions.
As technical experts in TAR UC drive the shift towards Smart Campus and Industry 4.0 applications via I2 Hub, students are also given the opportunity to participate in these initiatives which will provide them valuable hands-on experience and make their learning experience a truly holistic education.
"Since our inception in 1969, TAR UC has always been given the responsibility to develop relevant talents to suit the demands of the industry and country. The I2 Hub will be where our brightest minds spark to produce innovations and technologies that will solve real-world problems.
"Students will have the chance to utilise their knowledge by participating in relevant real-life projects that will surely be not just a valuable learning experience via interaction with our industry partners, but also an opportunity to show what they can really do," said Assoc. Prof. Dr Ng Swee Chin, Vice President of TAR UC and Chairperson of the TAR UC Integrated Innovative Projects in her speech.
Datuk Dr Tan Chik Heok, President of TAR UC, hailed the launch of the I2 Hub, calling it the beginning of a brighter and better tomorrow.
"My vision for TAR UC is to be a distinguished institution of higher learning and produce the best quality of graduates who possess a broad view and capable of solving real-world complex industry problems.
"I truly believe that the TAR UC I2 Hub will deliver positive impact to the nation, industry and society through its four value propositions, namely Synergize Learning, Converge Innovation, Create Knowledge and Serve Community," said Datuk Dr Tan.
Mr. Ang Kok Jun, General Manager of Kian Joo Can Factory Berhad ('Kian Joo') who was present at the launch, was positive that the industrial partnership between Kian Joo and TAR UC would propel Kian Joo towards Industry 4.0 implementation. Under the collaboration, TAR UC will provide research via big data analytics and recommend innovative applications such as the usage of Artificial Intelligence ('AI') in Kian Joo's manufacturing processes.
"Through TAR UC's support in big data analytics and Artificial Intelligence applications in the supply chain, Kian Joo will move closer to the goal of becoming the first local industry in Malaysia to fully adopt Industry 4.0," said Mr Ang.
The launch of the TAR UC I2 Hub was also witnessed by Nik Naharudin Mohd Nasir, Head of IHL Development, Malaysia Digital Economy Corporation ('MDEC'), Dato' Yap Kuak Fong, Member of the Board of Governors of TAR UC and President of TARCian Alumni Association ('TAA'), Tan Sri Dato' Sri Barry Goh, TAA Honorary Advisor, and Dato' Chan Wah Kiang, Deputy President of TAA.
The initial phase of the integrated innovative projects under I2 Hub involve the experts from the Faculty of Computing and Information Technology ('FOCS'), Faculty of Applied Sciences ('FOAS'), Faculty of Engineering and Technology ('FOET'), and Faculty of Communication and Creative Industries ('FCCI'). Nevertheless, other faculties such as the Faculty of Accountancy, Finance and Business, Faculty of Social Science and Humanities and Faculty of Built Environment will be roped in for future potential projects where necessary.