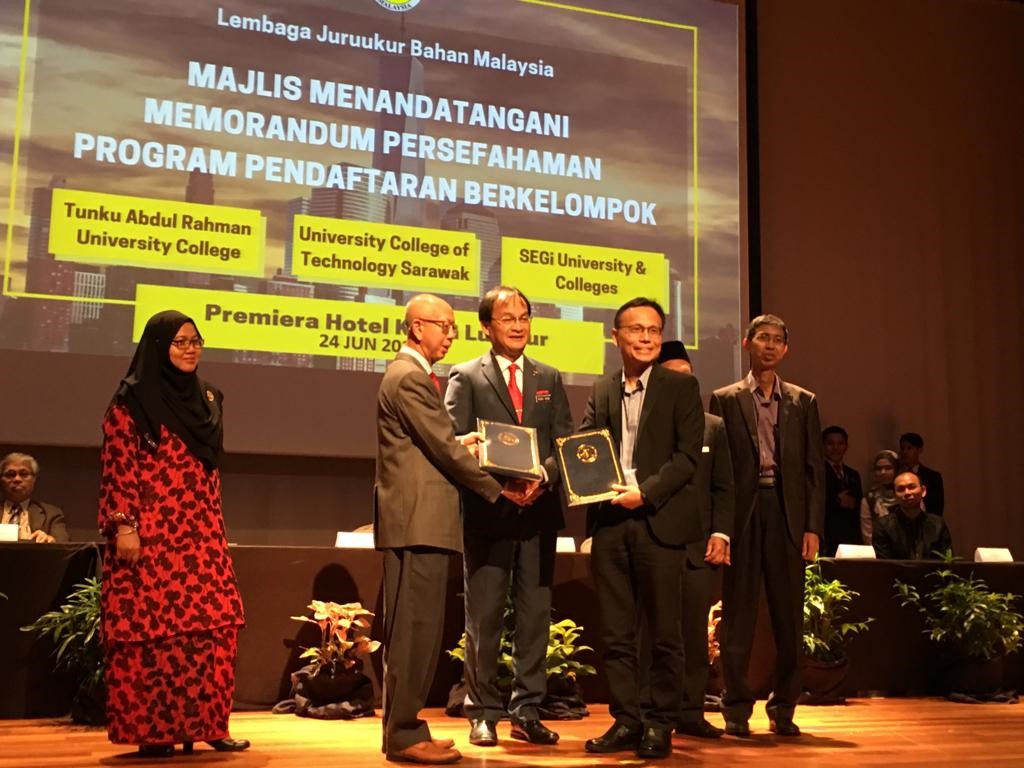 Prof Ir Dr Lee (second from right) exchanging documents with Adjunct Prof Sr Dato' Aziz (second from left) during the MoU signing ceremony. Witnessing the exchange are YB Baru Bian (third from left) and Assoc Prof Sr Ooi (right).
TAR UC and the Board of Quantity Surveyors Malaysia ('BQSM') have signed a Memorandum of Understanding ('MoU') on 24 June 2019, putting TAR UC's quantity surveying graduates on the fast track to obtaining a professional membership with BQSM.
The MoU signing ceremony was attended by Prof Ir Dr Lee Sze Wei, President of TAR UC, who signed the MoU together with Adjunct Prof Sr Dato' Aziz Bin Abdullah, President of BQSM while being witnessed by YB Baru Bian, Minister of Works.
Meanwhile Assoc Prof Sr Ooi Lay Yong, Dean of the Faculty of Built Environment ('FOBE'), and Ir Han Seng Kong, Deputy Dean of FOBE, also attended the ceremony to witness the signing.
Collaboration between TAR UC and BQSM will facilitate bulk registration of TAR UC's newly graduated quantity surveyors with BQSM as Provisional Quantity Surveyors under the Quantity Surveyors (Amendment) Act 2015.
The Law of Malaysia Act 487 under the Quantity Surveyors Act 1967 (The Act) requires all practising consulting quantity surveyors to be registered with BQSM. The MoU will smoothen this process for graduates from TAR UC, giving them an edge before their journey into the professional quantity surveying career.