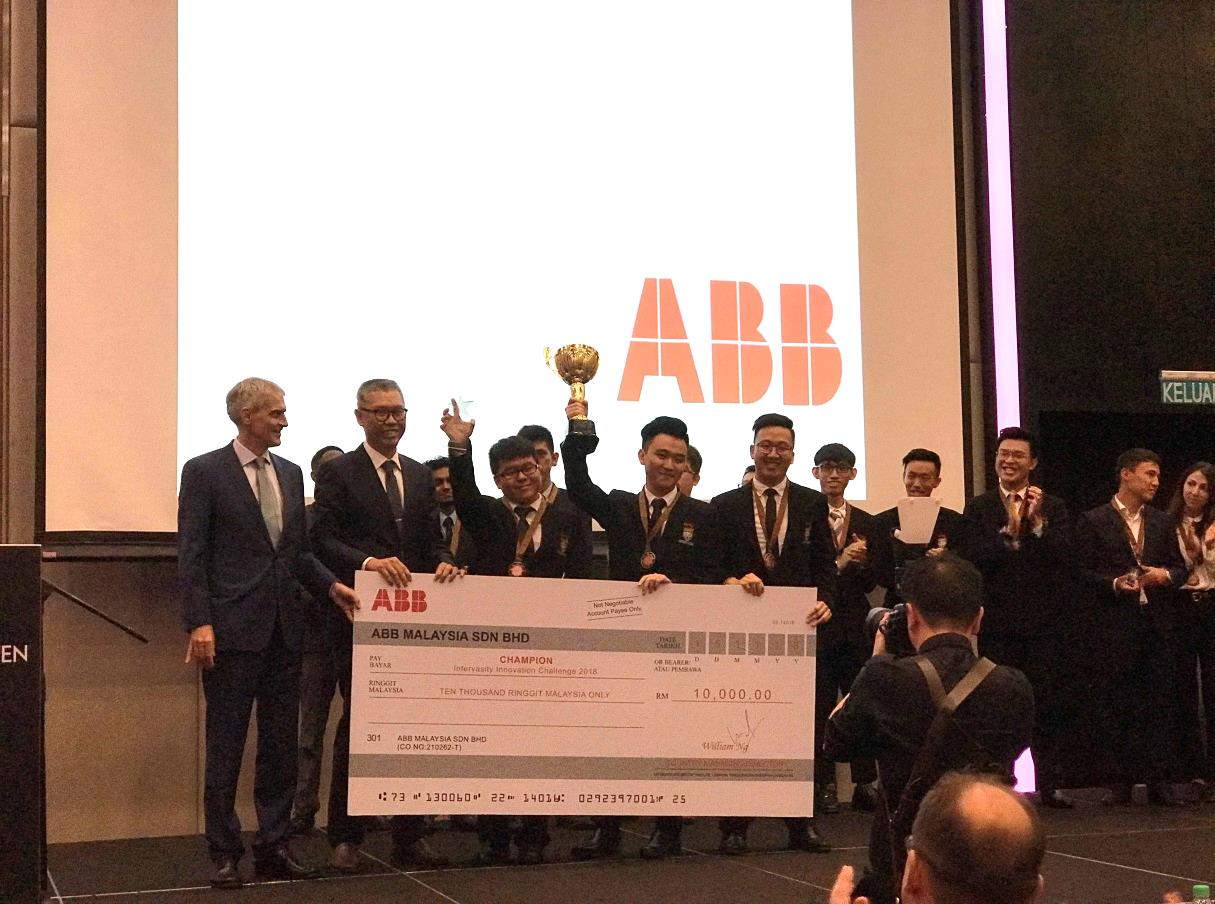 Yap Chuin Xuen (third from left, standing), Tan Yong Pin (fourth from left, standing) and Tan Wen Qian (fifth from left, standing) holding up the mock cheque and trophy, flanked by Mr Ola Pihlblad (leftmost, standing), Counsellor, Embassy of Sweden and Mr William Ng (second from left, standing), Country Managing Director, ABB in Malaysia.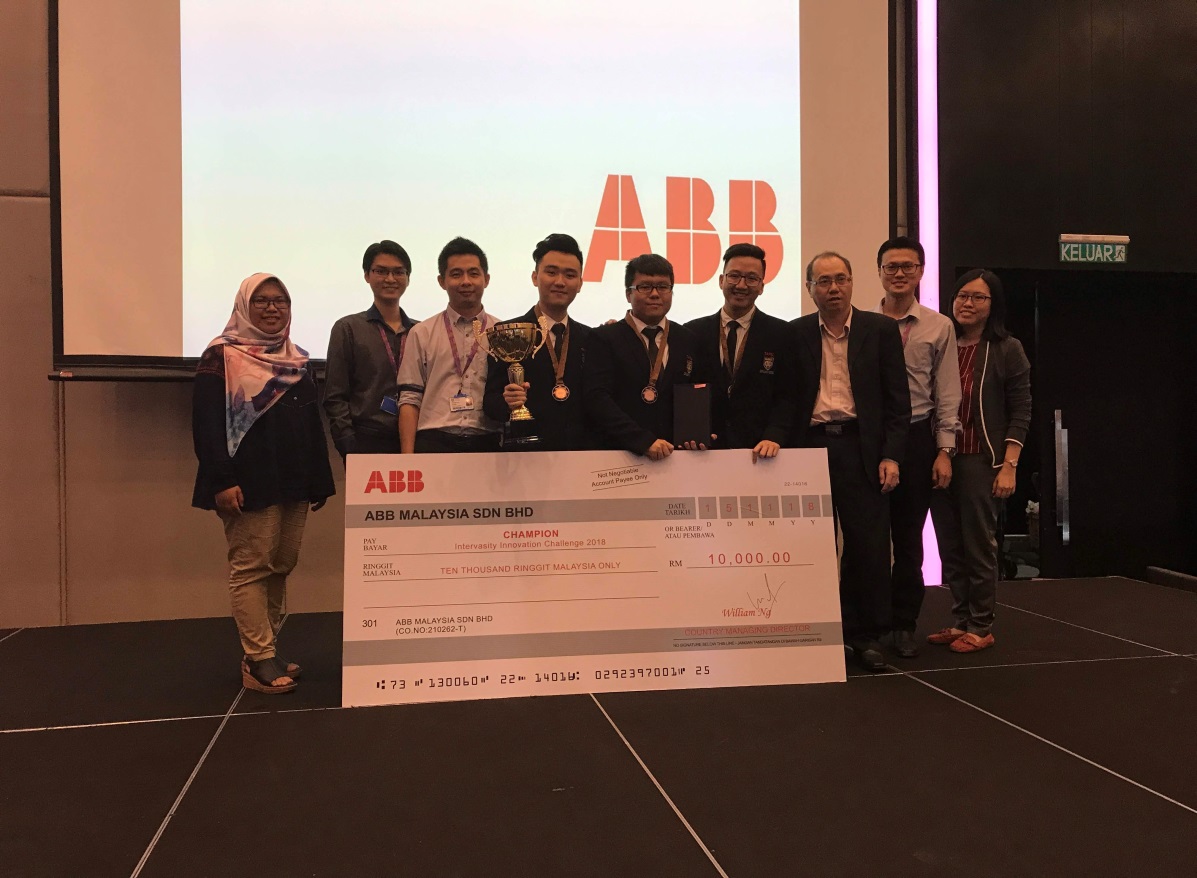 The winners; Tan Yong Pin (in black jacket, fourth from left), Yap Chuin Xuen (in black jacket, fifth from left) and Tan Wen Qian (in black jacket, sixth from left), accompanied by Ts Dr Chew Khoon Hee (seventh from left), Dean of the Faculty of Engineering and Technology ('FOET') and members of the faculty.
Three TAR UC students namely, Tan Yong Pin, Tan Wen Qian and Yap Chuin Xuen, impressed the jury of the ABB Intervarsity Innovation Challenge on 15 November 2018 with their capstone project which eventually won them the champion in the said competition. The three students who are currently studying for their Bachelor of Engineering (Hons), Electrical and Electronics at TAR UC, submitted their entry entitled "Intelligent Fire Evacuation System" which was essentially their team project as part of the curriculum in the Bachelor degree programme in Engineering at TAR UC.
The objective of the annual ABB Intervarsity Innovation Challenge is to reach out to young thinkers and innovators and empower young minds to reimagine the world that they live in. Held for the third consecutive year, the competition seeks to encourage undergraduates in leading universities and institutions to think, innovate and create breakthrough ideas to tackle technological challenges in today's rapidly changing world.
The ABB Intervarsity Innovation Challenge was open to both public universities and private institutions of higher learning in Klang Valley and this year's competition saw 31 entries. Each competition entry is revolved around one of three leading technological trends namely Smart Grid and City, Smart Industry and Production, and Smart Home and Building. The winning team from TAR UC participated in the Smart Home and Building category.
On what inspired them to participate in the competition, Tan Wen Qian, who was a former student of SMK Jalan Damai, said: "We did not have any intention to take part in the competition at first until our lecturer asked us to participate in it. When we came to know that we were shortlisted among the top 5 finalists, we told ourselves that since we were already in it, we would put our best foot forward. We were motivated by our lecturers, friends, and of course, the prize itself," he said.
Tan Yong Pin, a former student of Chung Ling High School, who is the leader of the team, shared the details of their idea. "The existing fire evacuation system in most buildings lacks in efficiency. After doing some research and analysis, we found that the evacuation system can be improved by a digitalised system. It provides the users a mobile, personalised and smart fire escape plan that shows the safest evacuation route. In the system, the intensity of smoke, source of fire, crowdedness and obstacles are analysed to determine the best route. The user's location can also be identified through indoor positioning system by connecting to the local Wi-Fi. In short, the system can increase the efficiency of the evacuation process by providing a personalised escape route," he remarked.
"We would like to thank our lecturers who trained us intensively on presentation skills. The constructive comments and feedback from them helped us improve on our idea and the lecturers are ever willing to assist us at any time during the preparation stage. The laboratory facilities at TAR UC are also well-equipped for us to test the prototype of the system and improve on it while we were preparing for the competition. For example, a scaled model of a building was built using the 3D printer available in our labs to test the sensor network for the fire alarm system," said Yap Chuin Xuen, who hails from SMK Methodist Telok Datok.
"Besides that, the University College was also very supportive in providing funding support throughout the whole project," he added.
The win did not come without any challenges as Tan Yong Pin testified. "The biggest challenge we encountered in this competition was coming up with an innovative and creative idea that would be able to solve a real-life problem. However, we manage to overcome this problem by conducting extensive research from the latest news, technical journals, and articles available to us." he said.
The students walked away with a cash prize of RM 10,000, trophy and medals, for the win.