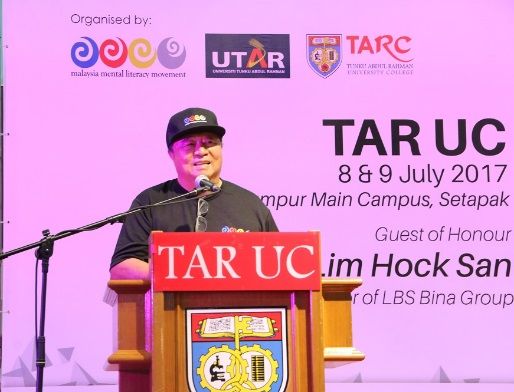 Tun Dr Ling Liong Sik presenting his opening remarks.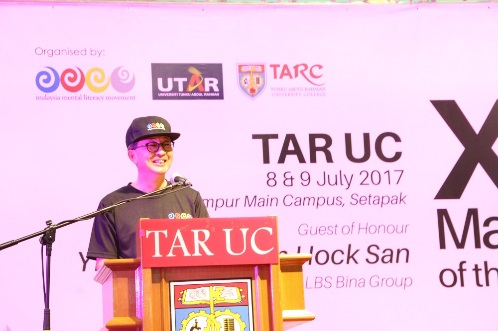 Tan Sri Lim Hock San expressing his delight for the opportunity to officiate the 13th Festival of the Mind.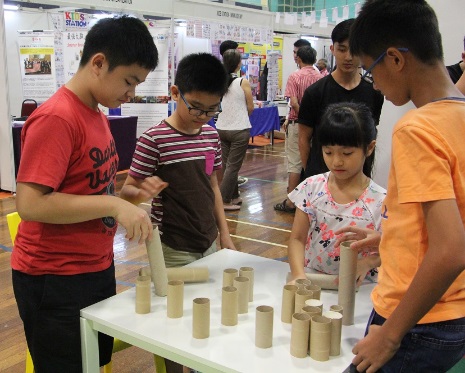 Some younger visitors playing a game at one of the booths.
The annually held Festival of the Mind made a comeback in its 13th iteration which was successfully held on 8 ? 9 July 2017 at the Sports Complex in TAR UC Kuala Lumpur Main Campus. The festival was jointly organised by Malaysia Mental Literacy Movement (?MMLM?), TAR UC and Universiti Tunku Abdul Rahman (?UTAR?). The theme of this year?s festival was ?GREAT MIND. Be Part of Greatness?.
Tun Dr Ling Liong Sik, Chairman of MMLM and Chancellor of UTAR was present alongside Tan Sri Lim Hock San, Managing Director of LBS Bina Group to grace the opening ceremony. TAR UC President, Datuk Dr Tan Chik Heok and YBhg Ir Prof Academician Dato' Dr. Chuah Hean Teik, President of UTAR were also present during the opening ceremony. Tun Dr Ling in his opening remark said: ?Whatever you want to remember in life, it is very important that you are able to pictorialize it as the language of the brain is pictures and not words. This is especially helpful and important for students who constantly need to remember important facts and information. This is also why the programme for this year?s festival consists of talks, workshops, exhibition and Sudoku Competition which are all focused on enhancing one?s brain to pictorialize better.?
Tan Sri Lim Hock San in his speech also emphasised the importance of mental fitness. ?Our brain has the ability to store a huge amount of information and the more we learn, the smarter we become. The more we exercise our brains, the fitter it will become. Following the current trends, everyone is more concern of being fit physically. All of us would not want to suffer or be diagnosed with any illness, therefore, just going to the gym is not good enough to maintain a healthy lifestyle. We also need to exercise our minds. Achieving and maintaining some mental fitness is just as crucial as keeping a routine workout of physical fitness,? Tan Sri Lim Hock San said in his speech.
The opening ceremony was made even more interesting with a stunning demonstration of strong memory by Mr Huang Sheng Hua, who is currently ranked no. 6 in the world in the World Memory Statistics. Mr Huang successfully memorised the colour sequence of 120 laid out by a few members of the audience for him to memorise.
The 2-day festival attracted a crowd made up of TAR UC students, members of the public and students from local schools. There were many attractive activities lined up during the 2-day festival which included workshops, talks, games, magic shows, word puzzles and a Sudoku competition which was held on the second day of the festival. 27 exhibitors were also present to showcase various products and services relating to the brain. TAR UC was one of the exhibitors, providing information about the various programmes offered in TAR UC. Besides this, TAR UC staff also had an enjoyable time engaging with the visitors through playing a number of mind-boggling games.