From left: Gee Yong Yong plans to one day pursue her doctorate in sports science; Kleven and Phoebe will be participating in the upcoming MoHE Conference.
Flaunting their presentations skills and knack for research, five sports and exercise science students from TAR UC excelled at the 1st AgileMas Research Performance Sports Colloquium (HPSC) held from 23 – 25 August 2022. Nuraina Nahira, Kleven Lim Jin Yew and Phoebe Ng Xiao Yan received the Best Presenter Awards while Ng Wan Xi and Gee Yong Yong were awarded the Best Investigator Awards.
Organised by the National Sports Institute of Malaysia, AgileMas HPSC 2022 aimed to bring together researchers from academic institutions and organisations interested in high performance sports, providing them with a platform to communicate research ideas, stimulate interest and potential research areas in the field of high performance sports.
Prior to the colloquium, participants were required to prepare an abstract according to the template provided and once accepted, they would record themselves presenting their findings.
Inspired by her own experience, Phoebe Ng shared that she was keen to know ways to jump higher and more explosively for different fixed shapes in the air in rhythmic gymnastics. With this in mind, the former competitive rhythmic gymnast's presentation topic "The Effect of Fast Stretch-Shortening Cycle Plyometric Training on Lower Limb Strength Qualities among Rhythmic Gymnasts" explored just that.
"In rhythmic gymnastics, there are three main difficulties and leaping/ jumping is one of them. I've always had better abilities in this area compared to balancing and pivoting hence I wanted to explore it further. For my presentation, I set plyometric training - a type of training exercise that uses quick and powerful movements, commonly used to improve jumping/leaping abilities, as the backbone of my research topic," she elaborated.
Being a first-time participant in an academic research event, it was an eye opening experience for Phoebe who was exposed to a different side of the sport she loves.
"Feedback from experts on my research is vital and I've learned so much from the other participants as well. It helped me gain perspective on how I would further my research as my abstract has also been accepted in the International Conference on Movement, Health and Exercise (MoHE).
Organised by the Malaysian Journal of Movement, Health and Exercise, the upcoming 8th MoHE Conference will be held on 27 – 29 September 2022 and is supported by the Sports Section, Policy Planning and Research Division of the Ministry of Higher Education Malaysia.
Joining Phoebe at the MoHE Conference is Kleven Lim whose presentation delved into his research on how an athlete's personality traits play a role in sports achievements.
"I aspire to become a sports therapist one day and work closely with athletes to help them manage their injuries and return to sports. With my research topic, I hope to highlight the importance of psychological aspects of personality traits and competition anxiety in affecting sports performance," he shared.
For Gee Yong Yong, her insightful research to provide additional information regarding sodium bicarbonate to runners earned her a Best Investigator Award. "This experience has increased my confidence in my presentation skills and I've learned a lot. I definitely plan to participate in more events like this in the future and pursue a doctorate in sports science."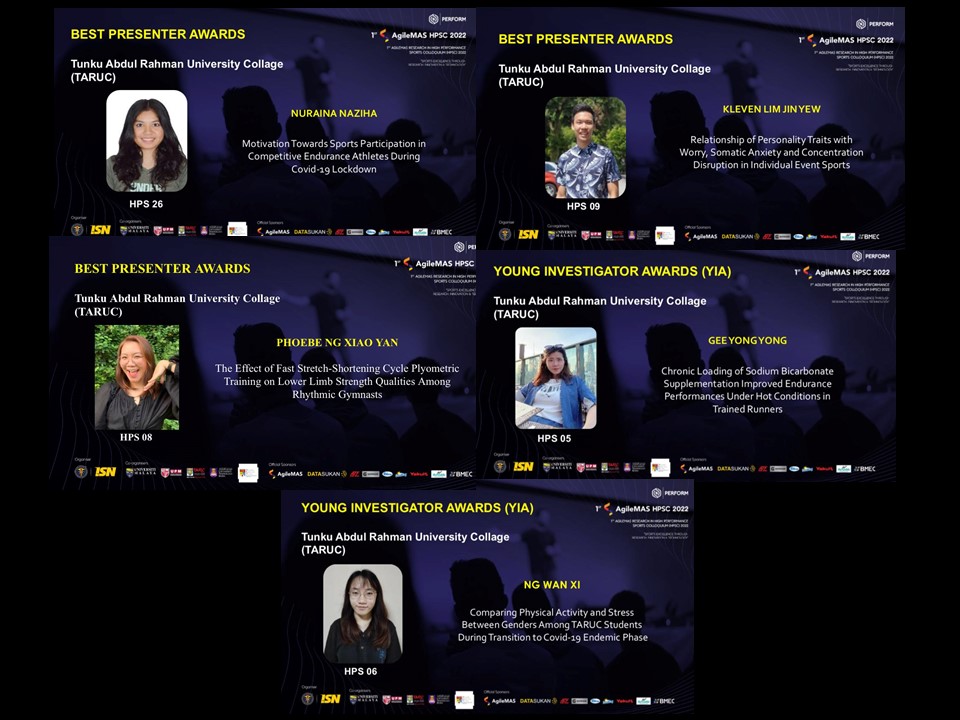 Nuraina Nahira, Kleven Lim Jin Yew and Phoebe Ng Xiao Yan received the Best Presenter Awards while Ng Wan Xi and Gee Yong Yong were awarded the Best Investigator Awards.