Graduands filling up the hall prior to the commencement of the convocation ceremony.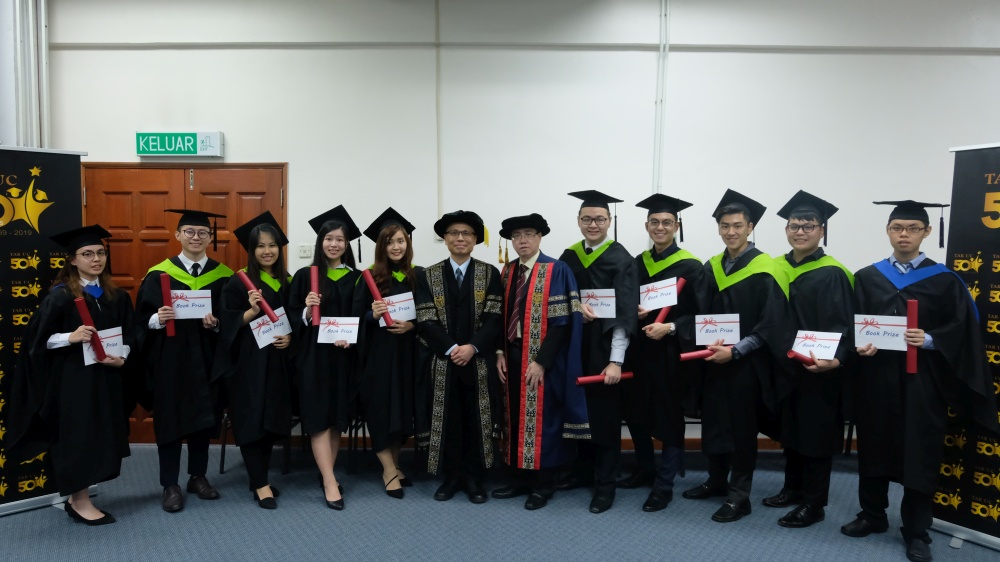 Prof Ir Dr Lee (sixth from left) and Ts Dr Chew Khoon Hee (sixth from right), Dean of the Faculty of Engineering and Technology ('FOET'), taking a group photograph with the Book Prize winners.
TAR UC's family has grown once again after over 500 students received their scrolls during the November 2018 Convocation ceremony held on 17 November 2018 at Kuala Lumpur Main Campus.
Parents, families and friends of the graduands packed the hall to witness the momentous occasion as graduands accepted their certificates from Prof Ir Dr Lee Sze Wei, President of TAR UC, signifying the completion of their studies and the commencement of the next chapter in their lives.
"I believe all of you have gone through many circumstances and difficulties in your journey but what eventually leads you to come to this stage is your perseverance in the face of adversity.
"Similarly, TAR UC has persevered in its 50-year journey to be where we are now. I would like to urge the graduands to persevere in pursuing your dreams and ambitions. Don't be afraid when adversity comes your way but persevere as this too shall pass. Equipped with the education you have received at TAR UC, you can overcome many challenges that you will encounter in your lives," said Prof Ir Dr Lee.
Selina Loh Xin Ci, a Bachelor of Engineering (Hons) Mechatronic graduate, gave credit to her supportive lecturers for helping her attain a book prize for her excellent results.
"In addition I also learned important soft skills like teamwork and communication which will be immensely helpful in my workplace. I will never forget my time at TAR UC," said Selina with a smile.
Puah Kian Yik who is also a book prize winner and a graduate of the Bachelor of Quantity Surveying (Hons), said the past four and a half years at TAR UC was a valuable experience for him.
"The learning process, support from lecturers and comprehensive syllabus gave me both academic and industrial knowledge that helped me adapt to the demands of the industry when I joined a consulting firm six months ago," explained Kian Yik, who aspires to become a professionally certified quantity surveyor in the near future.
The November 2018 Convocation ceremony also featured a live singing performance of "You Raise Me Up" to thank all the selfless parents and guardians who helped the graduands complete their tertiary education, and the "La Man" song to turn the focus on the upcoming TAR UC 50th anniversary celebration which will be held on 16 – 17 March 2019.
The November 2018 Convocation ceremony was also attended by Dato' Yap Kuak Fong, President of TARCian Alumni Association ('TAA') and Member of the Board of Governors of TAR UC, Prof Ir Dr Noor Azuan bin Abu Osman, Prof Dr Mohd Ekhwan Hj Toriman, Prof Dr Durrishah binti Idrus, Members of the Board of Governors of TAR UC, and Dato' Kum Boo, Honorary Fellow of TAR UC.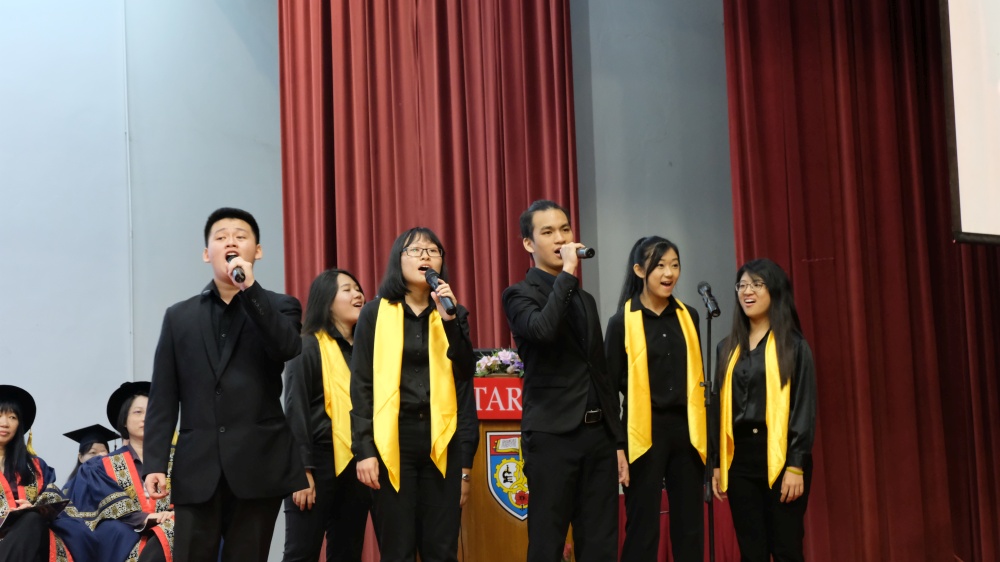 Students performing the "La Man" song on stage.