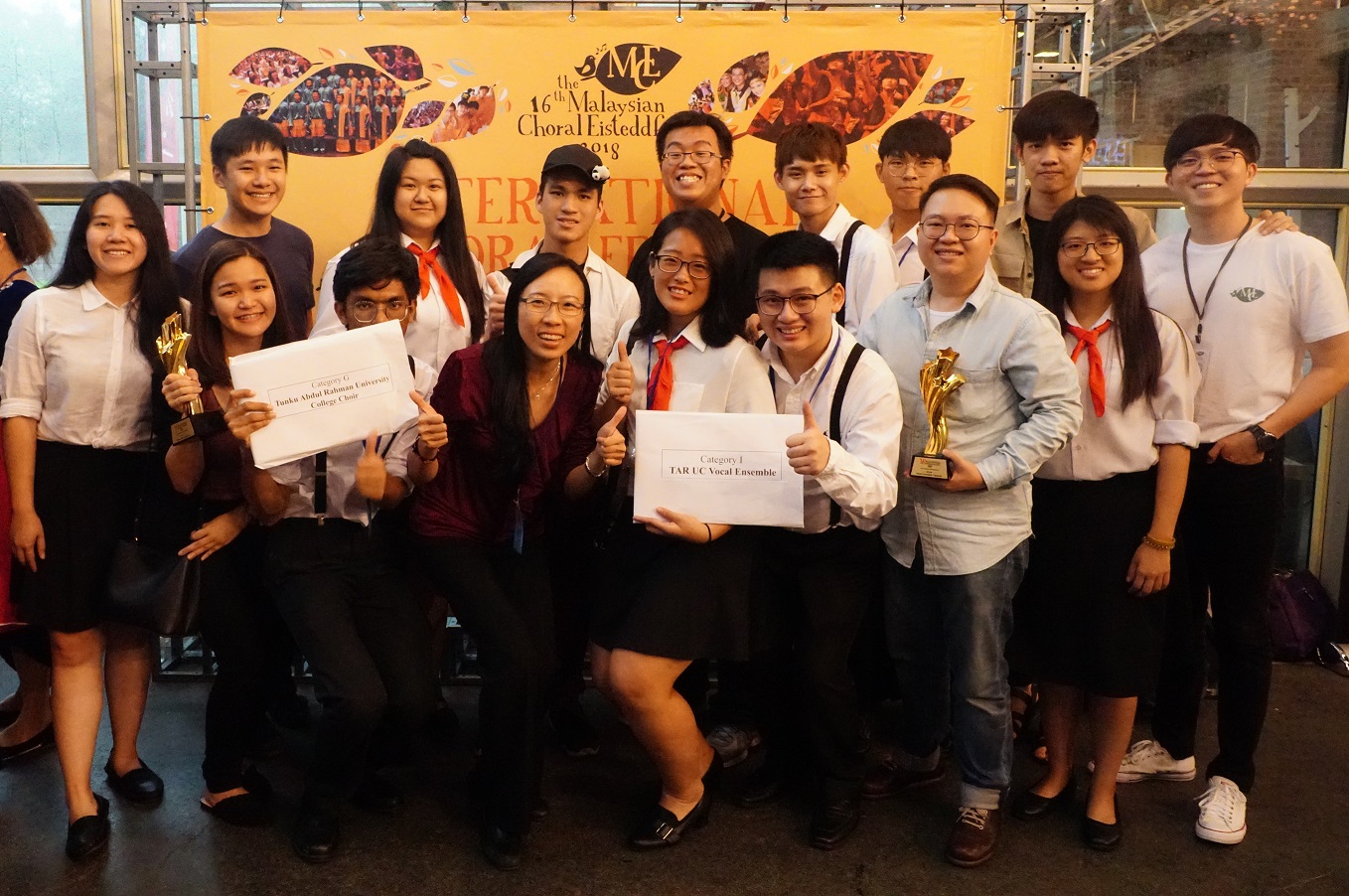 Ms Ang (front row third from left) with choir representatives who competed in the Show Choir category and Voice Ensemble category with the trophies and certificates of achievements.
The two trophies won by TAR UC Choirs.
The harmonious melodies of the choirs from TAR UC have once again captured the hearts of the judges when the choir groups from TAR UC were announced as the recipient of the Silver A award in the Show Choir category and Silver A award in the Vocal Ensemble category respectively at the 16th Malaysian Choral Eisteddfod (MCE) International Choir Festival 2018. The festival was held on 8 November 2018 at the Kuala Lumpur Performing Arts Centre ('KLPAC') and it was organised by the Young Choral Academy and supported by the Ministry of Education, The Actors Studio and KLPAC.
The festival's competition consisted of 10 categories and in addition to the competition, workshops, choral exchanges and friendship concerts were also held. Participants from a number of countries in the Asian region took part in the festival such as Singapore, Indonesia, Korea, the Philippines and Thailand. The choir competition performances were graded based on intonation, sound quality of the choir, fidelity to the score and overall artistic impression.
TAR UC Choir comprising 37 students performed two songs for the Show Choir category which were 'Cabaret' and 'The Rag Time Dance'. In spite of a large part of the choir comprising new choir members who joined in June 2018, the students showed high level of commitment to rehearse as a team in preparation for the competition. "It is noteworthy that the students took great initiative to attend the rehearsals and gave their full cooperation during rehearsals conducted by myself as well as Ms Susanna Saw and Ms Farah Sulaiman who are our external trainers. I truly appreciate the bond that I have developed with the students through the many rehearsals as well as during our camp which was held during the first semester holidays. To summarise, I am very proud of this achievement which serves as a great motivation for the team to continue doing their best not only during choir performances but also in their studies in TAR UC," Ms Ang Yaw Feng who is the choir advisor cum trainer said.
Meanwhile, for the Vocal Ensemble category, TAR UC was represented by TAR UC Vocal Ensemble which is another subgroup of TAR UC choir. This group consisted of 11 alumni and 6 students who performed 2 contrasting songs which were 'Ave Maria' and '夜来香'.