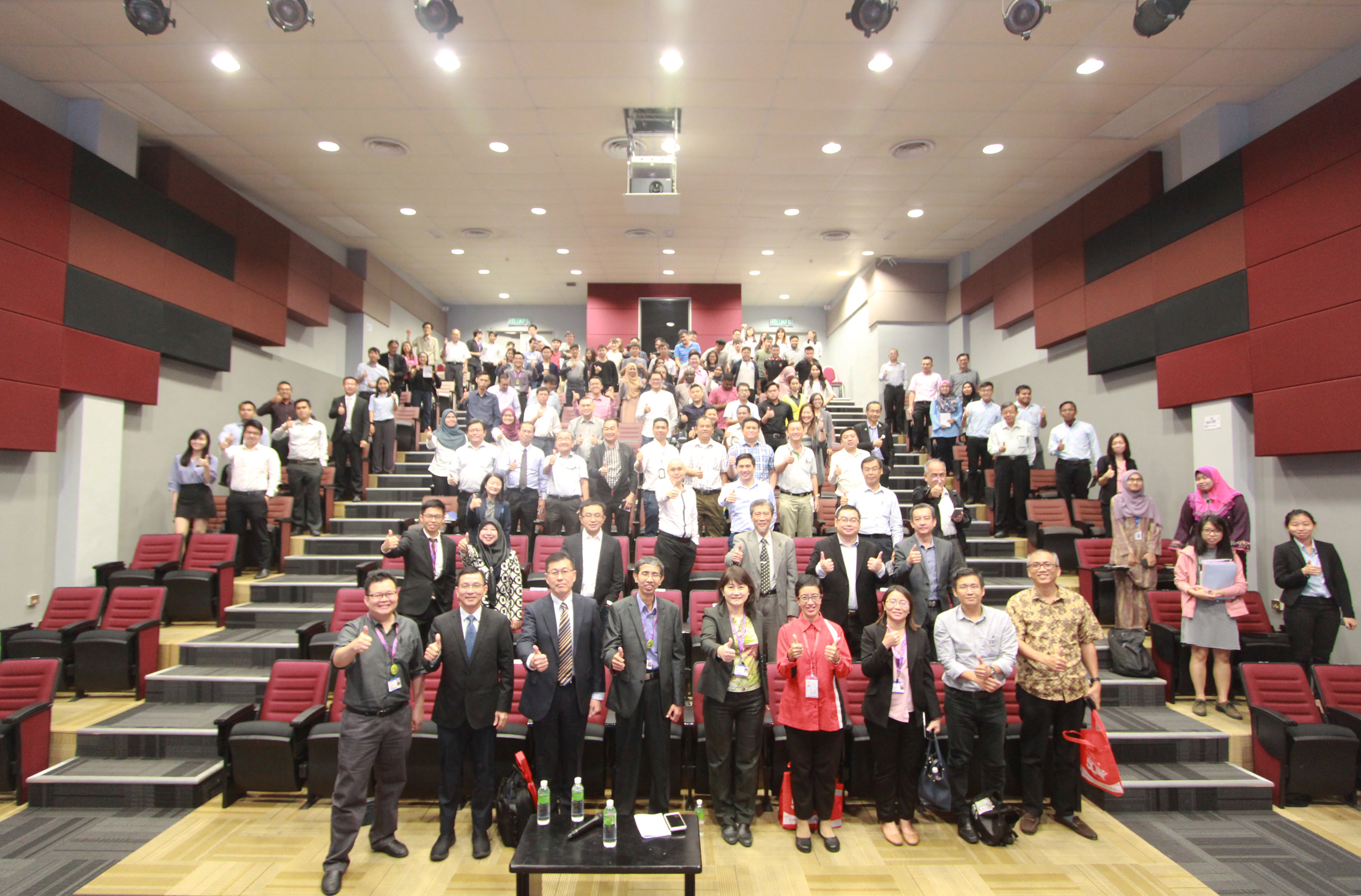 Assoc Prof Dr Ng (fifth from right), Assoc Prof Sr Ooi, (sixth from right), keynote speakers Mr Chew Huat Seng (third from left), Managing Director, Hitachi (Malaysia) Sdn Bhd, and Dr Shaik Roslinah Bux (fourth from right), Deputy Director, Malaysia Productivity Corporation, TAR UC senior officials, staff, students, and guest speakers giving the thumbs up to the Inaugural Symposium.
On 12 December 2018, TAR UC hosted the Inaugural Symposium 2018: Sustainable and Smart Built Environment at its Kuala Lumpur Main Campus to highlight the impact of latest and smart developments to the built environment ecosystem.
Organised by the Faculty of Built Environment ('FOBE') through its Centre for Construction Research ('CCR'), the symposium featured two keynote addresses and nine talk sessions, including one talk delivered by our very own Assoc Prof Dr Ng Swee Chin, Vice President of TAR UC.
"At TAR UC, our commitment to students is not limited to equipping them with industry-relevant education, but also to ensure they have the capacity of being adaptable and become innovative leaders who can seize the opportunities that arise from Industry 4.0."
"This symposium is a great platform to expose both students and educators alike on the latest developments and best practices in the construction and built environment industry," said Assoc Prof Dr Ng.
Assoc Prof Sr Ooi Lay Yong, Dean of FOBE, echoed Dr Ng's points, adding that "The symposium will be a very informative experience for everyone here, especially our students who have the opportunity to learn from and network with the various industry leaders."
The one-day symposium garnered a strong attendance from both students and educators, primarily from the built environment industry, who were looking for insights to the changes and ways to adapt to changes brought about by sustainable and smart technology such as Internet of Things, Artificial Intelligence, Big Data and Industry 4.0.