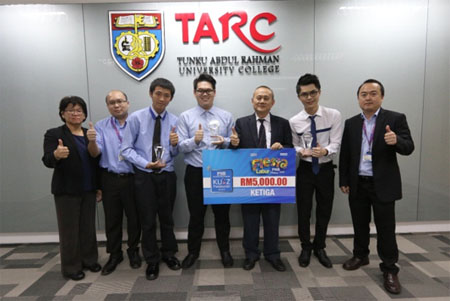 From left: Ms Wong Hwa Kiong, Dean of the Faculty of Accountancy, Finance and Business ('FAFB'), Mr Pua Tong Seng, Lecturer from the Department of Finance, Mak Kah Yew, Tam Jun Yen, Datuk Dr Tan Chik Heok, President of TAR UC, Lim Chee Wei, Mr Chai Ming Perng, Associate Dean, Department of Finance.
With grit and nerve of steel, a team of three TAR UC students namely Tam Jun Yen, Lim Chee Wei and Mak Kah Yew successfully clinched 2nd Runner-up position in the final round of the PNB 1Malaysia Investment Quiz Competition 2017, which was held on 30 September 2017 at Putrajaya International Convention Centre.
It was a bittersweet victory for the team especially Tam Jun Yen who is currently in his final year of study. "Aside from scoring well academically, I have never represented TAR UC in any competitions. This is my first time participating in an external competition and I'm glad that we won 2nd Runner-up," he said.
It was not a walk in the park for the team who had to face many challenges leading up to the finals.
"We only had 9 days to prepare and I had to start preparing right after my exams ended," shared Jun Yen. "In addition to the limited time we had, I didn't know my team mates as we did not have any classes together so I didn't know what the capabilities of my juniors were. We started out just talking, trying to get to know one another. I found out that they are better than me in some areas and we were able to lean on each other's strength. I am really fortunate to have such team mates."
Adding on to that, his team mate Chee Wei recalled how nervous they were during the final round. "As none of us had any experience in this competition, we did not know what to expect. Thanks to the support and encouragement from our lecturer, Mr Pua, our confidence was boosted and we were able to carry on till the end. Overall, it was a good experience for us all and we hope that we can do better in the future."
Kah Yew shared the most memorable part of the competition for him was when their team made it through to the finals.
"We made some blunders during the semi-finals and some of the other teams came up quite strong. I was pleasantly surprised to find out that our team was going into the finals," he shared. "Even though we did not know each other well at the beginning, we had the same goal – to win!"