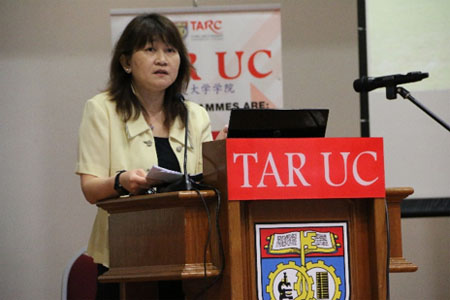 Assoc Prof Dr Ng Swee Chin giving a brief introduction on Prof Wuqiang Yang during her opening remarks.
Prof Yang stressing his points during his presentation on "Academic Writing and Publication".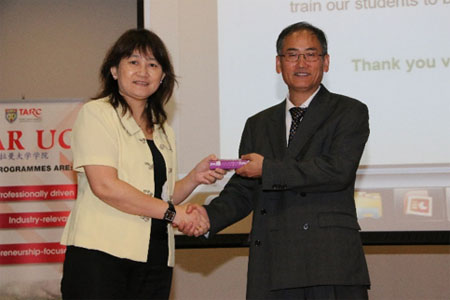 Assoc Prof Dr Ng (left) presenting Prof Yang (right) with a token of appreciation.
In its effort to encourage excellence in academic writing and publication amongst the academic staff, TAR UC had the honour of hearing first-hand from Prof Wuqiang Yang, Professor of Electronic Instrumentation at the School of Electrical and Electronic Engineering, University of Manchester, UK, on 27 November 2017 at the Auditorium in TAR UC Kuala Lumpur Main Campus.
Organised by the Centre for Postgraduate Studies and Research ('CPSR'), the talk was attended by Assoc Prof Dr Ng Swee Chin, Vice President of TAR UC, Assoc Prof Dr Lee Wah Pheng, Head of CPSR and faculty staff as Prof Yang gave an insightful talk on "Academic Writing and Publication".
During her opening remarks, Assoc Prof Dr Ng gave a brief introduction on Prof Yang. "We have known Prof Yang for many years. He is also our external examiner for microelectronics and a distinguished figure in the field of instrumentation, sensor and signal processing. He is not only a well-known individual in his area of expertise in the UK, in IEEE but also in China."
A renowned academician, his presentation touched on the do's and don'ts of writing a high quality academic paper and he gave pointers on the process of journal publication. He also delved into the importance of the presentation of journals and papers during conferences and some general comments on how to prepare for them.
Attendees were also able to get further clarification on academic writing and research platforms during a Q&A session which was held after the talk.