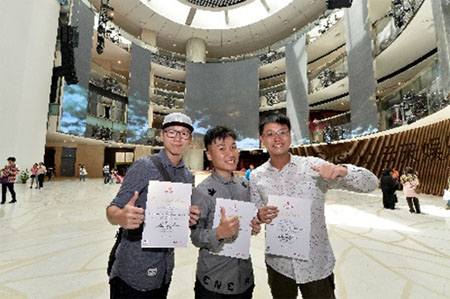 Samuel Ong Kuo Xian (centre), Jotham Lim Ee Che (leftmost) and Diong Jia Meng (rightmost), another TAR UC student studying the Bachelor of Communication (Hons) in Broadcasting who represented Josiah Ong Kuo Yi who was unable to attend the prize giving ceremony.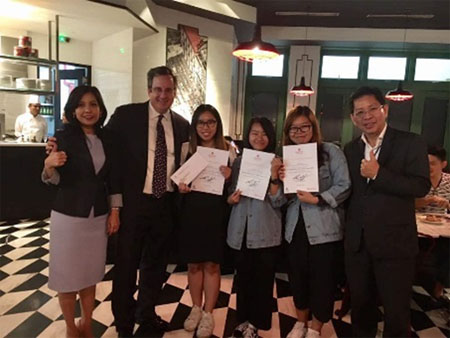 Ng Zi Qing (third from left), Tan Wan Jun (third from right) and Soh Zi Xiu (second from right) together with officials from Genting Malaysia Berhad after the prize giving ceremony.
For 6 TAR UC students studying the Bachelor of Communication (Hons) in Broadcasting, their National Day celebration was made more meaningful when the videos they produced for the Genting Malaysia National Day Short Video Contest 2017 were among the top three videos in the competition. The students who worked in teams of three each attended the prize giving ceremony on 7 September 2017 where each team won a cash prize of RM3,000 and each student received a certificate of achievement.
There were altogether three top videos that were selected as winners in the competition. Participants of the competition were required to produce a short video with a time length between 30 to 40 seconds based on one of the competition's themes which were Unity, Strength in Diversity or National Identity. The three top videos were screened on the huge LED display screens in SkyAvenue Mall Atrium from 23 August to 16 September 2017.
One team of students consisted of Samuel Ong Kuo Xian, Jotham Lim Ee Chen and Josiah Ong Kuo Yi produced a video based on the theme of National Identity. "As younger generation of Malaysians, we cannot help but see a weakening sense among Malaysians in embracing their uniqueness of being Malaysians. So we developed the storyline for our video based on the concept of 'What Makes Us Malaysians?' We also wanted our video to carry a solid message promoting the similarities between Malaysians, regardless of our ethnicity, religion, ideology, politics and other factors that divide us. All three of us truly understand the meaning of unity which is a way of life that all of us can be comfortable with each other no matter our differences and we saw the opportunity to spread this message through this competition," Samuel explained.
The other team of students comprised Soh Zi Xiu, Tan Wan Jun and Ng Zi Qing. The video that they produced was also based on the theme of Unity in which they portrayed three primary school children from different races who were close friends. "For us, unity is what makes Malaysians great. We took a different approach in choosing our characters where we focused on primary school students, reason being we wanted to emphasise that unity among us starts from a very young age," Zi Qing remarked.
Both teams of students commented that one of the challenges they faced when taking part in the competition was lack of time. "The time frame given to us to produce the video was from 20 June to 30 July 2017. On top of having to complete our assignments and preparation for tests, our daily schedule was made even tighter with the need to produce the video. Adding on to this was the competition requirement which stipulated that the video produced should be a visual video without narration and scripts. This requirement was very challenging as we only had the element of visuals to play around with in order to deliver our message effectively," Samuel said. Meanwhile Zi Qing added: "It was indeed very stressful for us as a team too as Samuel explained. However, I believe both our teams embraced the challenges in a positive manner where we put our minds together to effectively plan before we executed the project. We also had the strong support from our lecturers who inspired us to think creatively and helped us plan our pre and post production schedules. I also must add that what we have learnt so far in our course was of big help to us not only in understanding the basics, but also how to create, improve and innovate our own video production."