Mr Chin with the three sculpture designs chosen to be displayed in Chengdu.
(From left): Dream Chaser, Eyes on Chengdu and Soundless Melody.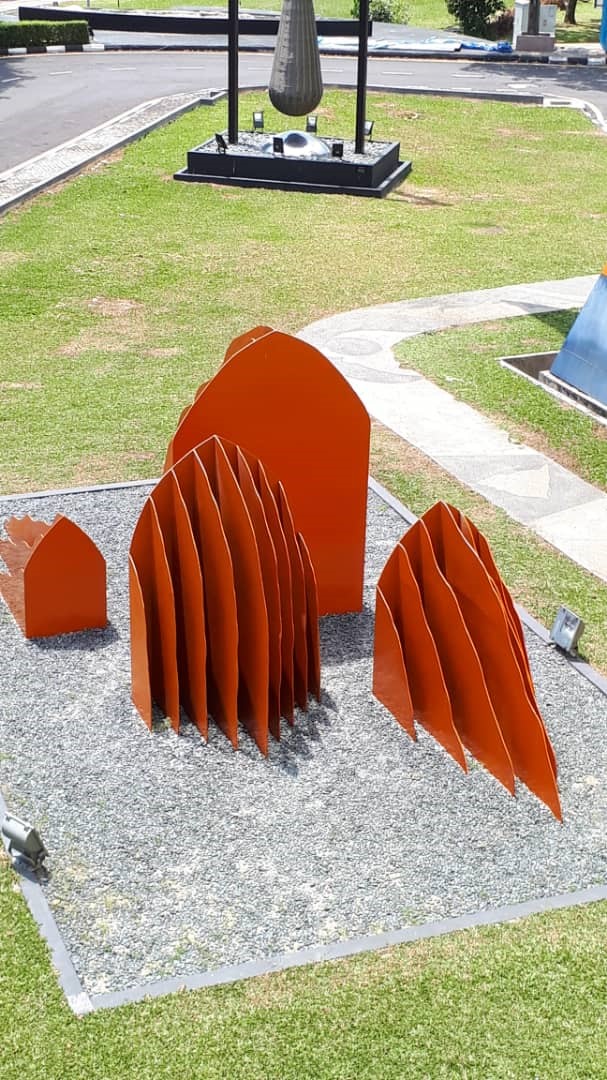 "Harmony and Unity" which is currently a permanent display at the National Art Gallery.
Mr Chin Wan Kee, a senior lecturer from TAR UC's Faculty of Communication and Creative Industries ('FCCI') has done the nation proud as he adds another achievement to his illustrious career. Mr Chin managed to get three of his bronze sculpture designs chosen to be installed at the Jincheng Greenway, an ecological paradigm which is part of a new cosmopolitan city called Tianfu Greenway in Chengdu, China.
The story started in 2018 when Mr Chin became the sole Malaysian representative to be invited by the Foreign and Overseas Chinese Affairs Office of Chengdu Municipal People's Government and Chengdu Municipal Urban & Rural Construction Commission, China to participate in the 2018 Chengdu International Sister Cities Sculptures Creation and Exhibition, which is linked to a wide range of projects for the development of Tianfu Greenway.
"Phase 1 was the inspiration trip for the project. We visited many places such as museums, artists' studios and met with local artists. Apart from that, we were also brought to the site and given the brief of the sculpture project," he explained. "After returning to Malaysia, I prepared my proposal with bronze models as reference based on my experience there and submitted it to the Chengdu government for their selection. To my delight, three out of four sculpture designs which I proposed were selected to be installed!"
The selected sculptures are "Eyes on Chengdu", "Soundless Melody" and "Dream Chaser".

Drawing inspiration from ancient jewellery he saw during a trip to the Jinsha Site Museum, "Eyes on Chengdu" was designed with the city's potential in mind, that is, being an up-and-coming city which the world can truly "see" Chengdu and its future. "Soundless Melody" follows the design of the ecological paradigm that balances out the relationship between the city's rapid developments with the serenity of nature, providing a sense of escapism from the hustle and bustle of life. Inspiration for this comes from music intervals which create unison between the two. Lastly, "Dream Chaser" symbolises China as a progressive country where dreams can be fulfilled. With the new technologically advanced city being developed, more opportunities will arise for the people to bring change and modernisation.
A veteran artist with close to three decades of experience, Mr Chin has many accomplishments under his belt. Prior to this, Mr Chin's most memorable achievement was winning the National Art Gallery Public Sculpting Art Competition in 2000. His sculpture titled "Harmony and Unity" is currently a permanent display at the National Art Gallery. Apart from that, he has held many sculpting and painting exhibitions. His most recent solo exhibition – "Sculpturing is Meditative" - features selected works from 1997 – 2017.
"Everything I do now goes beyond sculpting. I do it as a form of meditation which helps me lead a more meaningful life as a person."
A rare artist in Malaysia who uses bronze as a medium, Mr Chin initially majored in fine art painting and was introduced to sculpting in 1990 when he furthered his studies in San Francisco, USA.
"I took up sculpting as an elective when I furthered my studies in America because at that time it was a new media for me. Painting is 2D but sculpting is 3D – it's touchable. I liked the challenge where I had to consider all aspects of a new creation. Bronze casting was also a new process to me and that developed into a passion later on," he recalls.
"Bronze is classy and traditional. It is a pretty solid material in its finished form. Bronze also has good value and is durable over a long period of time. I have tried other welding metals and fibreglass as sculpting mediums but I still prefer bronze."
"I am very proud of Mr Chin's accomplishment and also glad that his works have been recognised at the international level," commented Prof Ir Dr Lee Sze Wei, President of TAR UC.