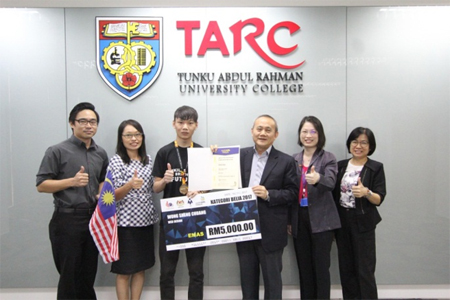 Datuk Dr Tan Chik Heok (third from right), President of TAR UC, posing in a group photograph with WSMB 2017 Gold medal winner (Web Design category), Wong Sheng Chuang (third from left), Ms Lim Mei Shyan (second from right), Dean of the Faculty of Computing and Information Technology ('FOCS') and the academic staff from FOCS.
The WorldSkills Malaysia Belia ('WSMB') has always set out to unearth the best talents by giving them an opportunity to showcase their skills in their respective fields, and a Tunku Abdul Rahman University College ('TAR UC') student stepped up and stood out in the 2017 edition of the annual competition.
Wong Sheng Chuang, a student of the Bachelor of Information Technology (Hons) in Internet Technology, overcame the odds to clinch a Gold medal in the Web Design category, beating 59 participants from 16 other institutions in the process.
The 21-year-old breezed past the first phase of the competition conducted on 26 April 2017 where he developed a website from scratch within the four-hour time limit and was named one of the eight finalists to qualify for the second phase. Sheng Chuang then braved through four tasks assigned in the second and final phases of the competition from 12 – 14 August 2017, ranging from designing mock-ups of websites for multiple platforms to developing a functional web application within a tight deadline.
His perseverance and skills won the judges over and Sheng Chuang was named the Gold medal winner, who took home RM5,000 in prize money for his achievement.
"I am delighted to have come out of this experience with success. I think my biggest obstacle was not the tasks given by the judges, but time management. I had to ensure I was well- prepared for the competition on top of conducting my presentations in class and completing my assignments on time. I also had to study for my midterm and final exams which coincided with the first and second phases of the competition," revealed Sheng Chuang.
"In addition to the fundamental knowledge covered during the course of my studies at TAR UC, my lecturers were always open to share their own knowledge and advice such as best practices during programming. I also made it a habit to set daily goals to learn something different no matter how small so I am able to keep improving. All these put together gave me an added advantage during WSMB 2017," he added.