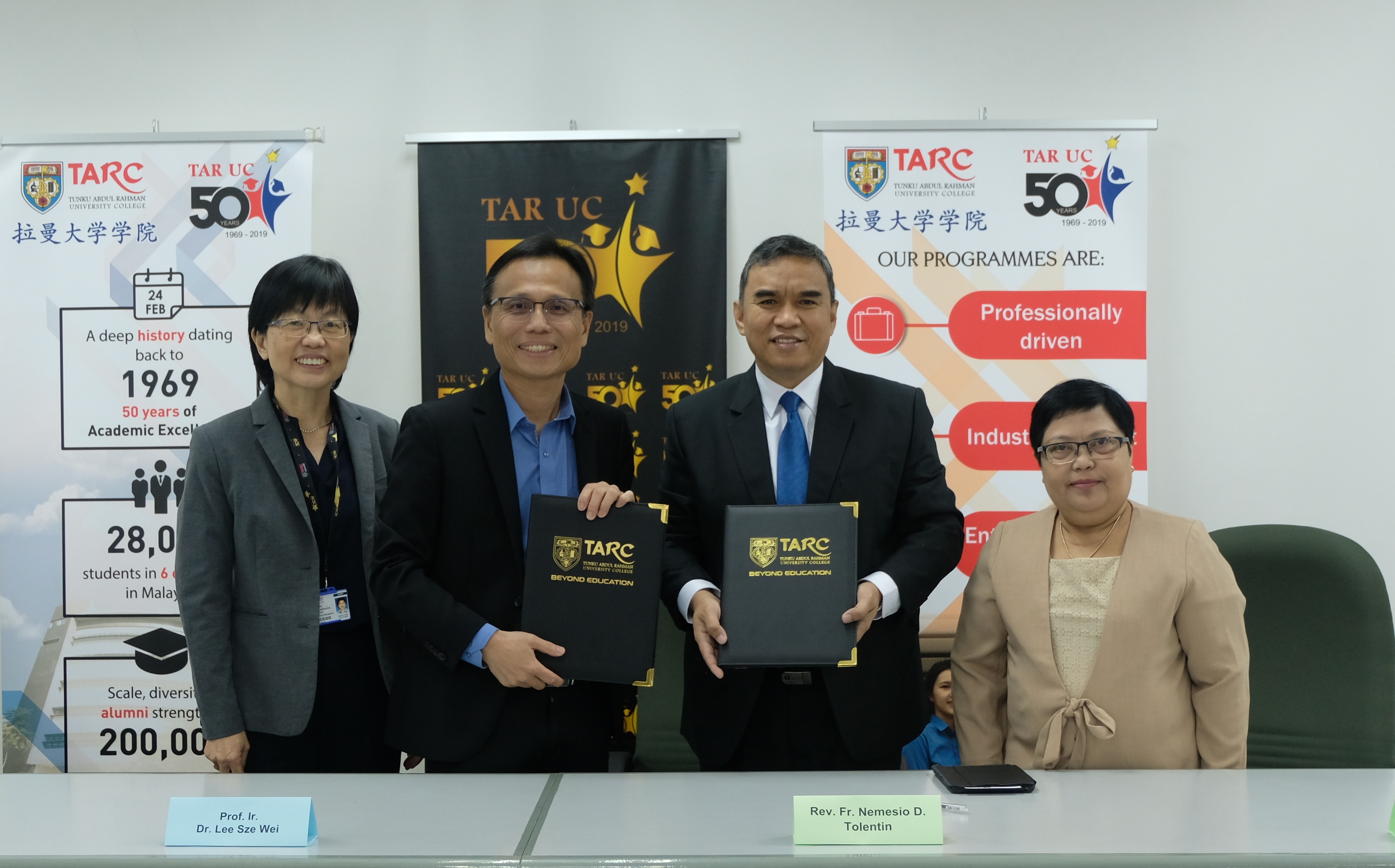 Prof Ir Dr Lee Sze Wei (2nd from left) and Rev Fr Nemesio D. Tolentin (2nd from right) holding up the signed MoUs, while Assoc Prof Say Sok Kwan (leftmost) and Dr Lolita de Guzman (rightmost) look on.
TAR UC signed a Memorandum of Understanding ('MoU') with San Sebastian College-Recoletos, an institution of higher learning established in 1947 based in Manila, Philippines, on 6 February 2020 to foster a friendly relationship through mutual cooperation in academics, curriculum enhancement, faculty-student exchange program, faculty and staff trainings, industrial exposure and immersion programs, research collaborations and other development programs.
At the MoU signing, the delegates from San Sebastian College-Recoletos consisted of Rev Fr Nemesio D. Tolentin, OAR, School President, Dr Lolita de Guzman, Dean of College of Business Administration, Accountancy and Computer Studies and Dr Rodrigo Ponce Jr, Director of Quality Assurance Office. TAR UC was represented by Prof Ir Dr Lee Sze Wei, President, Assoc Prof Say Sok Kwan, Vice President, Administration and Internationalisation, Assoc Prof Ms Wong Hwa Kiong, Dean of the Faculty of Accountancy, Finance and Business ('FAFB'), Ms Ng Chiah Yee, Director of the Centre for Continuing and Professional Education and Ms Chin Hooi Khoon, Associate Dean of FAFB.