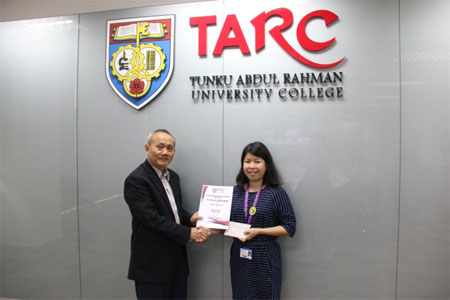 Ms Lee Ai Choo (Right) accepting the Excellent Service Award from Datuk Dr Tan Chik Heok (Left), President of TAR UC.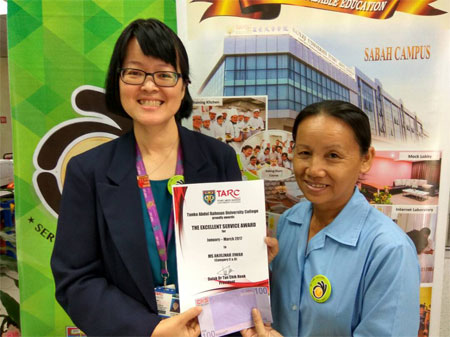 Ms Anjilinah (Right) accepting the Excellent Service Award from Ms Chu Wen Tyng (Left), Head of Sabah Faculty Branch.
In recognition of their excellent service to students, Ms Lee Ai Choo from the Department of Student Affairs and Ms Anjilinah Jiwah from TAR UC's Sabah Faculty Branch were honoured by awarding them the Excellent Service Award for the first quarter of 2017. It was smile all around as both of them were handed their certificates on 14 July 2017.
"It came as a surprise when I was told that I was a recipient of this award," said Ms Lee Ai Choo who has been with TAR UC for 12 years. "TAR UC's Service Excellence Campaign is a great way to exemplify the University College's culture. It can drive productivity and customer satisfaction as smiling can reduce stress and make us more approachable."
Another surprised recipient of the award was Ms Anjilinah Jiwah, a general staff from the Sabah Faculty Branch who has been with the University College for 7 years.
"I enjoy my work more when I am smiling and everyone is happy," commented Ms Anjilinah. "I always encourage my colleagues to smile more because it makes both students and staff feel more comfortable and it creates a pleasant working environment," she added.
"Serve, Smile, Shine" – the campaign motto which is printed on the smiley badges worn by all TAR UC staff is a constant reminder to the staff to smile more as part of TAR UC's Service Excellence Campaign. The campaign which was launched in November 2016 aims to further inculcate the spirit of serving in the provision of excellent service in TAR UC based on respect and mutual understanding to create a conducive environment on campus for students.