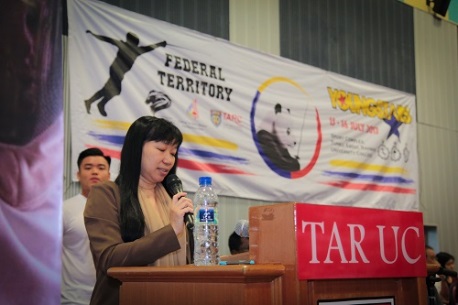 Assoc Prof Dr Loke Chui Fung delivering the opening speech on behalf of Datuk Dr Tan Chik Heok.

Ms Shirley Wong addressing the audience.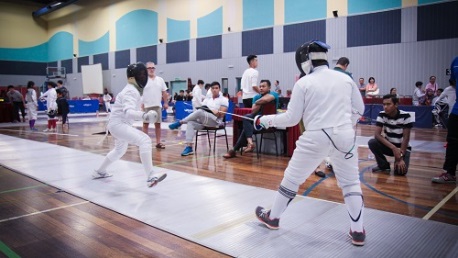 The participants battling it out at the Championship.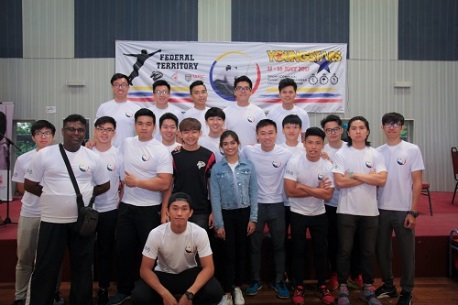 Chong Yao Seng (front row third from left), together with his team from TAR UC's Sports and Exercise Science Society in a group photograph after the launch ceremony.
TAR UC hosted the 2017 Federal Territory Amateur Fencing Association ('FTAFA') Young Stars Fencing Championship on 15 – 16 July 2017 at the Sports Complex in Kuala Lumpur Main Campus. The championship which was jointly organised by FTAFA and the Sports and Exercise Science Society of TAR UC saw a participation of approximately 200 fencers from Malaysia, Singapore, Indonesia, Hong Kong and Taiwan aged between 8 – 15 years old. The opening ceremony of the competition which took place on 15 July 2017 was attended by Assoc Prof Dr Loke Chui Fung, Dean of the Faculty of Applied Sciences who represented Datuk Dr Tan Chik Heok, President of TAR UC and Ms Shirley Wong, President of FTAFA as well as Chong Yao Seng, Chairman of the Sports and Exercise Science Society as well as other officials from FTAFA and event sponsor.
Datuk Dr Tan's opening speech was read by Assoc Prof Dr Loke where he highlighted that it is an exciting time for TAR UC as the institution continues to grow as the centre of academic excellence as well as in organising various international events such as the fencing championship. As such, he congratulated the Faculty of Applied Sciences, Sports and Exercise Science Society and FTAFA for successfully organising the championship. With the increase in the number of participants in this year's championship, it goes to show that fencing is gaining popularity among the children, youths and adults. Thus this year's event marks a huge accomplishment for TAR UC and FTAFA in promoting fencing in Malaysia. Besides promoting fencing through championships, TAR UC as a premier education provider which promotes holistic education has already incorporated fencing as one of the co-curricular activities, with the aim of increasing awareness of the sport and its benefits amongst the younger generation.
Meanwhile, Ms Shirley Wong in her speech thanked the Sports and Exercise Science Society for their efforts and work in making the championship a success. "FTAFA is proud to have collaborated with TAR UC especially the members of the Sports and Exercise Science Society in organising this championship. We have been working with the team from TAR UC for more than two months and the team has been very supportive and helpful in making this championship a resounding success. I also would like to thank TAR UC President, Datuk Dr Tan and Assoc Prof Dr Loke for their continuous support towards FTAFA," she remarked.
Chong Yao Seng, a Bachelor of Science (Hons) in Sports and Exercise Science student was very pleased to have the opportunity to work with FTAFA. "Co-organising this event with FTAFA is certainly beneficial for me and my team members. Besides strengthening event management skills, we also learnt a lot about communication, coordination and working under pressure. Although there was a number of challenges we had to face, I believe my team and I dealt with those challenges the best we could with the help and guidance from our lecturers. Overall, I am grateful to TAR UC for providing a great opportunity in organising an international level event with an established association such as FTAFA," he shared.