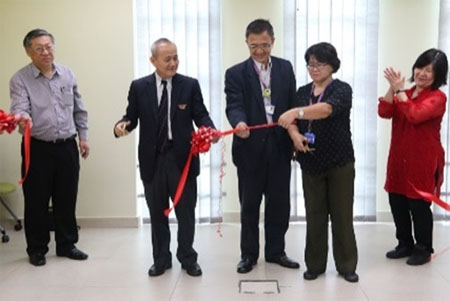 Datuk Dr Tan Chik Heok (second from left) and Ms Wong Hwa Kiong (second from right), Dean of FAFB, cutting the ribbon while Dr Chook Ka Joo (centre), Vice President of TAR UC, Mr Moses Ooi (leftmost), Bursar and Ms Ng Lay Choo (rightmost), look on.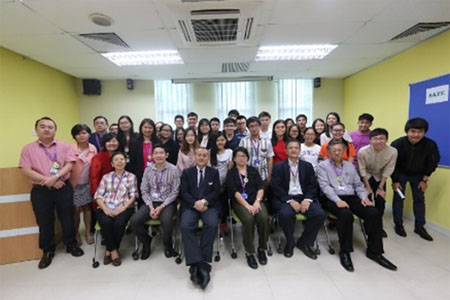 A group photo of the senior management of TAR UC together with the academic staff of FAFB and the accounting students who are taking the Public Speaking programme in the Public Speaking Training Room.
With the intention of strengthening public speaking skills amongst accounting students, Faculty of Accountancy, Finance and Business ('FAFB') Public Speaking Training Room was officially launched on 30 August 2017 at the East Campus of TAR UC Kuala Lumpur Main Campus. Datuk Dr Tan Chik Heok, President of TAR UC, officiated the launching ceremony in the presence of the senior management of TAR UC, Ms Wong Hwa Kiong, Dean of FAFB and FAFB students who are undertaking the public speaking programme in TAR UC.
Datuk Dr Tan Chik Heok in his opening speech emphasised the importance of public speaking, especially for accounting students. "The launch of this public speaking training room will certainly provide a conducive space for our accounting students to unleash their hidden potentials in the field of public speaking. It is very timely that we equip our students with public speaking skills as the trend in the accounting field is changing dramatically where profession such as accountants will be replaced with the advancement in ICT. As such, equipping our students with excellent public speaking skills will definitely serve as a competitive advantage for our students. Besides this, I see the potential of public speaking in moulding our students to be excellent critical thinkers, problem solvers and confident leaders," he said.
In relation to the Public Speaking Training Room, Ms Ng Lay Choo who is the instructor explained in detail about the public speaking programme which will be conducted in the newly launched training room. "The public speaking programme is actually an optional programme specially designed for TAR UC students who are studying accounting either at the diploma or Bachelor's degree level. The duration of the programme is 2 years and students will be required to present various topics in 10 stages. Besides this, students will also be trained to ace interviews which includes training students to study the body language of the interviewers and how to tackle difficult questions. To rightly put it, the aim of this course is to train students to communicate and think like a leader. As such, being able to provide students with their own space where they are comfortable to practise, make errors and learn from their mistakes is very important," she explained
Mah Jeung Hoong, a Bachelor of Accounting (Hons) student shared his thoughts about the importance of having the public speaking training room. "It is encouraging to know that the management in TAR UC recognises the importance of equipping us with the skills of public speaking by providing us with our own space to practise and learn. The training room will bring much convenience to us as we will have our own designated space to gather and learn as well as to practise our public speaking skills with one another. More importantly, the training room is our own space to improve from the mistakes we make during practice, which can be quite intimidating if we were to practise in a public space," he remarked.