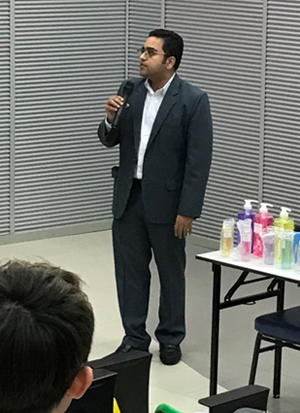 Mr Shrayas Saranathan himself, giving his talk.
As part of the TAR UC's Product Management course, a special speaker from WIPRO-UNZA (M) Sdn Bhd was invited to give a talk on the product development process. The talk shared from the industry's point of view had provided Year 3 marketing students a deep insight into product development process as practised in the industry. WIPRO-UNZA is the market leader in many fast moving consumer goods products including skincare, fragrances, oral care and a variety of personal care products for men and women. The brands under WIPRO-UNZA include Safi, Eversoft, Enchanteur, Elite, Dashing, etc., just to name a few.
The 2-hour talk was held in East Campus, TAR UC Kuala Lumpur Main Campus on 1 August 2018. Approximately 200 students attended the talk.
The speaker was Mr Shrayas Saranathan, Senior New Product Development Manager, who is seconded to Malaysia from WIPRO, a giant conglomerate from India. An excellent speaker and story teller, Mr Saranathan captured the attention of the students on Product Management as he shared his experience and knowledge.