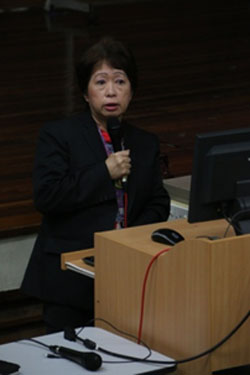 Madam Looi Li Chin giving her welcome speech
Mr Kenneth Lau, a lecturer from CPUS, giving a motivational talk to the students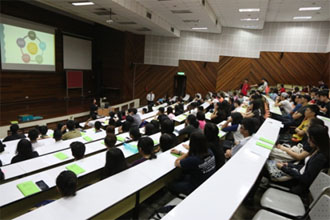 The new students at the Orientation session
On 9 January 2017, close to 100 A Level & Foundation students reported for their first day at TAR UC for the new January 2017 intake. They were taken through an Orientation session at DK A, TAR UC Main Campus. Organised by the Centre for Pre-University Studies ('CPUS'), it was indeed an informative session for the newcomers as they were briefed on the various aspects pertaining to student life on campus.
The session began with a welcome speech by Madam Looi Li Chin, Head of CPUS who, besides introducing the management and teaching staff to the students, also briefed them on the skills and fundamental values that the Centre would strive to develop within the students throughout their studies at TAR UC. These included subject mastery, communication skills, problem solving skills as well as interpersonal and intrapersonal skills. She also advised the students to be proactive and independent in their learning.
Subsequently, there was a short presentation by Mr Wong Wai Kit, a Student Counsellor from the Department of Student Affairs ('DSA') who briefed the students on the various self-enrichment programmes provided under the Student Counselling Services which included programmes to help the new students make new friends and adjust to campus life. This was then followed with a briefing by Mr Nyia See Thai, also a DSA Officer, who provided useful information on the many student facilities and services within campus from the sports facilities to student accommodation, bus service, cafeterias and so on.
Mr Kenneth Lau, a lecturer from CPUS, shared with the students some tips to adapt to, and succeed in their tertiary education in his motivational talk entitled "Tertiary Education – The Defining Moment". These tips included being clear on their goals, having better time management, and the importance of being fluent in English. In his talk, he also stressed on the importance of being more sociable by actively participating in clubs and societies as well as other activities organised within campus. "In fact, it is all these activities that would be your defining moments in your tertiary education, not just the academic aspect," he emphasised.
During the Orientation session, students were also introduced to the five student societies and clubs under CPUS and briefed on their respective A Level and Foundation programmes. In addition, A Level students were also equipped with all they needed to know about studying abroad.
With all these informative sessions held throughout the day, it is hoped that the newcomers would be better equipped to begin their sojourn on campus and subsequently enjoy a fruitful journey of growth at TAR UC. We extend our warmest welcome to the new students!