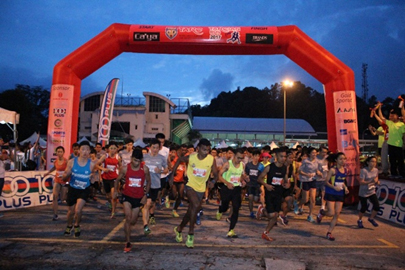 11km runners getting off to a good start at the starting line.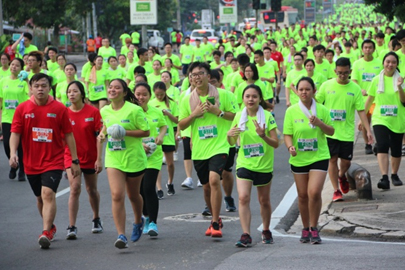 Enthusiastic runners on route.
Participants proudly showing off their finisher medals along with the Jalur Gemilang flag.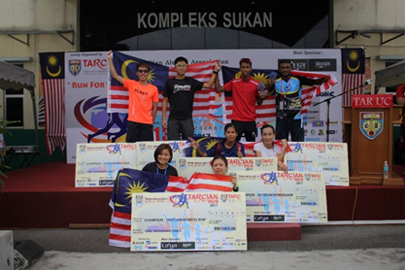 Group photo of the champions of all the categories.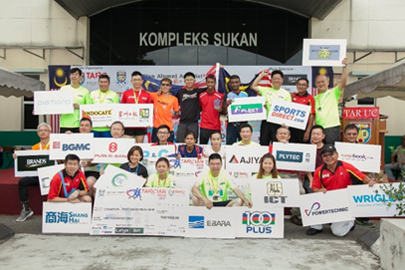 Group photo of the champions and event sponsors as well as media partners.
The TARCian Run 2017 kicked off with a bang on 13 August 2017 with more runners and on a bigger scale than the previous iterations.
Co-organised by the TARCian Alumni Association ('TAA') and TAR UC for the third consecutive year, the run aims to raise funds towards the TARC Education Foundation to fund the construction of a Student Centre at TAR UC Kuala Lumpur Main Campus which will serve as a hub for students' activities.
This year's run was concurrently held at the TAR UC Main Campus in Kuala Lumpur as well as all branch campuses in Penang, Perak, Johor, Pahang and Sabah with over 8,000 runners participating in 8 categories, consisting of TAR UC staff, students, alumni and members of the public. Running in the name of unity, the theme for TARCian Run 2017 'Malaysia Negaraku, My Nation' is in conjunction with Malaysia's 60th National Day Celebration.
"This year's TARCian Run is pushed back to the month of August with meaningful intentions, which is to mark the celebration of our 60th Merdeka Day," said Mr Lim Kok Eng, organising chairperson of TARCian Run 2017.
The 11km category was flagged off by YB Senator Datuk Chong Sin Woon, Deputy Education Minister and the 8km category was flagged off by Datuk Dr Tan Chik Heok, President of TAR UC. Runners clad in TARCian Run 2017 T-shirts in accordance with their categories hit the streets running through the designated routes in the early hours of the morning. The hilly terrain proved to be no easy feat even for experienced runners.
"From past experience, I know that this area is quite hilly so I focused my training on running uphill so that I could compete better this year," said Nik Fakaruddin Bin Ismail, who won champion in the 11km Men's Open category. "I feel glad to have been able to join this year's TARCian Run. I have joined the run three years in a row and this is the first time I have won first place!"
Feeling relaxed and accomplished after a good run, Kam Woei Yann who came in first in the 8km Veteran Women category admitted that the most challenging part of the race for her was the uphill climb and the last kilometre. "Usually when you reach the last kilometre you are exhausted! But overall it was a good run."
Tan Jian Yun, a Diploma in Sport and Exercise Science student was one of the rare few who overcame the challenging terrain with ease. "I'm quite familiar with this area because I train here every day except on weekends with my lecturer so I didn't find the hills challenging," said the 8km TARCian Men Champion.
Overall, the run was met with positive responses and some runners expressed their desire to participate again in next year's TARCian Run.
Teh Jamie who emerged as the 2nd Runner-up in the 8km TARCian Women category said that her win was quite unexpected. "It is kind of unbelievable that I have won but I am happy that I did. I did not expect that I could win any prize. I will definitely join again next year and hopefully come in 2nd or first place."
"Last year I joined the 11km category and I came in fifth place. This year I decided to join the 8km category instead," said Goh Wei Jian, the 8km TARCian Men 1st Runner-up winner. "If I join again next year, I will definitely go for 8km again because I feel more confident going at a faster speed on a shorter distance."
The run was sponsored by 18 companies and the media partners for the event were Sin Chew Media Corporation Sdn Bhd and Shang Hai Publishing Sdn Bhd. Some lucky participants were also fortunate to take home prizes worth more than RM30,000 during the lucky draw session.