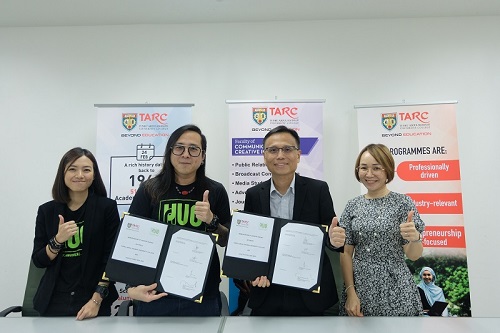 Prof Ir Dr Lee Sze Wei (second from right) and Mr Mark Lee (second from left) after signing the MoU together with Ms Dearna Kee June Chen (rightmost) and Dr Chin Kit Ling (leftmost), Co-founder and Executive Producer of HUG Pictures.
TAR UC has forged another industry collaboration with HUG Pictures Sdn Bhd ('HUG Pictures') that will provide students from the Faculty of Communication and Creative Industries ('FCCI') with valuable and practical industry exposures which are relevant to their programmes of study. TAR UC President, Prof Ir Dr Lee Sze Wei formalised the collaboration with Mr Mark Lee, Film Director and Founder of HUG Pictures Sdn Bhd in a Memorandum of Understanding (MoU) signing ceremony which was held on 10 March 2020 at TAR UC Kuala Lumpur Main Campus.
The MoU which outlines both organisations' mutual cooperation in developing, producing and promoting motion pictures and other creative projects will run for a period of 5 years. These industry and creative efforts cover the sharing of academic knowledge and best industry practices, aimed at providing practical exposure to students and educators, as well as fostering project-based partnerships and long-term relationships with one another. In addition, internship opportunities will also be available for TAR UC students as well as career progression at HUG Pictures.
In addition, HUG Pictures would also be invited to present experiential talks, technical knowledge sharing, industry seminars, hands-on training, forums and as TAR UC career-fair recruiters, which would benefit both educators, students and alumni.
"I am glad on the formalisation of today's collaboration as our students will gain good exposure in the industry, guided well by industry expert, HUG Pictures Sdn Bhd. The media industry is evolving at a rapid pace and relevant industry exposures such as these will certainly broaden our students' understanding on the demands and potentials of the media industry," said Prof Ir Dr Lee at the MoU Signing Ceremony.
"HUG Pictures is not only involved in film production but we take a step further in developing our digital story telling platform which focuses on environmental issues. And through this collaboration, we hope to not only expose TAR UC students in the process of film making but more importantly on how to use the digital platform to create awareness and educate others about areas which students are passionate about. We are looking at exposing TAR UC students in the many processes of our work such as in research, interviewing relevant parties, designing the marketing and promotional materials for the project and developing the online presence for the specific projects. What is more exciting is the involvement of TAR UC lecturers in our on-going projects. For example, Mr Wayne Ooi Swee Yaw who graduated from TAR UC and is now lecturing in FCCI has been appointed by HUG Pictures as associate producer for our documentary film. He has been a great help to our team and especially in the process of developing this strategic collaboration with TAR UC," said Mr Mark Lee of this mutual cooperation.
Meanwhile, FCCI Dean, Ms Dearna Kee June Chen shared how this collaboration is in line with TAR UC's commitment to enriching students' learning experience. "The return of our graduate to teach and mentor our next generations of students, as well as TAR UC and HUG Pictures' collaborative venture, entail our commitment to blending academic knowledge with industry insight," she said.