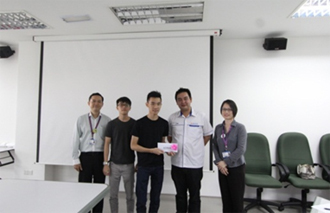 The winning team comprising Sam Shi Jer (second from left) and Tan Li Ken (middle), receiving their prize from Mr. Alfred Tan (second from right) in the presence of Ms Lim Mei Shyan (rightmost) and Mr See Kwee Teck (leftmost)
A group photo of all the participants of the competition with their supervisors together with Ms Lim Mei Shyan (front row: third from left) and Mr. Alfred Tan (front row: third from right)
The winning team for Phase 1 of the mobile apps competition organised by TAR UC in collaboration with My Appszil (Asia) Sdn Bhd, was announced on 16 November 2016. The competition which mainly aims to encourage students to think out of the box and develop their own mobile apps that is able to compete in the market saw a total participation of 13 students across seven teams. Sam Shi Jer and Tan Li Ken, both Year 3 students of the Bachelor of Information Technology (Hons) in Software Systems Development programme, was announced as the winning team by Mr. Alfred Tan, CEO of My Appszil (Asia) Sdn Bhd in the presence of Ms Lim Mei Shyan, Deputy Dean, Faculty of Applied Sciences and Computing ('FASC').
Students were first required to briefly outline their ideas by coming up with their own proposals. Then, based on the proposals, only a selected number of students were given the opportunity to join a five-day android mobile application training programme by My Appszil in January 2016 and proceeded to the next stage of the competition which was the actualisation of their proposals.
Through this competition, students will get a chance to tap into the Korean market as My Appszil is known to have strong collaborations with UbiNuri Inc., an apps store in Korea. Winners of the competition therefore earn a trip to Korea where they are required to pursue business opportunities for their mobile apps.
The winners, Sam Shi Jer and Tan Li Ken both joined the competition as part of their final year project. Their winning application, known as the Multilingual Multimedia Storybook Reader System, is mainly a platform where users can contribute their own children's stories as well as read stories uploaded by other users. "It is a platform for members of the public to contribute to other members of the public – a concept similar to Wikipedia but the content here is mainly for kids," said Sam Shi Jer.
According to him, the app was originally developed by their lecturer cum advisor, Mr See Kwee Teck for pre-school children in rural areas to access the free reading materials through tablets provided to them. "So, my partner and I basically improvised and enhanced the platform into an online and integrated system. We intended to solve the problem of copyright infringement and the lack of quality reading materials by using copyrighted storybooks and also by introducing a platform where the public can contribute stories to the system," he enthused.
Phase 2 of the competition would start in January 2017 with the announcement of final results in June. Winners from this phase of the competition would also be joining the first phase winners in the business trip to Korea which is scheduled to take place between July and September 2017. "By joining this trip, the students will not only learn more about the Korean market, but they would also stand a chance to be selected for full-time employment at a Korean company," said Ms Lim Mei Shyan at the prize giving ceremony.