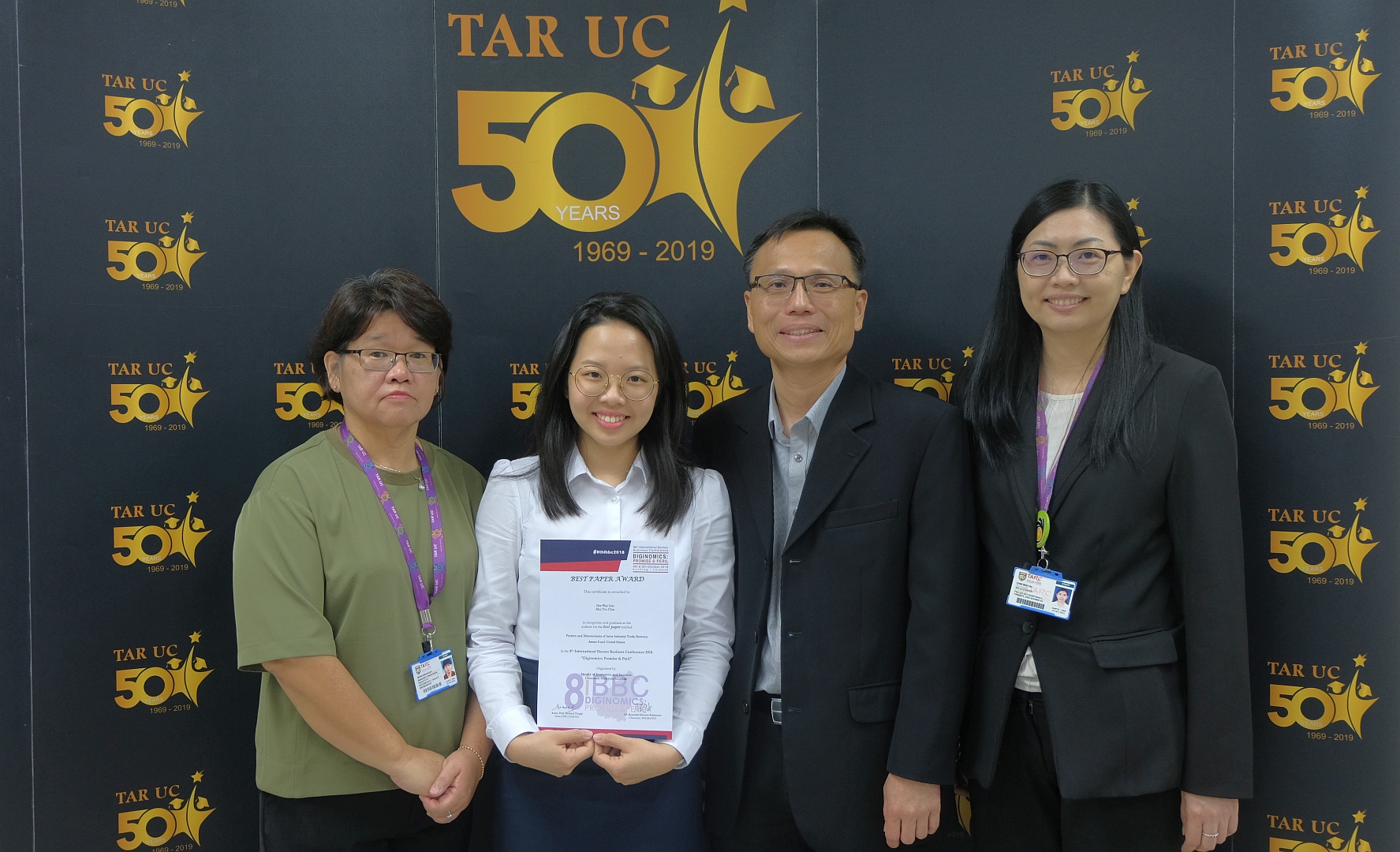 Hor Wai (second from left) with her Best Paper award during a meet-and-greet session with Prof Ir Dr Lee Sze Wei (second from right), President of TAR UC. Accompanying them are Assoc Prof Wong Hwa Kiong (leftmost), Dean of the Faculty of Accountancy, Finance and Business ('FAFB'), and Dr Chin Mui Yin (rightmost), Associate Dean, Department of Economics and Corporate Administration, FAFB.
What was supposed to just be Lim Hor Wai's final year paper also netted the TAR UC graduate the Best Paper Award (Economics Category) at the 8th International Borneo Business Conference ('IBBC') 2018 on 4 – 5 October 2018.
The IBBC is an academic conference held since 2004 by Universiti Malaysia Sarawak, which attracts countless research papers from reputable academicians, researchers, practitioners, policy makers and students nationwide.
Hor Wai who completed her Bachelor of Economics (Hons), submitted her final year paper – the Pattern and Determinants of Intra-Industry Trade Between ASEAN-5 and the United States from 1996-2016 – to the IBBC on the recommendation of her lecturers. In addition, she was also required to travel to Kuching, Sarawak to present her paper in person to a judging panel and audience.
Despite being only one of the rare few students who participated in the IBBC, Hor Wai's paper stood out from the 120 submissions to win the Best Paper award in the Economics category.
"I was a little nervous for the presentation but I managed to pull through by focusing on delivering my work as calmly as possible. The IBBC was a great opportunity to network with academicians from various relatable backgrounds and gain valuable feedback on my paper," explained Hor Wai.
Hor Wai is currently looking to further her studies to Masters in Economics. She said: "I want to specialise in international economics, so I am weighing all the options first before making my final decision."