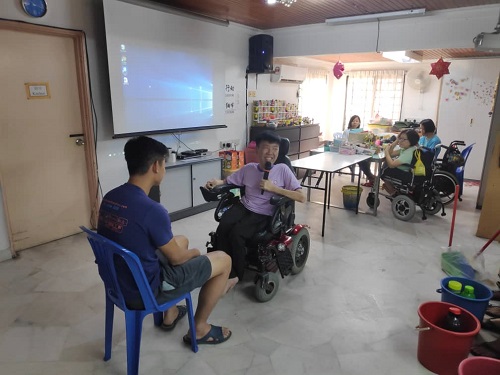 Mr Goh (in purple t-shirt) in a role-play session with one of the students during the briefing.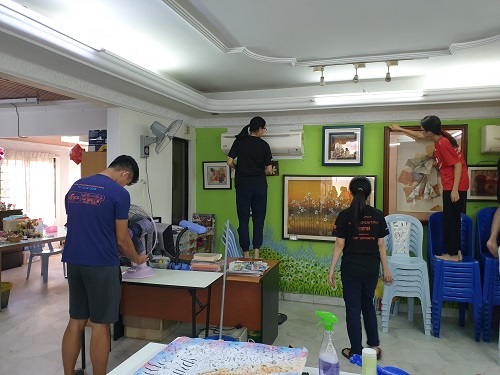 The students cleaning some of the equipment in the Centre.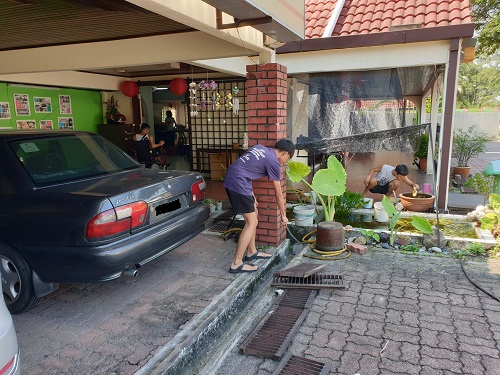 The porch of the Centre being thoroughly cleaned by the students.
24 TAR UC Diploma students had a fulfilling Saturday on 13 July 2019 when they visited Dual Blessing Bhd, a social welfare centre in Kuala Lumpur established specifically for the disabled community. The students had the opportunity to visit the home as part of their Civic Consciousness and Volunteerism course in TAR UC where the course is designed to increase students' awareness of the underprivileged community and to learn how they can contribute in helping this community. Prior to this visit, almost 200 students were involved in raising funds for Dual Blessing Bhd by selling the specially made toothbrushes by the residents of the welfare centre. The students successfully raised RM8,400 from the fundraising efforts.
The group of students who visited the centre were given a brief introduction by Mr Goh who is one of the residents of the centre. He briefed the core mission of Dual Blessing, which is to provide occupational training and employment opportunities for the disabled and how important it is for the society to support the disabled in achieving their ambitions. On that note, he commended the students for their willingness to spend quality time with the residents to learn about their struggles and how they could help the residents in their own capacity.
After the briefing, the students got down to business in thoroughly cleaning the centre. For the next couple of hours, sounds of mops mopping, brooms sweeping and dusters removing spider webs and dust could be heard echoing through the Dual Blessing building. All in all, the students had an enjoyable visit and came away enriched with a new appreciation towards the residents of the centre.
Hoh Soon Fai and Seow Yin Ze who are both studying Diploma in Tourism Management were happy to have spent their Saturday with the residents of the Centre. "For me, this visit was a time well spent as I not only was able to help clean up the Centre but more importantly, I was able to learn from the residents here on the spirit of not giving up and persevering. This visit was an inspiring experience for me," Soon Fai shared. "Learning life challenges of the residents was inspiring and reminded me not to take my life for granted. I also value the experience of raising funds for the Centre where I was able to work with students from other programmes, inculcating in us important skills such as teamwork, time management and project management," Yin Ze elaborated.