Dato' Sri Liow (left) and Prof Ir Dr Lee (right), listening attentively during the seminar.
Agnes Chua (right) presenting information about MDCC during the seminar.
Elain (right) during the start of her presentation.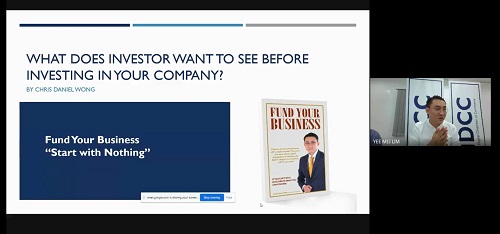 Chris (right) getting ready to share valuable tips with the participants.
In its continuous efforts to help and nurture new start-ups to hit the ground running, the Centre for Business Incubation and Entrepreneurial Ventures ('CBIEV') organised another seminar under the iSpark Global Personality Series. The latest seminar touched on the 'Guide for Venture Capital Financing for Start-ups' which was co-organised with the Malaysia Digital Chamber of Commerce ('MDCC'). The virtual seminar was held on 25 August 2020 where Dato' Sri Liow Tiong Lai, Chairman of the Board of Governors of TAR UC was present, accompanied by Prof Ir Dr Lee Sze Wei, President of TAR UC. MDCC was represented by its treasurer, Ms Agnes Chua. The seminar attracted a strong attendance of more than 250 participants.
Prof Lee in his welcoming remark reiterated TAR UC's commitment to providing the necessary support to help nurture strong entrepreneurial skills among students. "In our quest to instil strong entrepreneurial skills in our students, among the ways for us to do this is to provide a platform for our students with good entrepreneurial ideas to connect with potential investors. Therefore, today's seminar is very relevant and beneficial for our students to help them prepare and plan better as they pursue their entrepreneurial dreams," he said.
Ms Agnes in her sharing talked about MDCC and why its mission is relevant to the seminar. "MDCC's mission is to encourage and nurture the acceptance and use of digital assets and related technologies among retailers where we aim to create an environment that promotes learning, sharing, mentoring as well as provides support for our members from diverse business communities especially e-tailers. This is why MDCC is co-organising this seminar with TAR UC as we would like to provide the necessary information and knowledge to students to better equip them on the opportunities of digital commerce as entrepreneurs," she explained.
In his speech, Dato' Sri Liow highlighted how entrepreneurship and innovation have defined TAR UC's teaching and learning over the past 5 decades. "At TAR UC, our philosophy is to ensure students gain not only knowledge and qualification but beyond education where they can develop holistically to realise their full potential. We always believe that institutions of higher learning are the most ideal environment that promotes entrepreneurship and innovation where students can explore and experiment with ideas," he elaborated.
Ms Elain Lockman, Director and Co-Founder of Ata Plus was the first speaker who presented on the topic 'Start your business with CrowdFunding'; a registered and recognised Equity CrowdFunding platform with the Securities Commission Malaysia. The second speaker was Mr Chris Daniel Wong, Co-Founder of CoMetro Capital and Private Equity which is a financial institution cooperative approved by Cooperative Commission of Malaysia. He shared his views on what would an investor want to see before investing in a company.