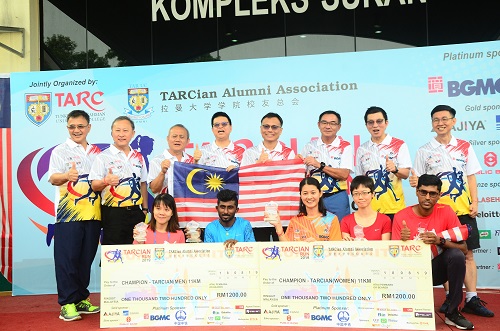 Sivaneshwaran (front, second from left) and Hui Thin (front, centre) and the other winners of the 11km category with (standing from left to right): Dr Chook Ka Joo, Vice President of TAR UC, Tan Sri Dato' Sri Barry Goh, Datuk Dr Tan Chik Heok, Past President of TAR UC, Dato' Yap Kuak Fong, Prof Ir Dr Lee Sze Wei, Mr Lim Kok Eng, Dato' Chan Wah Kiang, Deputy President of TAA and Mr Teo Kah Chin, Vice President of TAA.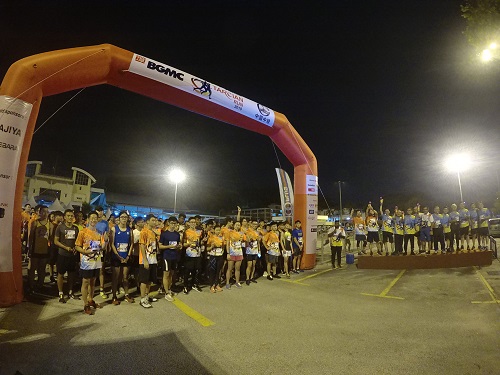 The flagging-off of the 11km category.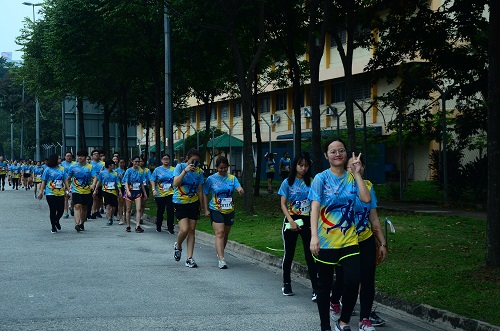 Runners in the 5km Fun Run category having a good time at the run.
The 5th edition of the TARCian Run was a resounding success, with the run being held simultaneously at TAR UC Kuala Lumpur Main Campus and branch campuses at Penang, Perak, Johor and Sabah. The Run was held on the morning of 18 August 2019 and this year's edition was held exclusively for TAR UC alumni, staff and students as well as their family members. The run consisted of 3 categories, namely 11km (men), 11km (women) and 5km Fun Run, and attracted close to 7,000 runners. Several distinguished guests also joined in the run, namely Tan Sri Dato' Sri Barry Goh, Honorary Adviser of TARCian Alumni Association ('TAA'), Dato' Yap Kuak Fong, President of TAA and Prof Ir Dr Lee Sze Wei, President of TAR UC.
TARCian Run is a yearly affair which is co-organised by TAR UC and TAA. The inaugural run was held in 2015, which is one of the fundraising initiatives by TAA for the TARC Education Foundation. "Over the last 4 to 5 years, TAA has conducted various events and activities to raise funds for TAR UC as we believe this is the best way to give back to our alma mater. Under the leadership of TAA President, Dato' Yap Kuak Fong and Past President, Tan Sri Dato' Sri Barry Goh, TAA has raised more than RM1 million for TAR UC up to date. This initiative has allowed us to provide the necessary support to many students to continue studying in TAR UC," Mr Lim Kok Eng, Organising Chairman of TARCian Run 2019 said in his speech.
TARCian Run 2019 kicked off with the flagging-off of the 11km (men and women) categories followed by the 5km Fun Run category. Sivaneshwaran A/L Gunasegaran emerged as the champion for the 11km (men) category while Sea Hui Thin took the top spot for the 11km (female) category. "This is my second time participating in TARCian Run and I am so fortunate to be able to still join this year's race since my brother is studying in TAR UC. I wanted to give myself another chance in improving my 1st Runner-up placing I won last year and I am glad that I was able to break my own record. As compared to last year, this year's route was more challenging especially at the hilly parts but I still enjoyed the run, what more winning 1st place. Well done to the organisers for their continued success in organising this run year in year out," Sivaneshwaran said after the run.
Hui Thin is another runner whose family member is a TAR UC alumnus. "My husband was a student of TAR College, as it was known then and since TARCian Run is a good event to bring together former students like my husband, I decided to take part as well. When I knew that TARCian Run this year is only open to alumni and family members, I immediately grabbed the opportunity to participate in the run as I am an active runner. Winning 1st place is a bonus as I also see the run as a great time for me to bond with my family in a carnival-like atmosphere," she enthused. Sivaneshwaran and Hui Thin both won cash prize of RM1,200 for taking the top spot in the 11km category.
Meanwhile, Daniel Lee was a special participant in the 11km (men) category, racing in his wheelchair. He graduated from the then TAR College in 2012 with an Advanced Diploma in Psychology and his vision is to qualify for the Paralympic Games. "This is my 1st time participating in TARCian Run and it is a great experience to not only come back to my alma mater but to also race with fellow TARCians and their families. The race itself was challenging as some parts of the route were rough and I needed more strength to manoeuvre my wheelchair on such surfaces. Other than that, it is a well organised race and it is good to know TAR UC is still a vibrant institution that provides great campus life for its students," Daniel shared.
Meanwhile in the 5km Fun Run category, Lau Jing Wen emerged as the 1st runner to complete the race. He is currently studying in the Bachelor of Mechanical Engineering with Honours programme in TAR UC. "This is my first time participating in TARCian Run and I am impressed with how the race was so well-organised. I am proud that as a student, I am able to take part in such a major event, on top of being able to contribute what I can towards the institution," he said.
TARCian Run 2019 has attracted support from 18 organisations, with Sin Chew Daily being the official media partner for the run. In addition, similar to previous editions, the Lucky Draw for this year's run offered prizes amounting to more than RM20,000.