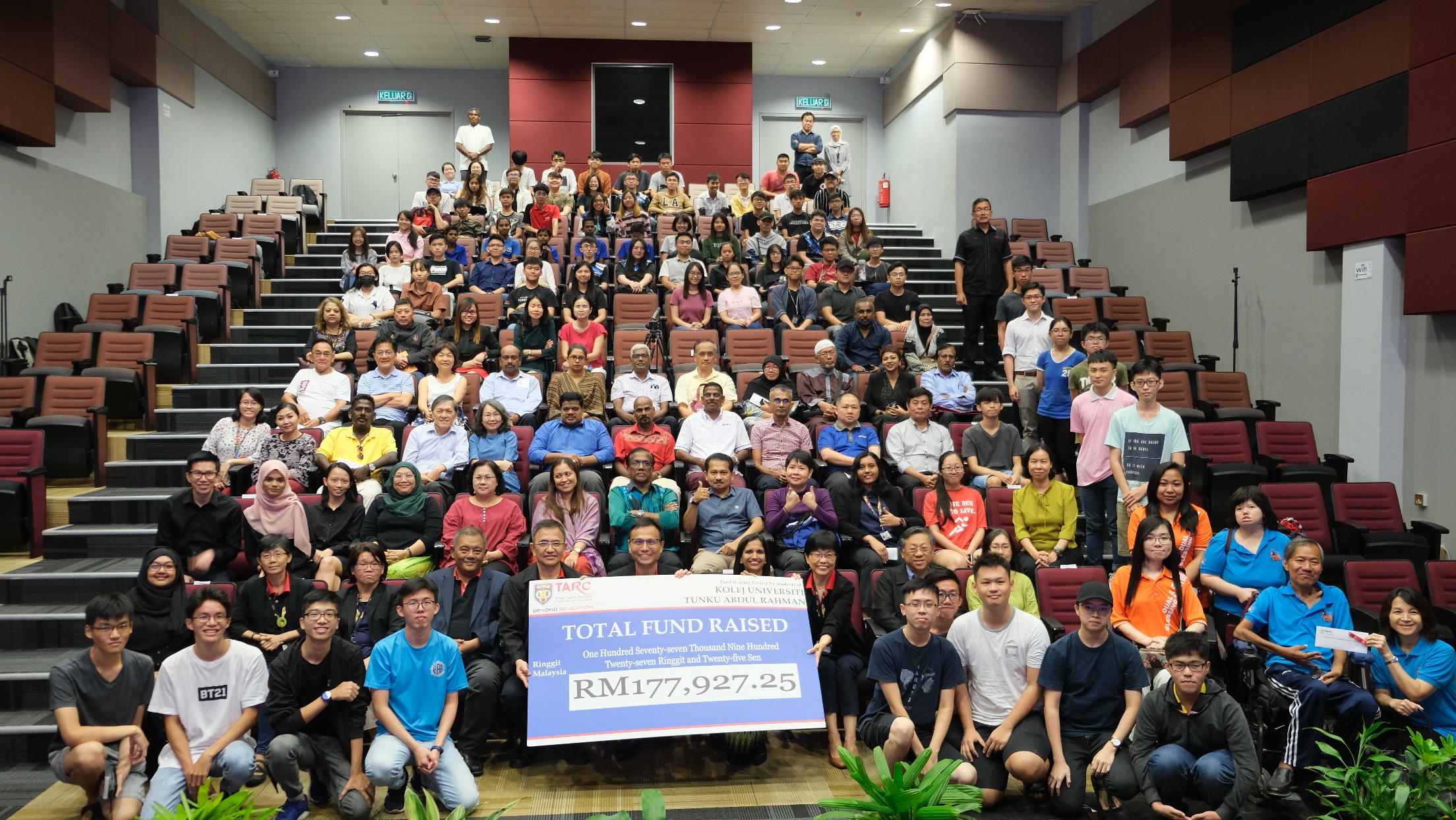 The audience consisting of students, lecturers, senior management officials of TAR UC and beneficiaries, together with a mock cheque.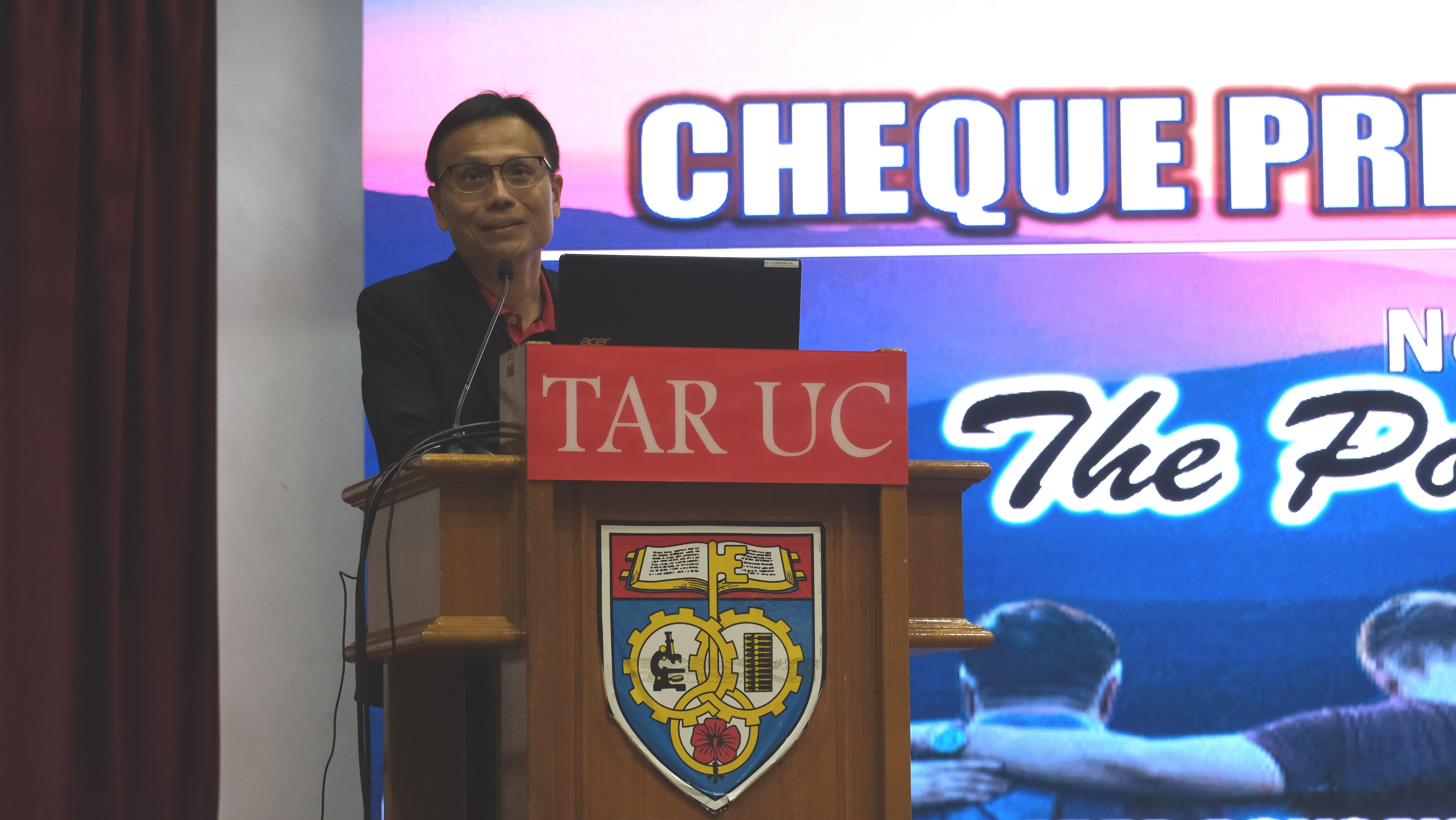 Prof Ir Dr Lee Sze Wei talking about how the fund-raising activities nurture noble values among the students.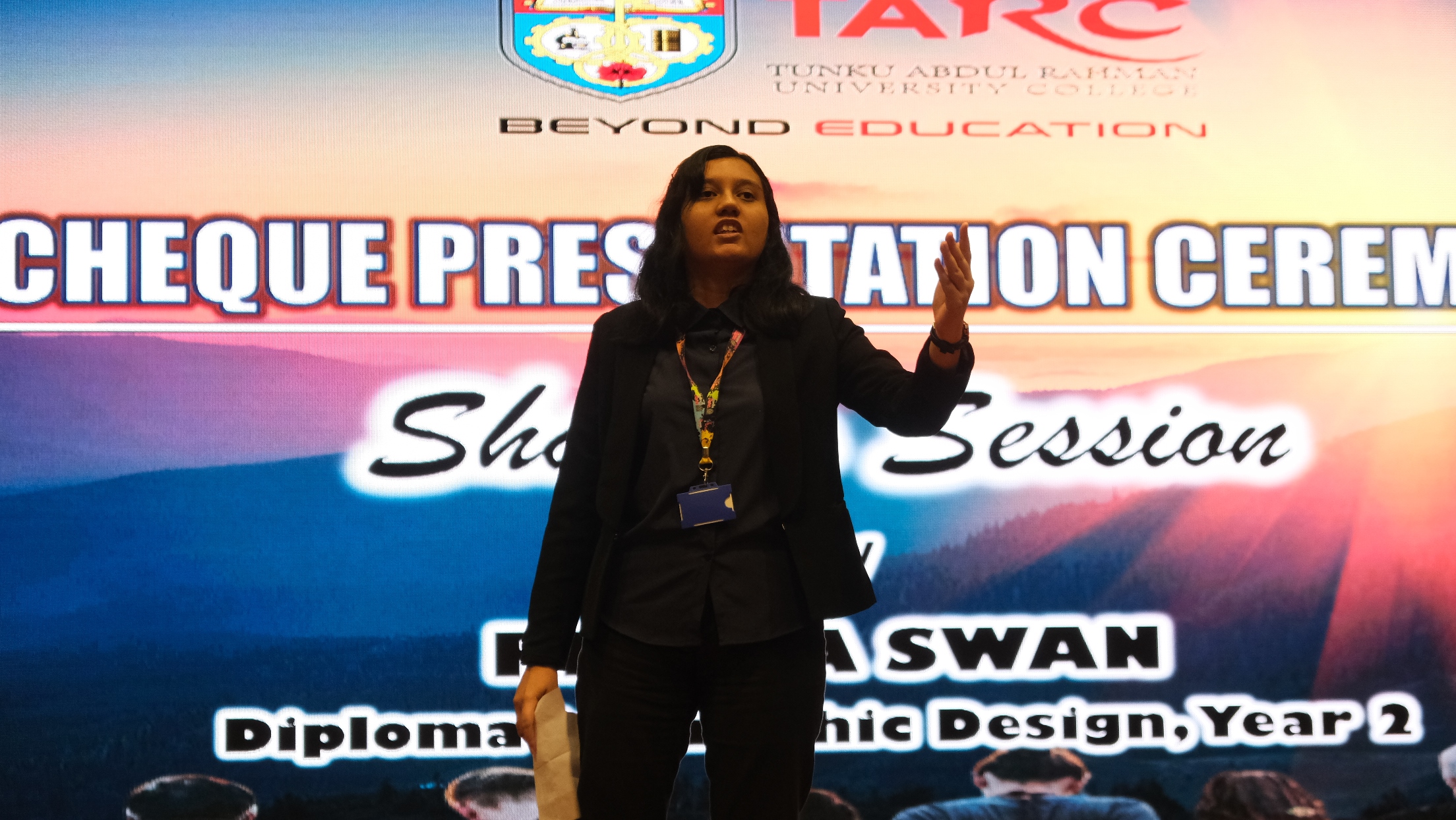 Ms Regina Swan making an inspirational speech about adopting a proactive and positive mindset and giving their all in the fund-raising project.
As the late Mother Theresa once said, "It's not how much we give but how much love we put into giving." This was precisely what TAR UC students and lecturers did at the 7th fund-raising initiative which was carried out by approximately 2,900 TAR UC Diploma students taking the Civic Consciousness and Volunteerism ('CCV') course.
A cheque presentation ceremony was held on 17 January 2020 at the Auditorium in Bangunan Tun Tan Siew Sin. This time, the students collectively raised a total of RM177,927.25 in just a few weeks. From this amount, a total of RM123,000 was disbursed to 21 charity organisations. The balance of the funds will be channelled towards setting up the TAR UC – CCV Course Student Loan Fund and will also be used for other charity projects in March this year.
Since the start of the fund-raising efforts in 2013 until now, a total of RM999,210.70 has been raised and donated to various charity organisations to assist the underprivileged communities in Malaysia.
In his speech, Prof Ir Dr Lee Sze Wei, President of TAR UC, said: "This occasion makes me very happy not only because it is something really meaningful but also because the students have gone through a lot in planting this seed. May they continue their efforts and care in helping fellow humans. This activity is also in line with the philosophy of TAR UC, which is beyond education. Through these activities they will learn a lot," he said.
The cheques were presented to the following charity organisations below:
1. Shelter Home
2. Yayasan Sunbeams Home
3. Desa Amal
4. SEMOA
5. Persatuan Kebajikan Dan Sosial Kim Loo Ting (KL)
6. Pertubuhan Kebajikan Mental Selangor
7. Pertubuhan Membantu Pesakit Parah Miskin Malaysia
8. Beautiful Gate Foundation For The Disabled
9. Children's Training Centre
10. Dual Blessing
11. Rumah Anak Yatim Sai Pandian
12. Rumah Kebajikan Anbu Illam
13. Yayasan Chow Kit
14. Rumah Titian Kaseh
15. Rumah Perlindungan Anak-anak Yatim Al Nasuha
16. Rumah Charis
17. Rumah Hope
18. Sivananda Home, Batu Caves
19. Persatuan Kanak-Kanak Istimewa Kajang, Selangor
20. Persatuan Rumah Amal Murni Kajang
21. Bodhi Homecare Cheras
After that, there was a sharing session by representatives from Yayasan Chow Kit, Rumah Kebajikan Anbu Illam and Persatuan Kanak-Kanak Istimewa Kajang, Selangor. At the end of the ceremony, an impactful speech was given by Ms Regina Swan, Diploma in Graphic Design Year 2 student and also one of the participants of the fund-raising project who talked about her experience in the project and how it serves to unleash every student's potential. "For the first time I saw my classmates just striving and giving their all. From this fund-raising project, we learned the importance of win-win thinking, where we maximised all our strength and put it to work and synergised. We would stop for a moment and tell each other 'Hey man you are doing a great job, keep up the good work.' By being proactive, having a bright smile and a positive mindset, we are able to change any circumstance," she said.