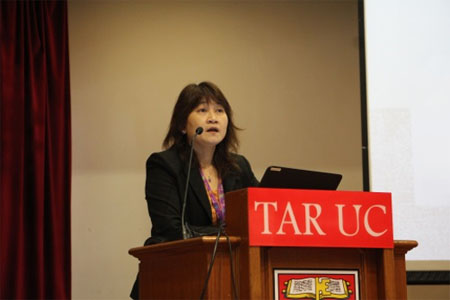 Assoc Prof Dr Ng Swee Chin addressing the audience at the close of the event.
Dr Lee Wah Pheng, speaking at length about the challenges and opportunities of Agriculture 4.0 in Bentong Ginger Production.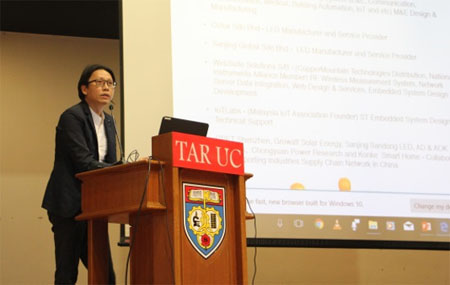 Mr Wong Kok Hoong from GOTT Group of Companies presenting an overview of the company to the students.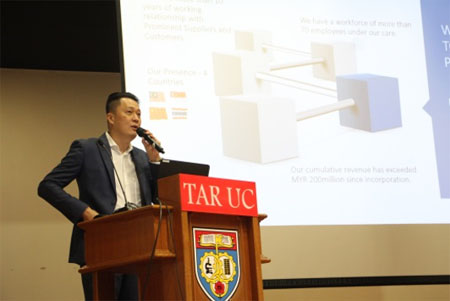 Mr Chin Beng from Ibronx Sdn Bhd talking about the knowledge and experience that can be gained by interns working there.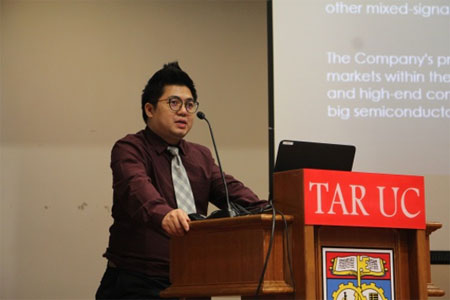 Mr Jonathan Wong from Ascend Microsystems Malaysia giving his views about internship as a whole.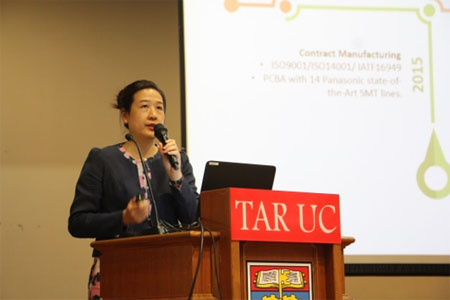 Ms Goh Giak Eng from Hotayi Electronic (M) Sdn Bhd, talking about why students should join the company as interns.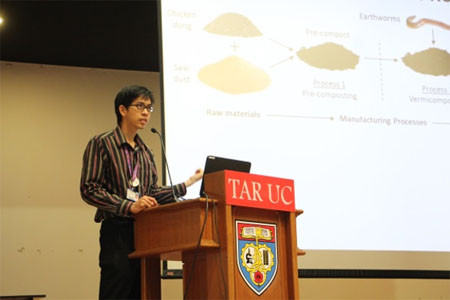 Dr Hoe Yin Chen presenting his area of specialty in Vermicomposting to Promote Growth and Disease Suppression of Bentong Ginger.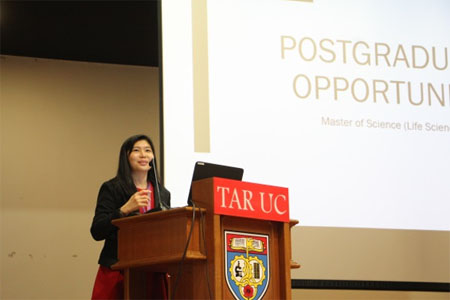 Dr Tan Hui Yin spoke about the Master of Science (Life Science) programme offered by TAR UC and her scope of research in the cultivation of Bentong ginger.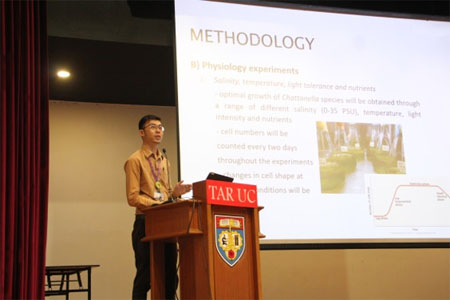 Dr Lim Hong Chang talked about his area of research in Harmful Algal Bloom ('HAB').
TAR UC takes yet another step forward in offering internship with postgraduate study opportunities to the students of TAR UC. A talk was held on 6 November 2017 at the Auditorium of Bangunan Tun Tan Siew Sin to create awareness of these opportunities among interested students on campus. This time the opportunities were open to the Faculty of Applied Sciences ('FOAS') and the Faculty of Engineering ('FOEN') students. These internship and postgraduate study opportunities were geared towards driving the Agriculture 4.0 Bentong Ginger Production research project in which TAR UC collaborates with the Dongguan Institute of Opto-Electronics, Peking University.
Assoc Prof Dr Lee Wah Pheng, Head of the Centre for Postgraduate Studies and Research, gave a talk on Agriculture 4.0 Challenges and Opportunities which outlined the details of the challenges and opportunities of Bentong ginger production using Agriculture 4.0. In addition, four presenters from four companies shared the internship opportunities to the students. The presenters from the four companies were Mr Wong Kok Hoong, Manager of GOTT Group of Companies, Mr Chin Beng, Director of Finance, Ibronx Sdn Bhd, Mr Jonathan Wong, Design Manager, Ascend Microsystems Malaysia and Ms Goh Giak Eng, Managing Director of Hotayi Electronic (M) Sdn Bhd.
Apart from company internship, TAR UC's very own principal researchers, Dr Tan Hui Yin from FOAS Kuala Lumpur Main Campus as well as Dr Hoe Yin Chen and Dr Lim Hong Chang from FOAS Johor Branch Campus, presented their areas of research pertaining to Bentong ginger production, vermicomposting and Harmful Algal Bloom ('HAB') and invited interested students to join them on these research projects while doing the Master of Science (Life Science) at TAR UC.
At the end of the presentation, Assoc Prof Dr Ng Swee Chin, Vice President for Academic & Research, rounded up the event by sharing some insights with the students, "Today's job requirements are such that you need to spend another one to two years to equip yourself with advanced knowledge and better skills in order to flourish at your workplace. And what better way to do that than by seizing the opportunity to pursue internship and postgraduate studies," she said.