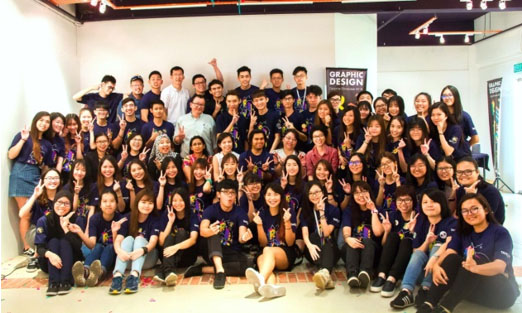 Diploma in Graphic Design students posing for a group photograph together with lecturers from the Department of Creative Arts, FSAH.
A student guiding a visitor on how to write Chinese calligraphy during the Revo showcase.
On 10 – 12 April 2018, Gallery V and Photography Studio at Kuala Lumpur Main Campus came to life as the Diploma in Graphic Design students took over the space to celebrate their final year with a bang by organising the "Revo" showcase.
The showcase featured 12 booths that gave visitors an insight into visual arts conception and production, where the students demonstrated on site using various mediums and techniques such as traditional wayang kulit (shadow puppet), branding and packaging designs, Chinese calligraphy, paintings and photography.
Mr. Jeremy Joseph Pinto, lecturer of the Department of Creative Arts, Faculty of Social Science, Arts and Humanities ('FSAH'), who guided the students for this event, was pleased to see his students demonstrating their knowledge and passion through the Revo showcase.
"It's been an awesome experience to see how much my students have grown, and seeing the fruits of our labour come together so perfectly is a truly fulfilling experience," said Jeremy.
The three-day event concluded with a closing ceremony where prizes were also awarded to some of the best designed booths.