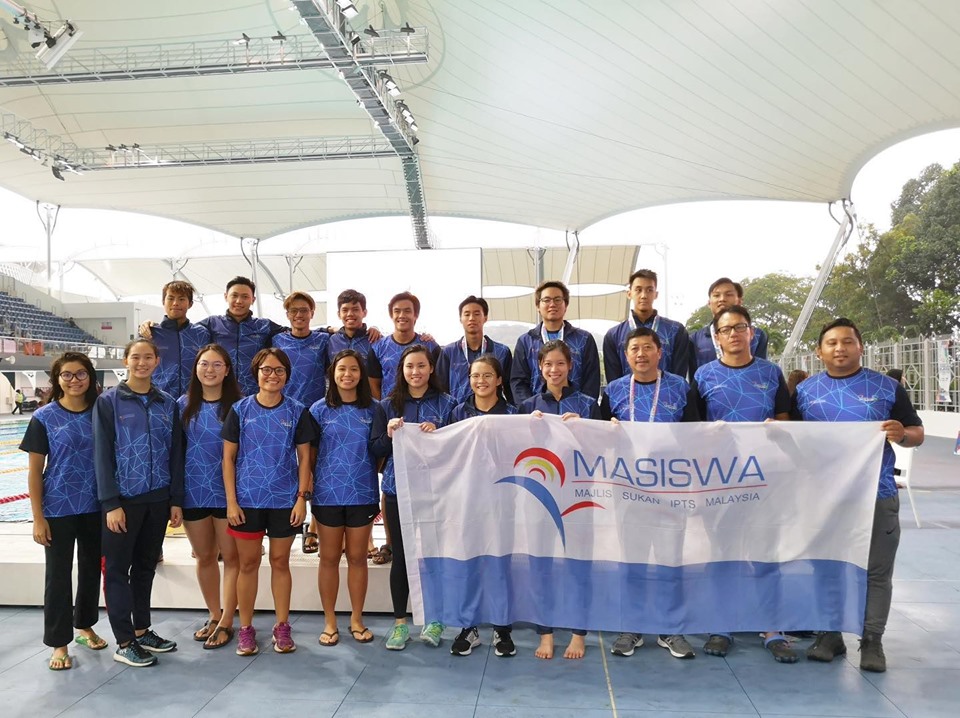 Nuraina (front row, leftmost), Tan Tyng (front row, third from left) and John Lau (backrow, third from left) in a group photo with the MASISWA swim team and team officials.
Our students proved that they can excel outside of the classrooms as well after picking up three gold, one silver and 2 bronze medals at the 8th edition of the Sukan Institusi Pendidikan Malaysia ('SIPMA') held on 17 -24 August 2019.
Nine TAR UC students were selected to represent the MASISWA team in the badminton, athletics and swimming events. Tio Sue Xin, who is part of the badminton squad, played her part to clinch a gold medal in the team event.
Wong Venn Chieh added another two gold medals after acing both the men's 1500m freestyle and men's 4x200m freestyle relay, while Tan Tyng contributed a bronze medal through the women's 50m breaststroke event.
In the athletics events, Chia Lee Mei finished as the silver medallist in the women's high jump event, and Yap Xiao Tong claimed a bronze in the women's 4x100m sprint relay.
Other TARCians who participated in SIPMA were John Lau Jin Kiat (swimming), Nuraina Naziha (swimming), Kendrew Koay (athletics), and Tan Qi Han (athletics).
Xiao Tong (leftmost) standing on the podium with her teammates after finishing third in the women's 4x100 sprint relay.