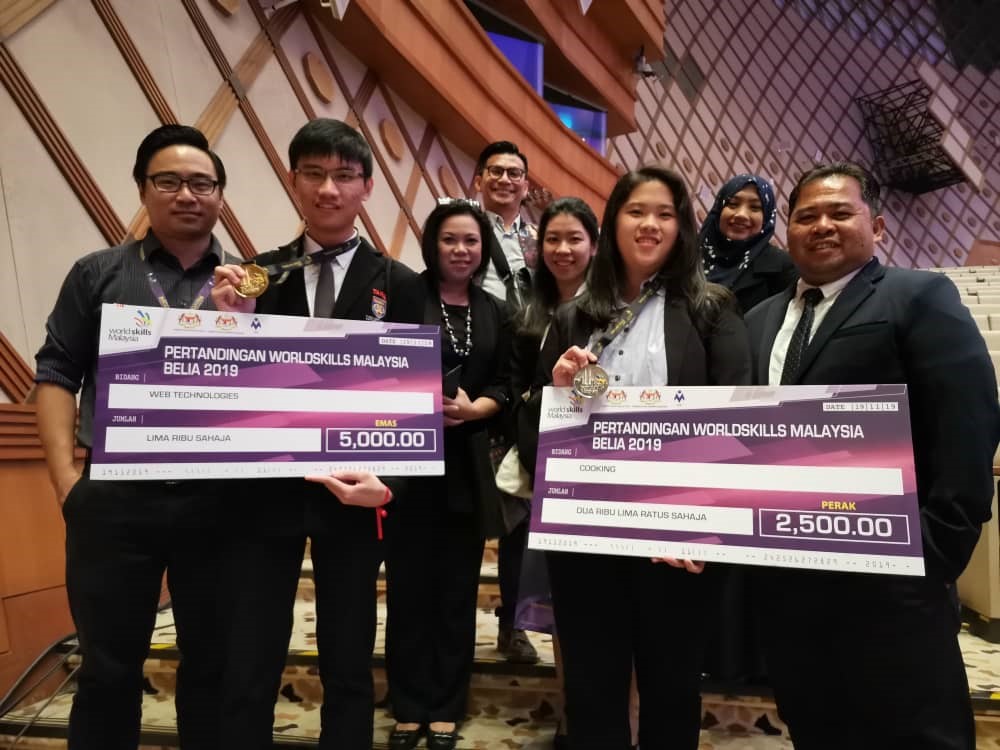 (Front row from left): Ts Liaw Chun Voon, Senior Lecturer from the Faculty of Computing and Information Technology ('FOCS'), Chen Yew Seng, Yong Xiu Qing, Mr Azaludin Bin Tajudin, Senior Instructor/ Chef from the Faculty of Social Science and Humanities ('FSSH')
Academic staff from FSSH's Department of Hospitality Management.
(2nd row from left): Ms Martina Chua, Senior Lecturer, Ms Foo Ay Chiwn, Programme Leader, Pn Nur Liana Binti Ahmad, Assistant Chef
(Background): Mr Mohd Nor Ahmar Bin Mohd Sanip, Lecturer
Displaying the highest level of skill proficiency in their respective fields, two TAR UC students managed to claim top prizes at the 27th WorldSkills Malaysia Belia ('WSMB') 2019 competition.
Chen Yew Seng, a Year 2 Bachelor of Information Technology (Hons) in Internet Technology student took home the gold medal in the Web Technologies category while Yong Xiu Qing, a Year 3 Bachelor of Hospitality Management (Hons) student clinched the silver medal in the Cooking category. Both winners received their awards at the Majlis Anugerah Tangan Emas Perdana Menteri ('MATEPM') 2019 held on 19 November 2019, at Putrajaya International Convention Centre.
"I am grateful to have this experience as it was not only fun and memorable but also it opened up new pathways for me in the future," shared Xiu Qing. "I would like to thank my lecturers for their guidance and support throughout the competition, especially Chef Din who not only presented me with the opportunity to join this competition but also chose to spend his personal time and energy to act as my mentor for the competition."
Naming it as his highest accomplishment in his life so far, Yew Seng was over the moon when his name was announced as the gold medal winner.
"Through this experience, I have learned not to back away from any challenge. If you do not push yourself to your limits, you would not know how far you can go," said Yew Seng.
"TAR UC's facilities and knowledgeable lecturers provided me with a good environment to hone my skills in preparation for the competition. I hope that I'll be able to put the experience gained in this competition to good use in the future."