The winning team of the Nescafe Hub Competition with their mock cheque and plaque, in the presence of Datuk Dr Tan Chik Heok (sixth from left), President of TAR UC, Ms Wong Hwa Kiong (leftmost), Dean of the Faculty of Accountancy, Finance and Business ('FAFB') and Mr Johan Lim Kii Geat (rightmost), lecturer cum advisor for the students.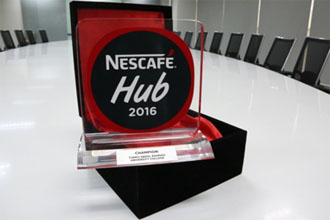 The plaque won at the competition
It was indeed a remarkable show of entrepreneurship when TAR UC's team consisting of Bachelor of Business (Hons) in International Business students as well as one Bachelor of Public Relations (Hons) graduate managed to clinch the Overall Champion title in the Nescafe Hub Competition 2016. The students have therefore earned themselves cash prize of RM5,000, Nescafe products for one year as well as internship opportunities with Nestle. The competition which saw a total participation of 20 teams from various universities within Malaysia required the students to set up and operate their own Nescafe kiosk on campus whilst also competing to record the highest sales of drinks within a period of two weeks.
The competition started in early May with the submission of their business proposal. The team then successfully earned one of the top three spots in the competition, enabling them to proceed to the next round which was the operation of their Nescafe kiosk. After weeks of persistent efforts selling drinks at their kiosk, they managed to record the highest sales bringing them to the final round – the presentation of their business plan to a panel of judges – which took place on 25 November 2016 at Nestle's Head Office at Surian Tower, Petaling Jaya.
When asked what motivated them to win, Tan Suet Keem, one of the team members said, "It was the first time we were participating in this competition. So, we were eager to contribute to TAR UC before graduating."
"We also felt that this experience would be a good stepping stone for any future endeavours in entrepreneurship," added Saravanan Poighai a/l Ganeson, another team mate.
On the various preparations that the entire team made for the competition, Leong Phui Yan, the captain of the team said, "We were involved in a lot of discussion and brainstorming to plan out the entire business proposal. We even sacrificed our time during the semester break for this."
Another team member, Cheryl Ng Li San elaborated further on the challenges they faced during the preparation period saying, "Some of us were even in the United Kingdom pursuing our study abroad programme during that time. So, we had to adjust to the time difference and have our discussion through Skype."
Phui Yan also attributed their success to their advisor, Mr Johan Lim Kii Geat who was always with them and very supportive of their efforts. The team was also grateful to TAR UC for their constant support throughout the competition and especially for their quick response in securing a location for their Nescafe kiosk. "Even before the top 10 winners of the competition were announced, we were already required to secure a location for our kiosk. So, we are most grateful to TAR UC for being able to secure a location for us six months in advance," said Phui Yan.
The winners were also most eager to share their words of wisdom to students who wish to participate in this competition in future. "You would need to mentally prepare yourselves, stay strong, and always focus on teamwork," said Saravanan Poighai. "It is also important to always have a contingency plan," advised Cheryl Ng.