FTARC AA presenting Dato' Kum Boo (3rd from left) with a tribute. Present on stage are Mr John Kay (leftmost), Committee Member of FTARC AA, Mr Mark Hew (2nd from left), Deputy President of FTARC AA, Assoc Prof Dr Bernard Tan ( 4th from left), Committee Member of FTARC AA, Dato' Seri Ong Ka Chuan (centre), Mr Adrian Yeo (4th from right), Datuk Dr Tan Chik Heok (3rd from right), Mr Wong Cheng Siung (2nd from right), Treasurer General of FTARC AA and Ms Samantha Tai (rightmost), Secretary General of FTARC AA.
Dato' Seri Ong Ka Chuan (2nd from right) presenting Mr Teng Ngiek Lian (2nd from left) with the Illustrious Alumnus Award. Also present on stage are Datuk Dr Tan Chik Heok (leftmost) and Mr Adrian Yeo (rightmost).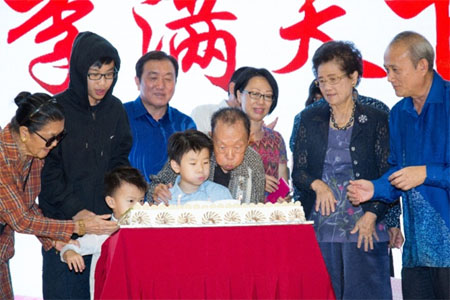 Dato' Kum Boo (centre), blowing out the candles on his birthday cake together with his grandson.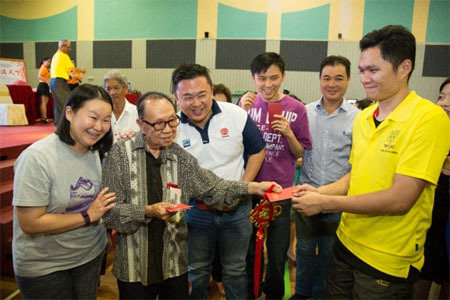 Dato' Kum Boo handing out ang pows to the guests
It was a day of celebration for the students, staff and alumni of TAR UC as they celebrated not one, but two joyous occasions on 7 October 2017. Organised by the Federation of Tunku Abdul Rahman College Alumni Associations ('FTARC AA'), the TAR UC community celebrated TAR UC's Honorary Fellow, Dato' Kum Boo's 93rd birthday as well as FTARC AA's 28th anniversary over a grand luncheon at the Sports Complex.
Joining in on this cheerful occasion were Dato' Seri Ong Ka Chuan, Member of the TARC Education Foundation who is also the Secretary-General of Malaysian Chinese Association ('MCA') and Minister of International Trade and Industry II, Tun Michael Chen Wing Sum, former Senate President and former Deputy President of MCA, Tan Sri Dato' Lau Yin Pin, Member of the Board of Trustees, TARC Education Foundation, Tan Sri Datuk Dr Ng Lay Swee, TAR UC's Honorary Fellow, Ms Yoong Lai Thye, former Principal of TAR College, Mr Adrian Yeo, President of FTARC AA, Datuk Yap Kuak, Fong, President of the TARCian Alumni Association and Datuk Dr Tan Chik Heok, President of TAR UC.
Dato' Kum Boo played a key role in the establishment of TAR College. Leveraging on his role as the then Director of Schools in the Ministry of Education, he assisted in the many stages of approval for the programmes and in implementing those programmes at TAR College. After retiring, he joined TAR College as the Head of the School of Technology ('SOT') and also served as a Member of the College Council.
Under his leadership, diploma programmes under SOT were restructured to benchmark them for recognition from professional bodies in the United Kingdom ('UK') such as the Engineering Council, City and Guilds and Chartered Institute of Building. With this, the standards of the Diploma programmes was elevated, opening many doors for TAR College Engineering Diploma graduates to pursue their Masters degree in several high ranking UK universities.
Datuk Dr Tan paid homage to Dato' Kum Boo in his speech during the luncheon. "Dato' Kum Boo is one of the very few who has the privilege to contribute in laying the foundations of TAR UC right from the beginning that has brought this institution to greater heights," said Datuk Dr Tan. "This is why today, we are all gathered here not only to celebrate his incredible life but also remember and appreciate his contribution to each one of us."
During the luncheon, Mr Teng Ngiek Lian, School of Business Studies ('SBS') alumnus, was presented the Illustrious Alumnus Award by Dato' Seri Ong Ka Chuan. A self-made man, he rose to success from humble beginnings as the son of a wooden clog maker in Terengganu. He became a successful individual who excelled in his career as an accountant, fund manager and philanthropist among other things. A former student of the late Mr YS Chong, Mr Teng had set up several loan funds in appreciation of his mentor, to provide deserving TAR UC students with a chance to pursue quality tertiary education at TAR UC.
"TAR College changed my life in so many ways. I want to take this opportunity to thank all the founders of TAR College, like Dato' Kum Boo for providing me with an opportunity to advance my studies. I also want to thank the lecturers of the college for helping me in my studies, in many ways by offering encouragement. Without these things, I wouldn't be what I am today," he said during his speech. "I would also like to take this opportunity to ask the alumni and all of us who have benefitted from the college, that wherever possible, I think we should try to come back and help the future generation."
The occasion ended with the crowd singing 'Happy Birthday' to Dato' Kum Boo as his family joined him on stage for a cake-cutting ceremony. Dato' Kum Boo also distributed ang pows to all the guest who had attended his birthday luncheon.