TAR UC staff, students and alumni at Kuala Lumpur Main Campus wishing Datuk Dr Tan Chik Heok (wearing a black coat, standing in front row) well.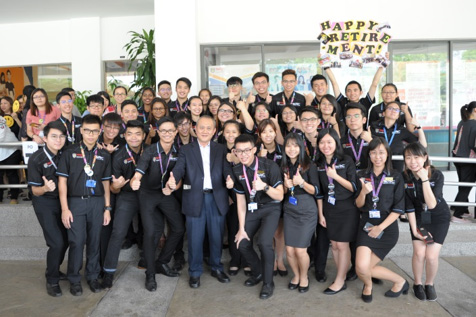 Student representatives of TAR UC taking a group photograph with Datuk Dr Tan (in black coat).
Staff and students lining up along the way to wish, Datuk Dr Tan, a happy retirement.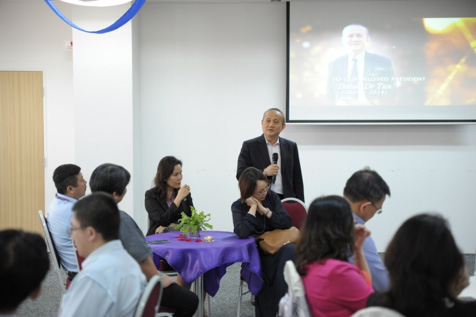 Datuk Dr Tan, conveying his message to the Deans of Faculties and Heads of Departments at the farewell reception.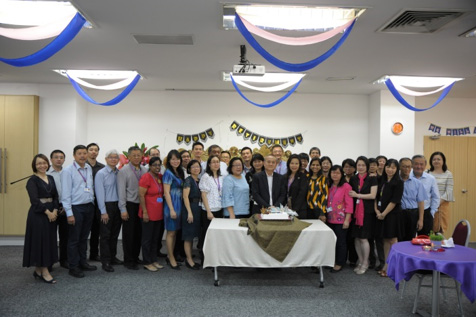 All at the farewell reception wishing Datuk Dr Tan a happy retirement.
Having given his best 10 years to TAR UC, Datuk Dr Tan Chik Heok decided it was time to call it a day and smell the flowers. Datuk Dr Tan had officially retired from TAR UC as the President with effect from 1 September 2018. His official last day of work was the day before the National Day. However prior to the grand finale, Datuk Dr Tan took the time and effort to meet all the staff in all branch campuses as they organised farewell reception for him. Despite the long hours of travelling, it did not diminish his enthusiasm to meet and share his thoughts and hopes with the branch campus staff. In addition to the branch campuses, Datuk Dr Tan also made his rounds to all the departments and faculties at the Kuala Lumpus Main Campus.
His last day of work on 30 August 2018 was very much an eventful day with all the well-wishers comprising staff and students giving Datuk Dr Tan a grand send-off. While all the staff were afflicted with a heavy heart to come to terms with Datuk Dr Tan's retirement, they put together a heart-warming farewell together with the students and alumni. All the Senior Management members, Deans of Faculties and Heads of Departments threw a tea reception before Datuk Dr Tan made his exit from TAR UC. Tears were shed and hugs exchanged as the parting words started to tug at the heartstrings.Staff, alumni and students gathered at the lobby of Bangunan Tun Tan Siew Sin all the way to the exit gate to bid him goodbye. Just as Datuk Dr Tan came to the lobby after the tea party, he was greeted with thunderous clap. Students formed a quartet to play various songs and security guards lined up to salute Datuk Dr Tan as a gesture of appreciation to him. Some staff held placards with good wishes whereas many others sang inspiring songs as their way of showing their gratitude. In every step of the way, Datuk Dr Tan never failed to wave, smile and shake hands with staff and students. His servant leadership has earned the respect from the whole TAR UC community. Many will remember him as an approachable President who does not believe in placing himself on a pedestal yet determined and visionary in taking TAR UC to greater heights which Datuk Dr Tan has accomplished so well with the upgrading of TAR College to University College and greater physical expansion and modernisation of all TAR UC campuses' learning facilities and resources as well as inculcation of entrepreneurship and research culture in TAR UC.
While Datuk Dr Tan has retired, his legacy lives on and will always be remembered as one of the greatest leaders in the history of TAR UC.