Team Just Do It – Champion of the Young Entrepreneur Challenge 2018.
A group photo of all the winners at the competition.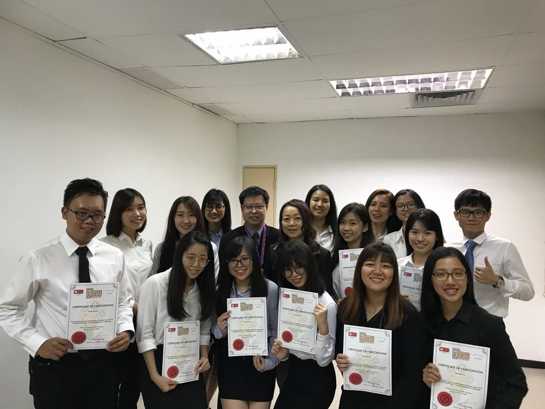 A group photo of all the winners with Assoc Prof Dr Toh Guat Guan, Head of TAR UC Penang Branch Campus (second row, 4th from right).
In conjunction with the 4th Pinang Fiesta (Pinang Fiesta 2018), TAR UC Penang Branch Campus sent three teams of students from the Bachelor of Business (Hons) Accounting and Finance programme to take part in the Young Entrepreneur Challenge 2018 competition held on 2 – 3 June 2018. Penang Youth Development Corporation ('PYDC'), the organising committee, had chosen "Usahawan Pinang" as the theme for this prestigious occasion.
The event, which was officiated by YB Soon Lip Chee, Chairman of Youth and Sports Committee, provided a platform for young entrepreneurs to develop their entrepreneurial and leadership skills. The youths were given an opportunity to promote their own brands by selling creative products and mouth-watering food and beverages. This experience is useful not only for those who want to obtain employment after graduation, but also for those who are keen on starting their own business in the future.
The highlight of the event was The Young Entrepreneur Challenge, where 16 teams from six institutions competed against each other to win these five titles: Champion, 1st Runner-Up, 2nd Runner-Up, Best Decorated Booth, and Most Popular Booth. The performance of each team was judged based on the total sales for the two-day event.
All three teams from TAR UC Penang Branch Campus managed to win three out of the five titles, namely:
Team Just Do It – Champion (RM3,000 cash prize + Certificate)
Team 4Y1L (CC's Bakery) – 1st Runner-Up (RM2,000 cash prize + Certificate)
Team 1997 (Sugar Dodo) – Most Popular Booth based on the highest number of likes on Facebook (RM500 cash prize + Certificate)