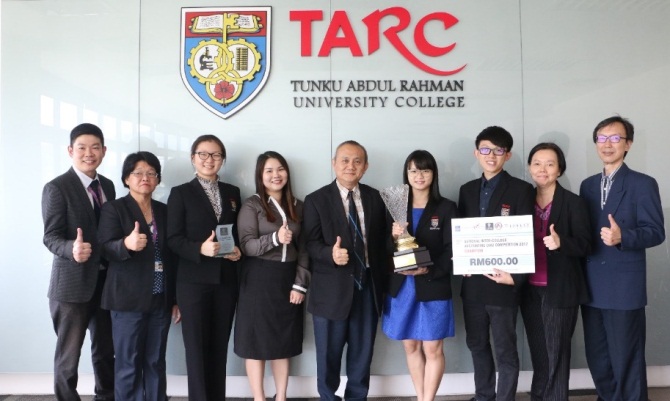 (From left to right): Mr Chuah Chin Leong, Associate Dean, Department of Professional Accountancy, Ms Wong Hwa Kiong, Dean of the Faculty of Accountancy, Finance and Business ('FAFB'), Tan Jye, Ms Lim Chiew Lian, Lecturer, Department of Accountancy, Datuk Dr Tan Chik Heok, President of TAR UC, Pang Wan Qi, Ong Jea Tiong, Ms Yeo Liu Choo, Associate Dean, Department of Accountancy and Mr Koh Kim Siang, Deputy Dean of FAFB.
Three hardworking and determined students from TAR UC completed their Diploma in Business Studies (Accounting) with a huge success by emerging as the Champion team in the National Inter-College Accounting Quiz Competition 2017. The competition was held on 22 April 2017 which saw the participation of 61 teams made up of 183 participants from 37 institutions of higher learning from all over the country.
Students of the winning team Pang Wan Qi, Ong Jea Tiong and Tan Jye walked away with the grand prize of RM600, certificates and a trophy. Pang Wan Qi who is the team leader in the group was very excited to share the team's experience competing in the competition. "Although it was only a one-day competition, it was very challenging for us as we only had 3 days to prepare for the competition. In addition, not knowing what questions would be asked added additional stress to the team as we needed to revise a wide range of areas in Accounting. However, before we started our intensive preparation for the competition, we planned and strategised on how best to do the revisions. As such, each of us agreed to study certain areas in Accounting to cover a wider base in our revision," she detailed.
Tan Jye revealed the smart technique the team used in order to win the competition. "There were altogether four stages in the competition where the first and second levels were multiple-choice questions. In the third level, we had to answer projected questions based on the question number we selected. We observed very closely the questions that the other groups had to answer before us and we discovered there was a certain pattern in terms of how the questions were being selected. Knowing this pattern gave us the competitive edge to choose the questions which we were more confident to answer. And true enough, our strategy paid off at the end when we were declared the Champion team," she remarked.
The team unanimously conceded that TAR UC's excellent education and academics were the foundation of their success. "Our Diploma syllabi are very comprehensive and compact and with our knowledgeable and helpful lecturers who were of great help to us in our preparation for this competition, we are very glad that all efforts and help resulted in great success," Jea Tiong added. Currently all of the students have started their first semester of their Bachelor of Commerce (Hons) in TAR UC.