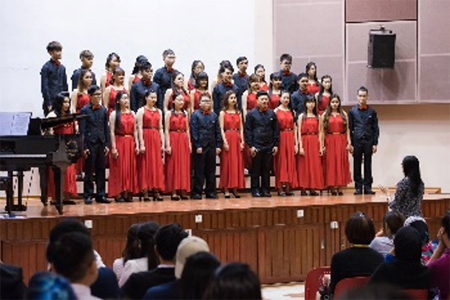 TAR UC Choir putting on a splendid performance for the audience during the competition.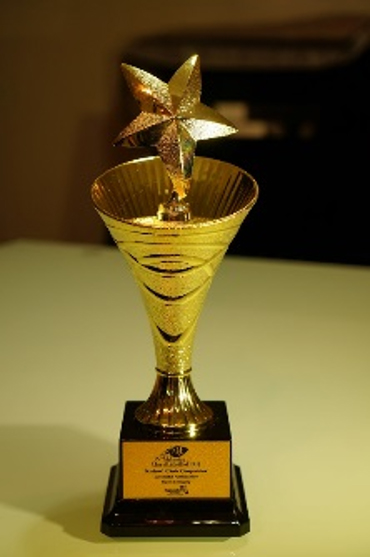 The Gold C Award that TAR UC Choir has won.
By modulating their melodious voices with perfect timing and synchronisation, TAR UC Choir sang their way to victory when they won the Gold C award at the Malaysians Choral Eisteddfod ('MCE') National Choir Competition in the Open Category which was held on 9 July 2017. It was the first time that TAR UC Choir joined forces with TAR UC Alumni Choir members to compete under the same category. The latest win marks the tenth award won by TAR UC choir since its formation in 2005.
The choir performed two songs titled "Perwiraku" and "Tuberose" which is a famous Chinese song for the competition. Amongst the positive feedback from the judges on TAR UC's Choir performance is that the choir sang with good expression and dynamics as well as demonstrating a good balance between the voices, diction and rhythmic interpretation.
Ng Cason, a Bachelor of Accounting (Hons) student and also the president of the Choir did not expect to win in the competition. "As compared to other choirs whose members are mainly music students, we honestly felt that we did not stand a chance to win. However, it was surprising when we were announced as the winner of the Gold C award. This clearly shows that our hard work and commitment in giving our best has paid off. This success could not have been possible without the determination and effort put in by every choir member. It is also due to the dedication and support by Ms Susanna Saw, our external trainer as well as Ms Ang Yaw Feng, our conductor cum advisor and Ms Regina Ong Ween Yen, assistant advisor cum pianist who really went out of their way to ensure all of us got the necessary support and help we needed," he explained.
Cason also shared the benefits of joining TAR UC Choir Society. "Music has always been my passion and this is why I joined the choir society when I started studying in TAR UC. The journey I went through with TAR UC Choir Society is not only enriching but very beneficial for me. Besides deepening my passion for music, I have also learnt valuable life skills such as effective time management, team work and leadership skills. I have never regretted joining TAR UC Choir Society," he said.