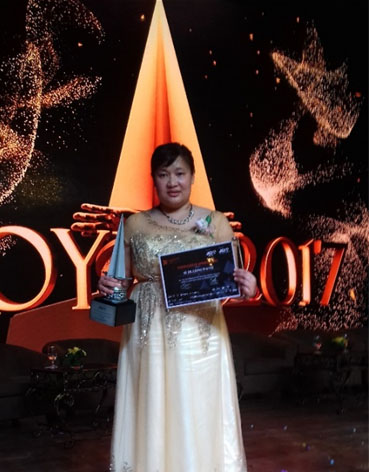 Assoc Prof Dr Leong proudly displaying the trophy and certificate for the TOYM Awards 2017 in the Personal Improvement & Accomplishment category.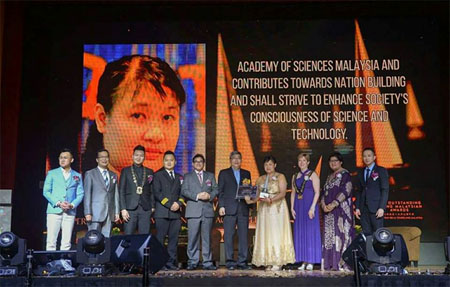 Assoc Prof Dr Leong (4th from right) receiving the award from YB Datuk Seri Mah Siew Keong (5th from right), Minister of Plantation Industries and Commodities. Also present are Ms. Dawn Hetzel (3rd from right), JCI World President from Junior Chamber U.S.A, and Nurul-Huda Mohamed Afandi (2nd from right, JCI Malaysia National President, Mr Ernest Tan (4th from left), JCI TOYM Awards 2017 Organising Chairman as well as representatives of JCI Malaysia.
It was a moment of triumph for Ir Assoc Prof Dr Leong Wai Yie, lecturer from the Department of Electrical and Electronics Engineering, Faculty of Engineering ('FOEN') when she was named honoree of the prestigious Ten Outstanding Young Malaysian Awards 2017 ('TOYM') in the Personal Improvement & Accomplishment category on 9 September 2017 by the Junior Chamber International Malaysia ('JCI').
A national project of JCI Malaysia and organised by Junior Chamber Kuala Lumpur Mandarin, a total of eight honorees were recognised from five different categories namely Academic Leadership and Accomplishment, Cultural Achievement, Humanitarian and Voluntary Leadership, Scientific & Technological Development, and Personal Improvement & Accomplishment.
A decorated professional in the field of engineering, Assoc Prof Dr Leong is currently the youngest female engineer elected into the executive committee in the Institution of Engineering Malaysia, Chairperson of Women Engineers Section, Honorary Secretary of Women Engineers of the ASEAN Federation of Engineering Organisations (WE- AFEO), Malaysian representative to Asia Pacific Nation Networks, World Federation of Engineering Organisation and the only female Vice President of Institution of Engineering and Technology (Malaysia Local Network). The award speaks volumes for her active involvement in promoting women engineers and the advancement of science and engineering.
"This award is dedicated to the volunteers and women engineers," said Assoc Prof Dr Leong. "I hope that this recognition serves as an inspiration to young Malaysians to surge ahead to greater heights in the spirit of selfless dedication towards the development of the community. This award has also further encouraged me to apply for full professorship."
"Young engineers and women engineers must dream big and be creative, be involved in community work in order to explore further on leadership, networking and management skills as well as innovative thinking," she remarked.