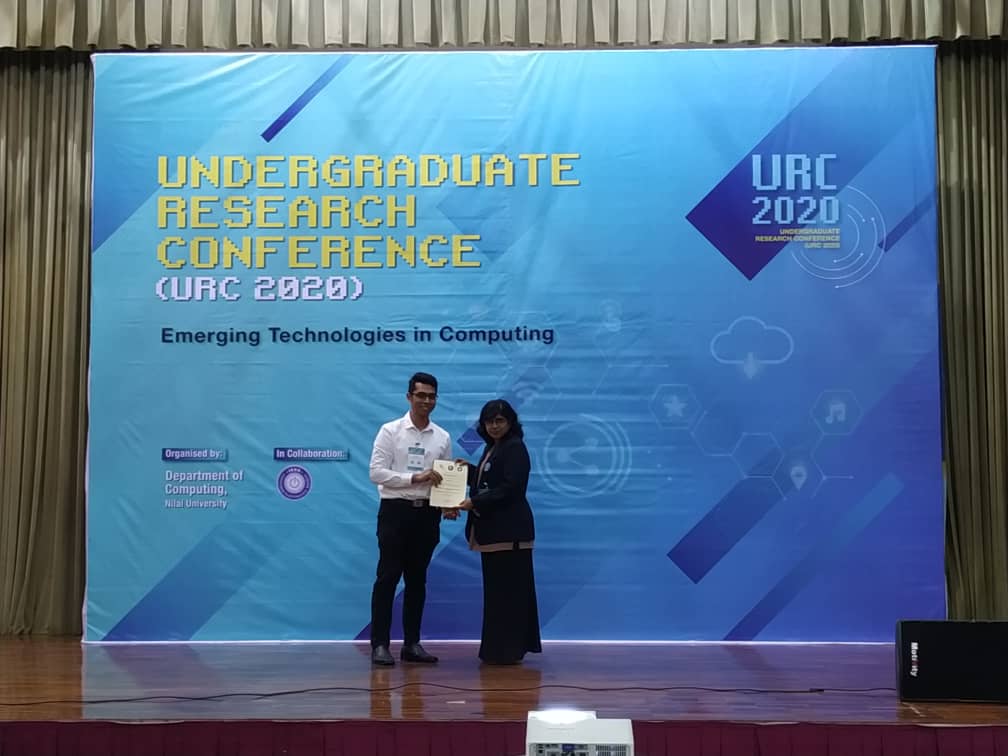 Shawn Daren (left) receiving Best Presenter and Poster Award on stage at the URC 2020.

With the interest in studying Mechatronic Engineering, Shawn recently graduated and has been applying his skills acquired from TAR UC in his new job as a Sales Engineer.
Demonstrating his talent in public speaking, Shawn Daren did TAR UC proud by winning the Best Presenter and Poster Award at the Undergraduate Research Conference 2020 ('URC 2020') which was held at Nilai University on 19 February 2020.
Shawn, who recently graduated with a Bachelor of Mechatronics Engineering (Hons) degree, came in first out of 17 other presenters in URC 2020, which is a competition that demonstrates the results of undergraduate research in a variety of disciplines. Presenters were evaluated based on their ideas, presentation and functions of their mechanics.
In an interview, Shawn briefly explained the process of entering the URC 2020 with only 2-3 weeks of preparation. "I decided to present the Monitoring System in Photovoltaic as I am always fascinated with renewable energy, and solar energy is one of my favourite areas of study," he said, explaining the reasoning behind his presentation.
Naming Elon Musk as his greatest source of inspiration, Shawn said, "He is very smart! He is brilliant engineering wise and he is a huge fan of renewable energy, just like me. But as inspired as I am, doing what he does is a completely different thing on another level altogether."
He also expressed his gratitude towards the people that contributed to his success. "I wouldn't say this success came solely from my efforts. I would like to thank my lecturers at TAR UC and my family, but most importantly my supervisor, Mr. Naveeyindren, who helped me with preparing my report. Apart from his assistance and support, he was also the one who gave me this opportunity to present at the URC 2020," he said.
Shawn elaborated that his experiences in TAR UC helped him a great deal. By taking part in extracurricular activities and emceeing many events, he managed to enhance his soft skills such as public speaking and presentation skill.
"In TAR UC, we have the opportunities to be exposed to events that help you learn things that aren't in the books," Shawn said. He also emphasised that academic and soft skills should always be balanced. "In the Mechatronics Society, I was the secretary and that helped me become organised as I was taking care of relevant paperwork and gatherings with lecturers."