From left to right: Assoc Prof Dr Ng Swee Chin, Vice President of TAR UC, Mr Tay Tee Tiong, Senior Lecturer of Mechanical Engineering Department, FEBE, Goh Shu Wan, Low Ting Sheng, Phoon Zee Him, Andrew Tay Jun Feng, Datuk Dr Tan Chik Heok, President of TAR UC, Lim Hui Yan, Ow Yong Hui Yan and Assoc Prof Dr Yip Mum Wai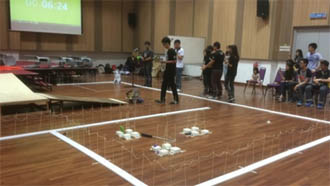 The students operating their robots at the competition
TAR UC students once again proved their practical problem-solving capabilities by reigning in the Universiti Tunku Abdul Rahman ('UTAR') Intercampus Robotics Competition. They emerged First Runner-up in the competition which was held on 23 July 2016 at UTAR, Sungai Long Campus. Organised by UTAR Robotics Society, the competition saw the participation of 10 other local institutions of higher learning. TAR UC's team consisting of Year 3 Bachelor of Engineering (Hons) Mechatronic students, Phoon Zee Him, Goh Shu Wan, Ow Yong Hui Yan, Lim Hui Yan, Andrew Tay Jun Feng and Low Ting Sheng, walked away with cash prize RM1,000 and certificates.
The team started designing, testing, trouble-shooting and improving their robots since February 2016. They built 3 robots and modules which were the wheeled mobile robot, robotic arm, and robotic boat. These robots and modules can be controlled from Android-based mobile devices running a specific application.
In the competition, the students' robots were required to collectively complete 1 main task and 4 optional sub-tasks. Both the main task and sub-tasks were to be completed within the allocated time which was 10 minutes, failing which the team would be disqualified. Points were given for the completion of the sub-tasks and the time taken to complete the main task. The winners were therefore determined based on the highest scores. TAR UC's team of students successfully completed the 4 sub-tasks perfectly in the shortest time. They also did their very best to complete the main task which involved the robotic boat and overall, they managed to secure the first runner-up position.
On the strategies or methods used by the students in creating their robots, the team leader, Phoon Zee Him said, "It involved a lot of trial and error as we explored various ways in creating the robots to perform their designated tasks."
"We also owe our success to our lecturers who indeed helped us a lot. Whenever we were in doubt about anything, they were ever-willing to share their knowledge and guide us. Our lecturers were also helpful in the sense that they gave us the freedom to use our creativity and try new things," he added.
The team of students was also most grateful for the financial and moral support given by TAR UC, Assoc Prof Dr Yip Mum Wai, Dean of the Faculty of Engineering & Built Environment ('FEBE'), Ms Lim Joo Eng, Associate Dean of Mechanical Engineering, FEBE, and all who contributed directly and indirectly towards their win.