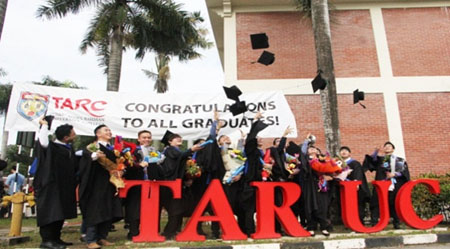 Graduands tossing their mortarboards in the air
Datuk Dr Tan Chik Heok delivering his speech.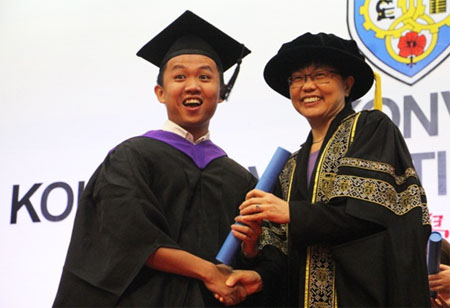 A graduate ecstatically receiving his scroll from Assoc Prof Say Sook Kwan, Vice President of TAR UC.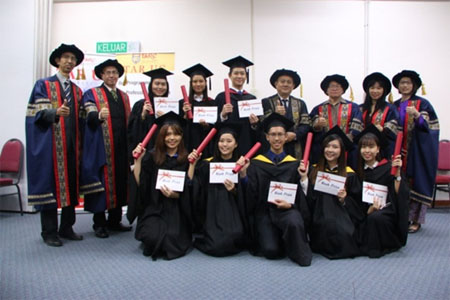 Datuk Dr Tan Chik Heok (Standing: 4th from right), Sr. Ooi Lay Yong (Standing: leftmost), Dean of the Faculty of Built Environment, Dr Chew Khoon Hee (Standing: 2nd from left), Dean of the Faculty of Engineering, Ms Wong Hwa Kiong (Standing: 3rd from right), Dean of the Faculty of Accountancy, Finance and Business, Assoc Prof Dr Loke Chui Fung (Standing: 2nd from right), Dean of the Faculty of Applied Sciences, Ms Lim Mei Shyan (Standing: rightmost), Dean of the Faculty of Computing and Information Technology, giving a thumbs-up with some of the Book Prize winners.
Lim Hang Seng (Centre) together with Datuk Dr Tan Chik Heok (2nd from left), Pastor Victor Maniam (Leftmost), Pastor Alvin Tan Ooi Seng (2nd from right) and Ms Yaw Sook Ngan (Rightmost) from Yayasan Sunbeams Home
TAR UC's Main Hall was once again filled with Diploma and Bachelor Degree graduands garbed in their graduation robes and mortarboards, as they reached a joyous milestone in their tertiary education journey. Held over eight sessions from 24 – 27 August 2017, TAR UC convocation was a striking spectacle steeped in tradition as the graduands proudly received their scrolls in the presence of their friends and families, signifying the completion of their academic studies and attainment of excellence.
In his speech, Datuk Dr Tan Chik Heok, President of TAR UC, congratulated the graduands and also dispensed words of wisdom and advice as some would be stepping out into the working world. "While convocation is the culmination of one's journey in the pursuit of education, it is not the destination in itself. Convocation certainly serves as recognition of your well-earned knowledge and your ability to rationalise, think and reason wisely," he said. "Being highly adaptable is a skill that is very important in today's competitive world. The world continues to evolve and this brings with it many opportunities for us to seize and explore."
Loo Yee Ling, a Bachelor of Accounting (Hons.) graduate, who is also the recipient of the CIMA Perpetual Cup and the President's Award winner attributed her success to the teaching and guidance she received from her lecturers. "What I normally do is I read the lecture materials and tutorial questions beforehand and when I have doubts I would always clarify with my lecturers and tutors. They are very helpful in the sense that they will provide us with real life examples and how we can apply these examples in our learning."
Another Book Prize winner, Christy Evanjelita, an international student from Indonesia who had completed her Diploma in Hospitality Management (Hotel Management), shared her experience studying at TAR UC. "The reason why I chose to study at TAR UC is because this institution has a long-standing reputation of academic excellence and it was recommended to me by my parents," she said. "At TAR UC, we have our own practical kitchen and restaurant so I was able to gain a lot of practical experience."
Graduands who completed the Coventry University and Sheffield Hallam University Dual Award Programme were also recognised upon receiving their scrolls.
"My experience with the Dual Award programme is very good and I will encourage my juniors to go for this programme if they have the opportunity because you get different exposure in life, get to meet different people, experience different cultures and it is overall a very good programme. So give it a go, experience and it would definitely help you in your life and career," shared Kwong Guo Rong, a Bachelor of Economics (Hons) graduate with a Dual Award with Coventry University.
Staying true to TAR UC's mission of providing quality and affordable education, Lim Hang Seng expressed his gratitude towards TAR UC for enabling him to receive his tertiary education. Hang Seng was raised at Yayasan Sunbeams Home, before leaving school at the young age of 11 to work at a hawker stall owned by his father's friend to earn his own living. At the age of 21, he was encouraged by Pastor Alvin Tan from Yayasan Sunbeams Home to pursue his tertiary education. During his Diploma years, he was supported by the Kuok Foundation Study Grant for his tuition fees and Yayasan Sunbeams Home for his living expenses.
"My experience studying at TAR UC has been fun and I have made a lot of friends here plus the environment is very good," he said. "After I finish my Degree and if I have enough funds, I hope to do my postgraduate studies in the field of public relations before joining the workforce."
After completing his Diploma in Mass Communication (Public Relations), he is now enrolled in year 2 of the Bachelor of Public Relations (Hons) programme.