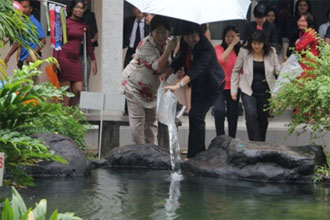 Mdm Looi Li Chin (left, holding an umbrella), Head of CPUS, accompanies Ms Kho Sok Kee (right), Vice President of TAR UC, while she releases the baby kois into the pond.
A lecturer releasing a baby koi into the pond
Two Foundation students together releasing the kois into the pond
On the morning of 24 February 2017, the Centre for Pre-University Studies ('CPUS') through the Debate Club, held an exciting event whereby 98 baby kois were released into the pond at the Waterfall Garden in conjunction with TAR UC Foundation Day. It was indeed a fun and lively occasion as everyone cheered to the release of the baby kois into the pond by Senior Officials of TAR UC, lecturers and students.
Mr. Teddy Nelson, Coordinator of the Debate Club, explained: "Baby kois are closely related to the Chinese culture and by releasing these fishes into the pond, it symbolises a new beginning and good luck as we commemorate the day our institution opened its doors to students for the very first time 48 years ago."
The event was mainly a fund raising initiative by students of the Debate Club with the kois being sold at RM10 per fish prior to the event. The money collected would be donated to the TARC Student Welfare Fund or the Student Centre Building Fund. CPUS is actively encouraging students to donate to the University College while they are still students so that when they graduate, this habit of giving back would already have been inculcated in them.